Ecology Department grants $15,000 for creek cleanup at Hangman Valley Golf Course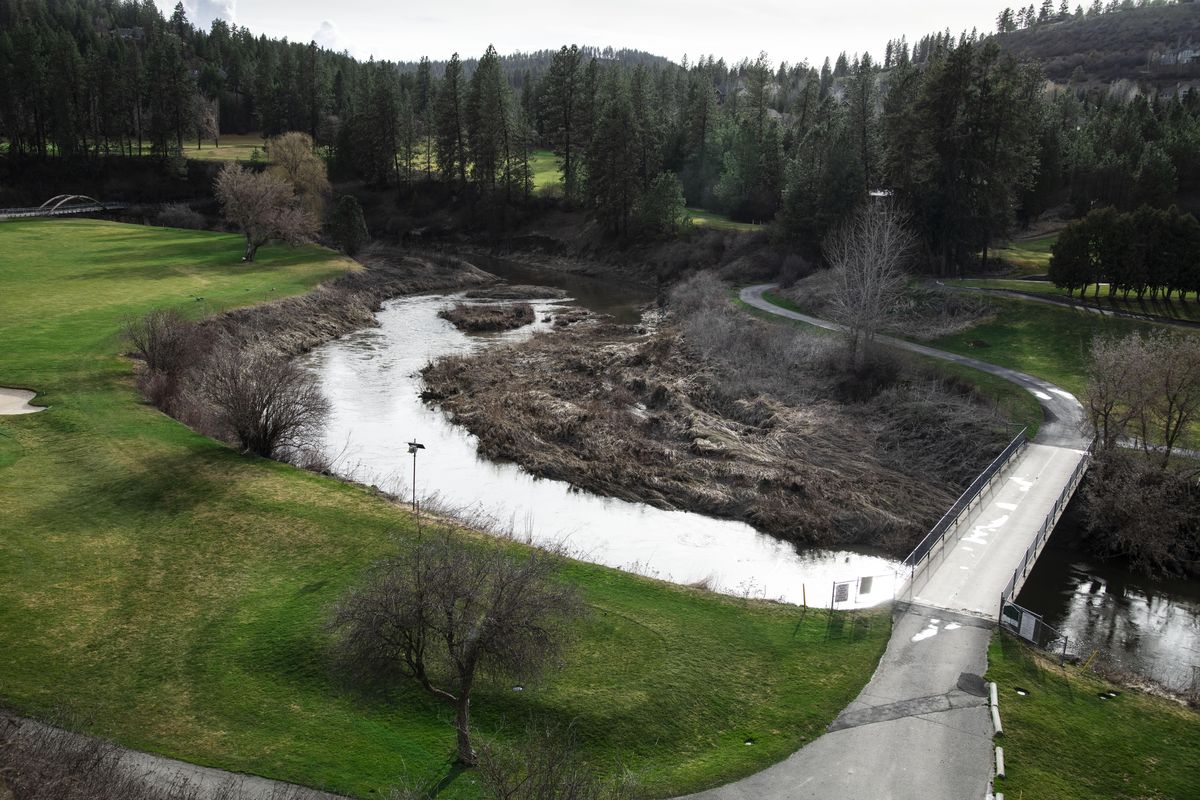 The Washington Department of Ecology has awarded $15,000 to Spokane County's parks department to plant native vegetation along Hangman Creek at the Hangman Valley Golf Course.
The plants' roots will help stabilize the banks of the creek, also known as Latah Creek, to prevent erosion that muddies the water, promotes algae growth and diminishes levels of dissolved oxygen, which native trout need to survive.
Kris Krohn, a county park planner and landscape architect, said the Lands Council will help determine the types of plants that should be added to the landscape.
The nonprofit and the county also will install signs to educate golf course visitors about the Hangman Creek ecosystem, Krohn said.
The murky brown water that flows through the 60-mile creek, partially the result of livestock manure from Palouse farmland, ends up in the Spokane River and has long been a target of environmental cleanup efforts.
In some areas, the Lands Council has planted aspen and cottonwood trees to edge out invasive grasses and help shade the water, which harbors high concentrations of fecal bacteria and often is too warm to support native wildlife.
In 2015, the Spokane Riverkeeper organization sued the Ecology Department, arguing the state's plan for Hangman Creek didn't go far enough to improve water quality.
The Riverkeeper wanted more specific actions to address so-called "nonpoint" sources of pollution – individual farms and properties along the banks of the creek, rather than large facilities such as wastewater treatment plants.
The federal lawsuit was settled last year when the parties agreed to a new 10-year cleanup plan.
On Wednesday, the Ecology Department announced 12 counties – nine in Eastern Washington – will receive grants totaling $331,000 for environmental restoration projects, with work on each project scheduled to begin in May.
The Stevens County Conservation District was awarded $45,000 to improve water quality in North Deep Creek. The Grant County Conservation District will receive $16,000 to remove invasive carp in Moses Lake. And the Whitman Conservation District will get nearly $34,000 to improve water quality in Alkali Flat Creek.
The money will come from the Ecology Department's Terry Husseman Account, named for a longtime deputy director of the agency who died in 1998. The account is funded by fines the agency collects for violations of the state Water Pollution Control Act.
"This is a great program because we are taking a portion of the money we receive from those who harmed state water quality and are returning it to our community partners to help them enhance and restore streams and rivers," Gordon White, who oversees the agency's statewide shoreline, flood plain and wetland management activities, said in a news release.
---