News > Spokane
Former Spokane Mayor Ron Bair blazed trail from KXLY to City Hall in 1977
Wed., April 3, 2019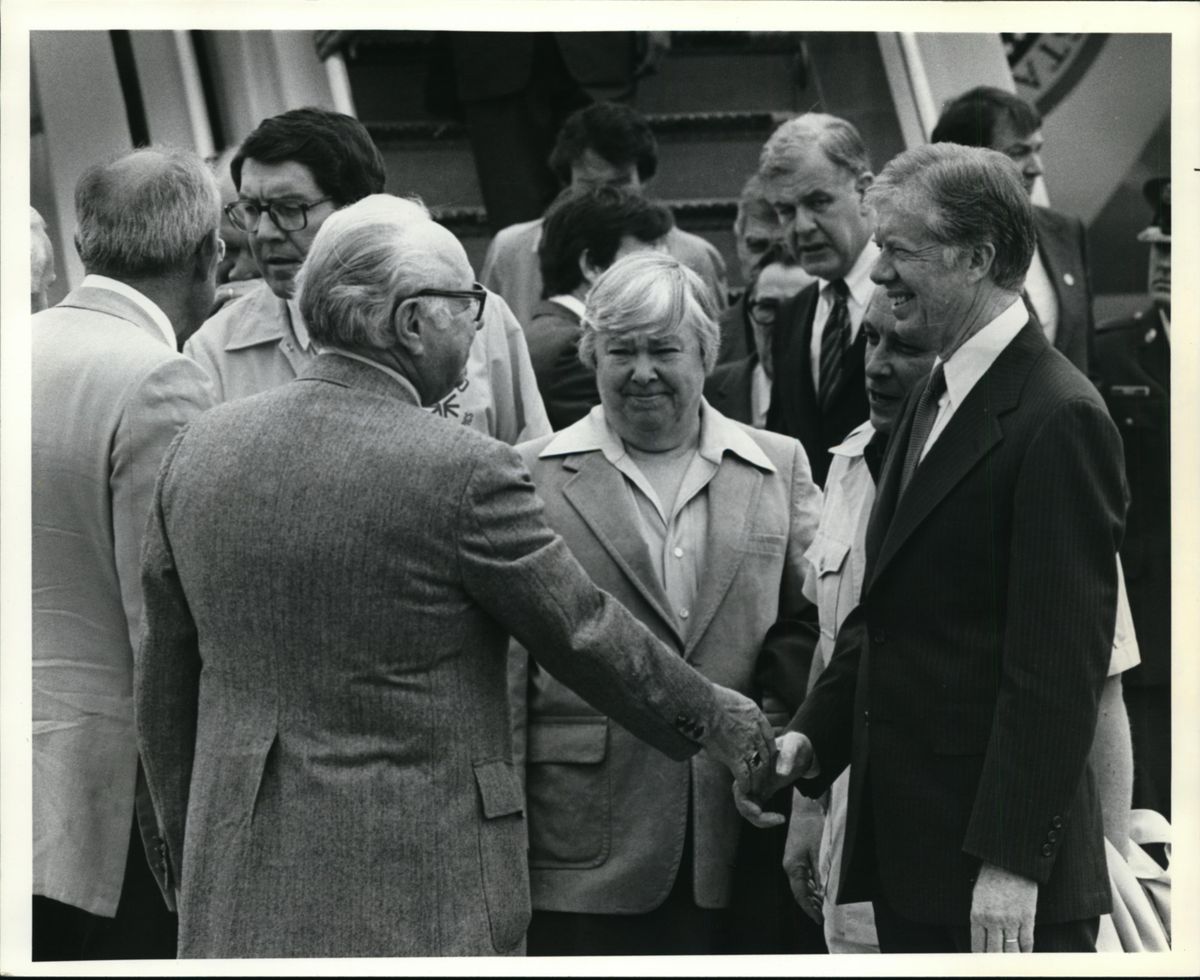 L-R (facing camera) John Evans, (Idaho Gov) Dixey Lee Roy, Tom Foley (background), Ron Bair (Spo. mayor) and Jimmy Carter in Spokane after Mt. St. Helens eruption
Spokane already has seen a mayor trade the anchor chair at KXLY-TV for an office at City Hall.
Ron Bair parlayed a 13-year career at the station as anchor and news director into a successful run for mayor in November 1977. While in office, Bair oversaw efforts to increase neighborhood participation in city government, pushed a controversial business and occupation tax in 1980 in response to an economic downturn and advocated Riverfront Park as an amusement destination downtown, where Nadine Woodward announced her mayoral candidacy Tuesday.
"Next year, we are going to put an amusement park at Riverfront Park," Bair told a class of Madison Elementary School first-graders in January 1981, according to an article in the Spokane Daily Chronicle. "It will be a special section with lots of rides. One will be a log that you sit in that goes through the water like a roller coaster. It's like one at Disneyland. Our park will be like Disneyland, only prettier."
Bair's tenure included overseeing the transition of city operations into its current location, the old Montgomery Ward building at 808 W. Spokane Falls Blvd. He also hosted President Jimmy Carter on his visit to the region following the May 1980 eruption of Mount St. Helens that buried the city in ash.
That same month, he presented a ceremonial key to the city to a "roustabout rock 'n' roll wildman" named Ted Nugent, according to The Spokesman-Review. Nugent had a show planned at the old Spokane Coliseum.
"I agreed, but only after I asked my two daughters, age 15 and 16, who Ted Nugent was," Bair is quoted as saying in the May 1980 article. "They told me he was certainly a 'Mr. Somebody.' When they heard I was going to meet him, they went through the floor."
Bair moved to Spokane in 1964 after stints at news stations in Amarillo, Texas, and Pittsburg, Kansas, and as a writer, correspondent and editor for NBC News in Los Angeles.
The Chicago native did not run for re-election after his four-year term ended in 1981, telling The Spokesman-Review the decision was largely financial. Bair owned a tour business that had been hit hard by the recession, and as a part-time mayor then, Bair earned just $9,000 for the job. Spokane's mayor is currently paid $167,000.
"The recession really knocked me cold, as it did a great many other travel agencies," Bair said at the time.
Bair died of cancer in November 1992 at his home in San Diego at age 62.
Local journalism is essential.
Give directly to The Spokesman-Review's Northwest Passages community forums series -- which helps to offset the costs of several reporter and editor positions at the newspaper -- by using the easy options below. Gifts processed in this system are not tax deductible, but are predominately used to help meet the local financial requirements needed to receive national matching-grant funds.
Subscribe now to get breaking news alerts in your email inbox
Get breaking news delivered to your inbox as it happens.
---