News > Spokane
A palatial pickle: Amway House's fate rests on planning and zoning meeting
April 4, 2019 Updated Fri., April 5, 2019 at 10:14 a.m. From a bird's-eye view, the looping streets of the Post Falls neighborhood on Black Bay resemble a wide-tooth comb, each tooth culminating in a cul-de-sac. From his bedroom balcony, Eric O'Brien can see the palatial property commonly referred to as the "Amway House," which has stood vacant since entering the market a decade ago.
"It's just sitting there, which is kind of sad," O'Brien said. "Obviously it's been very difficult to sell. … John's a really good real estate agent for large homes in the area, so obviously the way it sits now as a residential home isn't appealing to people, so what do you do, right?"
Right. Or at least that's how John Beutler, Century 21 Beutler owner and broker, is hedging his bets. Beutler's goal is to secure a special use permit for the 13-bedroom, 13-bathroom house that would allow the goliath to be repurposed as a bed-and-breakfast or event center.
"A lot of people have called me and asked if it can be used for weddings or business events," Beutler said. "There have been people who have been interested in it, if it could be used for those functions because the house is so big."
O'Brien has been inside. He used to take care of the family's boats and became close friends with the caretaker. How would he describe it? Huge.
Huge in this case comes out to a 28,000-square-foot house sitting on nearly 4 acres. The riverfront property goes for just under $8.5 million, a steal compared to its original list price of nearly $20 million in 2009.
"When we first listed it, it was toward the end of the top of the market, and for the next seven years pricing went down so we tried to adjust accordingly," Beutler said.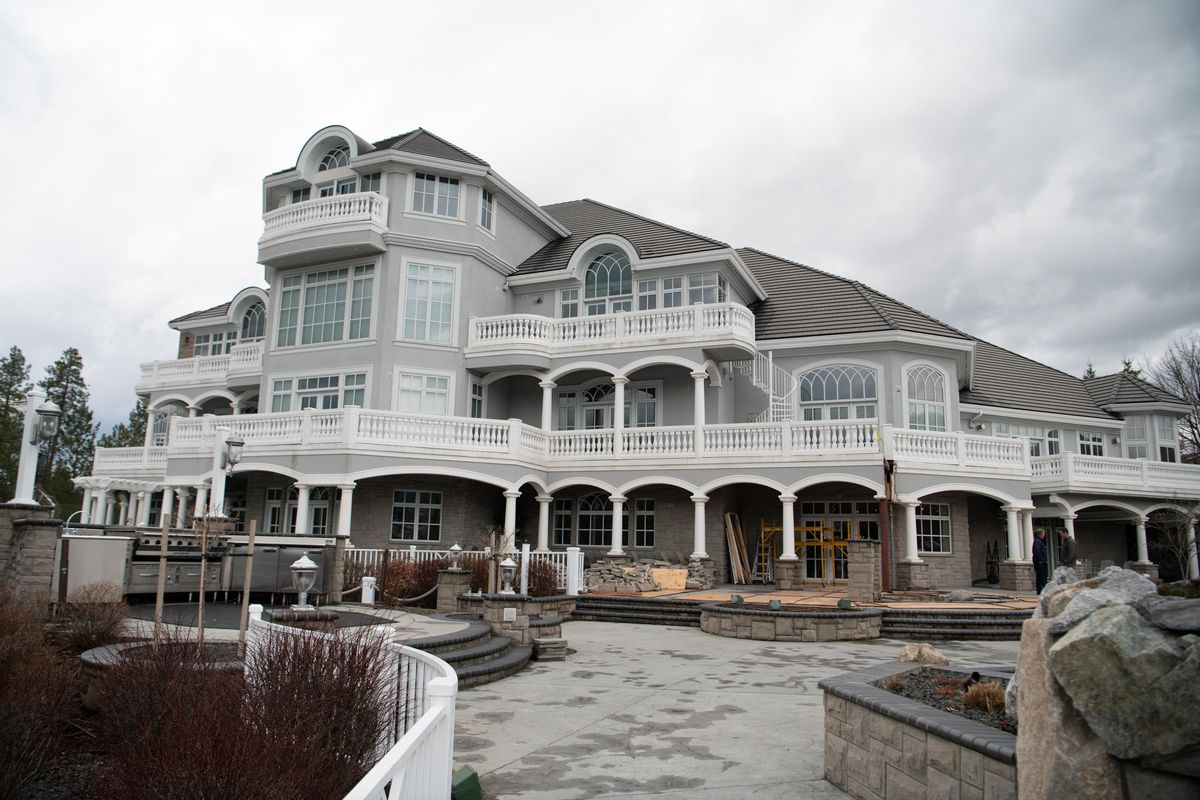 Several years sitting mostly empty hasn't diminished the grandeur of the home built by Ron and Georgia Lee Puryear in Post Falls almost 20 years ago. The house has been empty for most of the last decade and Ron Puryear died in 2016. The Puryear family, who made their fortune in their Amway business, still owns the massive home and have made a request for a special use permit to use the home as a bed and breakfast and event center. (Jesse Tinsley / The Spokesman-Review)
Almost two decades ago, the Puryear family – who from humble origins made their fortune through the Amway business – built the house, which includes a saltwater pool, home movie theater complete with an old-fashioned ticket booth, a tennis court, marble flooring and intricate woodwork. The house was often used to host fellow Amway workers as a showcase of what hard work with the company can achieve.
"I just think it's an opportunity to share this treasure with the public," Beutler said. " … it's something that Post Falls should be proud of. I think they are."
The permit's fate rests on a planning and zoning meeting at 6 p.m. Tuesday at Post Falls City Hall. Beutler will make his case, a rebuttal will follow and whoever would like to comment on the proposal will have their chance.
Jami Hayes, Planner 1 with the city of Post Falls, said not all residents are settled on this change.
"We've had quite a bit of commentary from the public," Hayes said. "Everyone has been so nice about it, but we've had people come in, send in emails, call. They're curious, and they have a right to find out what's going on."
Hayes said the city policy has specific criteria for obtaining the permit. The city's code requires submission of detailed intended usage including appearance and compatibility with infrastructure and benefit to public interest.
"We do have rules, regulations, policy in place to handle these situations and it's not just something that is willy-nilly stamped and approved and signed off on," Hayes said.
The major concern for residents has been traffic and parking. As it stands, the property does not have enough spaces available to host large events, something Hara Allison said was apparent when Beutler hosted a real estate gathering at the property.
"They even parked on our street, filled up our street, which is crazy because it's three blocks away," Allison said.
Beutler acknowledged parking is crucial in this deal.
"We're trying to do everything on-site so there won't be any parking issues, depending on how many, the size of the events probably have some traffic concerns," Beutler said.
VIRTUAL REALITY: See several 360 degree photos of the mansion's interior.
Allison moved to the neighborhood in 2007, and when she first took a walk to Black Bay, she thought the house was a hotel.
Allison said due to parking, she hopes the space won't be turned into an event center. However, if a future owner goes the bed-and-breakfast route, Allison said that she would likely book a stay.
"I do want to see inside," Allison said. "I'd stay even though I live three blocks away."
Local journalism is essential.
Give directly to The Spokesman-Review's Northwest Passages community forums series -- which helps to offset the costs of several reporter and editor positions at the newspaper -- by using the easy options below. Gifts processed in this system are not tax deductible, but are predominately used to help meet the local financial requirements needed to receive national matching-grant funds.
Subscribe now to get breaking news alerts in your email inbox
Get breaking news delivered to your inbox as it happens.
---