A&E > TV
Family, friends, fans welcome 'Survivor' contestant Kelley Wentworth back to Ephrata
Sat., April 6, 2019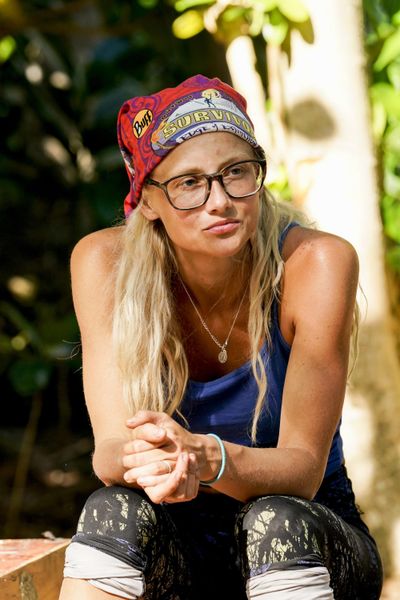 Ephrata's Time Out Pizza was packed Wednesday night, but signature pizzas like the Loydtonio and the Tater Tot weren't the main draw.
No, it was a "Survivor" Wednesday night.
Making things even better, Ephrata native Kelley Wentworth, a contestant on "Survivor: Edge of Extinction," was in town to host a viewing party.
"Edge of Extinction" marks Wentworth's third time on the long-running show.
She first appeared alongside her father Dale on "Survivor: San Juan del Sur – Blood vs. Water," where they were the fifth and sixth contestants, respectively, voted out.
She returned two seasons later for "Survivor: Cambodia – Second Chance" where she made it to day 38 before being the 16th person voted out.
"Edge of Extinction" premiered on Feb. 20.
With two hours to go before the episode aired, Dale was already nervous, not necessarily about how his daughter would do but about how the show would be edited.
"Tribal council is every other day, so they're trying to squeeze 48 hours in 42 minutes," he said.
But in between doling out hugs and hellos, Wentworth didn't seem too bothered.
She accepted artwork from fans and signed T-shirts and "Survivor" buffs, enjoying the relaxed nature of Ephrata compared to her current home of Seattle.
"It's so fun to see a lot of familiar faces, people from high school, old teachers," she said. "I come here and I can hear the birds!"
As each episode airs, Wentworth tries not to think too much about what she might have done differently, knowing that hindsight, of course, is 20/20.
"You only know what you know while you're there, so you try to make the best decisions you can," she said.
Talking to fans, it's apparent that Wentworth's decision-making is what's made her such a popular contestant.
"This year's she's got a huge target on her back, but she seems to pull it out," Kristin Speed, who was at the viewing party with her daughter Ellie Robertson, 8, said. "I think she can read people."
"Wouldn't be the third time they asked her back if she wasn't (a smart player)," Wentworth's grandfather Russ said.
"She's somebody who focuses on strategy," Sydney Varshock, 13, said. "She forms close bonds and isn't afraid to be blunt."
Varshock was initially nervous about meeting Wentworth, but quickly relaxed once she saw how "super cool and super nice" Wentworth was.
The two played a game of air hockey. Varshock lost, but did pick up a few "Survivor" tips from Wentworth, including don't compete on the family edition.
"It's too hard with family," Wentworth said. "I felt like the roles were reversed. Parents worry about their kids, but I was worried about him. Are they being nice to him?"
But when Varshock's mother asked Wentworth what Extinction Island, where eliminated contestants can vie for a chance to return to the game, was like, Wentworth was mum about whether she'd spent time there.
"You'll just have to watch," she said.
While watching the episode, the crowd was behind Wentworth 100 percent.
They laughed at the McKayla Maroney-esque face she made after her team didn't win the reward challenge and talked back to the TV in agreement as she talked strategy.
There were groans when Wentworth didn't play her hidden immunity idol during tribal council, but those were quickly followed by cheers when Eric Hafemannwas voted out.
"Even watching tribal council makes me nervous," Dale Wentworth said after the episode ended. "I've got PTSD. Another seven days to wait."
It's clear others at the viewing party feel the same, at least about the wait.
For many, watching "Survivor" is a tradition.
Bob and Alison Mannelin owe at least some of their relationship to that weekly hour of "Survivor."
The pair met online and, before they moved in together, would Skype or call each other and watch "Survivor" together.
Wednesday's viewing party marked the fourth time the couple, who attended a recent viewing party in Seattle, had met Wentworth.
"You fall in love with the players," Bob Mannelin said. "Kelley's always so dynamic."
"The first time we met her, it was like we were the only people she was talking to," Alison Mannelin said. "She's very appreciative of her fans."
Though they saw each other a week ago, the trio chat like the reunion has been a long time coming.
"It's very kind of her to take time out of her busy schedule," Time Out Pizza owner Loyd Burleson said. "Maybe it's being raised here, being rural, her family, but you know sometimes when you talk to somebody and you can tell they don't care what you're saying? That's not like her."
Local journalism is essential.
Give directly to The Spokesman-Review's Northwest Passages community forums series -- which helps to offset the costs of several reporter and editor positions at the newspaper -- by using the easy options below. Gifts processed in this system are not tax deductible, but are predominately used to help meet the local financial requirements needed to receive national matching-grant funds.
Subscribe to the Spokane7 email newsletter
Get the day's top entertainment headlines delivered to your inbox every morning.
---