News > Washington
WDFW gives update on latest wolf numbers, including new pack in Western Washington, but not all are thrilled by count
Sat., April 6, 2019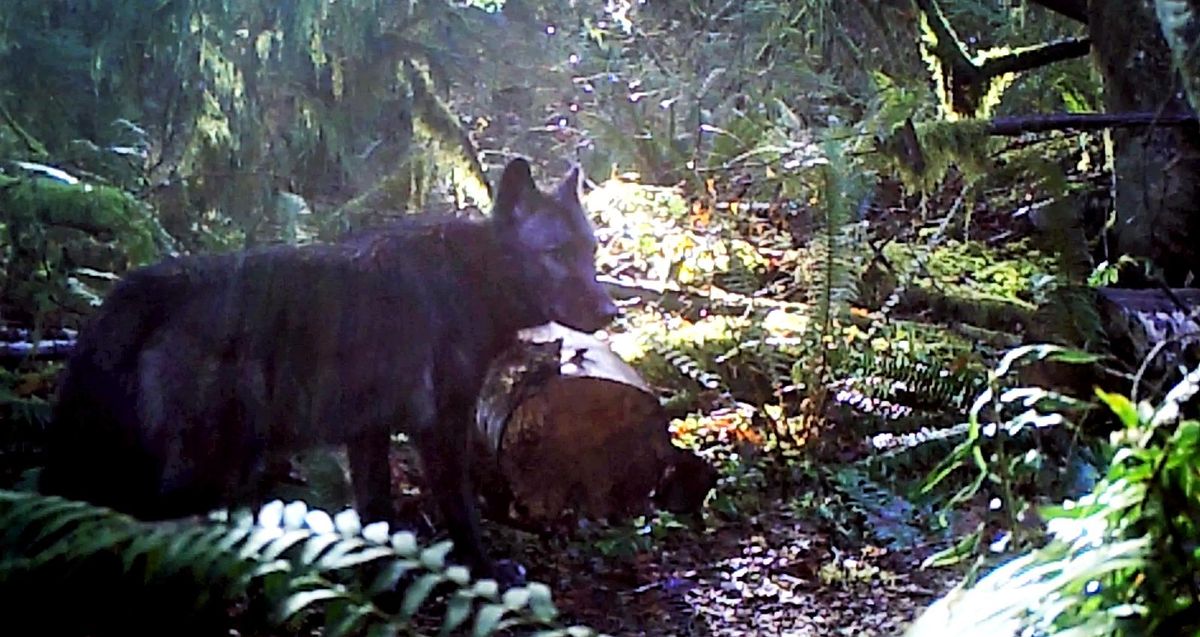 The male member of the new Diobsud Creek pack in Skagit County. (Washington Department of Fish and Wildlife / Courtesy)
Washington's wolf population continued to grow in 2018, with a pack documented west of the Cascade crest for the first time.
A minimum of 126 wolves, 27 packs and 15 breeding pairs were counted by the Washington Department of Fish and Wildlife during their annual winter survey.
The population increased 3 percent from last year, a lower growth rate than previous years. But as wolves fill the habitat in northeast Washington, Ben Maletzke, WDFW statewide wolf specialist, said that overall population growth will slow.
"The number of wolves isn't going to significantly change in that area (northeast) probably for the foreseeable future," he said.
The next big jump in wolf numbers will come when more packs establish themselves in the western portion of the state.
Agency staff presented the wolf report to the WDFW Commission, a governor-appointed supervisory body, Friday in Olympia.
The big news was the pack west of the Cascades.
A single male, originally captured in Skagit County in 2016, traveled with a female wolf through the winter in the North Cascades meeting the state's criteria for the formation of a pack. Biologists named the pack the Diobsud Pack.
Biologist also confirmed the presence of wolves in the south Cascades, although no pack activity has been documented yet.
In 2017, there were a minimum of 122 wolves, 22 packs and 14 successful breeding pairs documented statewide.
Wolf numbers grew despite the fact that in 2018 six wolves were killed legally by tribal hunters, four were killed by WDFW in response to livestock attacks and two apparent human-caused deaths remain under investigation.
Meanwhile, wolves killed at least 11 cattle and one sheep, and injured an additional 19 cattle and two sheep.
Overall, only five of the 27 known packs were involved in livestock depredations, Maletzke said.
"Eighty-one percent of them are doing good things," he told the commission.
In an emailed statement, Conservation Northwest called the discovery of a pack west of the Cascades a "milestone" and "indication of the continued recovery of wolves in our state."
Not everyone was thrilled, though, and some questioned the department's methodology.
Jake Nelson, a rancher on the Lone Ranch grazing allotment in Ferry County, lost two calves and one cow to wolf attacks last year. He received monetary compensation from the state. He questioned the overall number of wolves and WDFW's reported number of wolf attacks on livestock.
"I would have to argue with those numbers," he said.
He knows ranchers who believe they lost 10 or more cattle to wolves in 2018.
Jay Shepherd, a founder of the Northeast Washington Wolf-Cattle Collaborative, agreed that the overall number of wolf depredations seemed low. The WDFW report only lists confirmed depredations, not probable ones.
"It could well be there were 11 confirmed," he said. "That still seems low. But confirmed and probables combined were through the roof."
It will only be worse in 2019, Nelson said.
"We have more wolves. We have more confirmed packs now. We have a whole bunch of packs that are habituated cattle killers," he said. "I look for it to be a lot worse than last year."
A number of wolf-related bills were brought forward during this year's legislative session hoping to reduce conflicts in 2019.
A proposal that passed the house and is currently in the Senate would direct WDFW to develop different management plans for wolves in different regions of the state, with more support to control wolves in the part of the state where they are rapidly multiplying.
The bill would also direct the state to spend nearly $1 million over the next two years on nonlethal ways to keep wolves from killing livestock in northeast Washington, where the majority of the state's wolves live.
The numbers reported by WDFW are a minimum count. In 2018, researchers at the University of Washington, using scat-sniffing dogs, said the number of wolves in the state could be closer to 200.
During the commission meeting, staff said the methods used by UW and WDFW are "apples and oranges."
"There are more wolves out there," Donny Martorello, the department's top wolf specialist, told the commission. "We know this is the minimum."
Wolves are protected by state endangered species rules in the eastern third of the state, while they remain federally protected in the western two-thirds of the state.
According to the state's wolf recovery plan, wolves can be delisted after 15 successful breeding pairs are documented for three consecutive years, or after officials document 18 breeding pairs in one year.
Under either scenario, the pairs have to be distributed evenly throughout the state's three wolf management areas.
Meanwhile, two environmental groups have filed a lawsuit against WDFW alleging, among other things, that the agency is not using the latest science to make wolf management decisions and is in violation of the state's environmental policy act.
Chris Bachman, the wildlife program director at the Spokane-based Lands Council, celebrated the news and said it was an indicator that wolf populations were reaching a healthy level. However, he didn't go as far as saying that northeast Washington had reached capacity.
He said lethal removal of wolves that have attacked cattle remains an issue. He believes how the National Forest and ranchers interact need to change. Right now, he said, cows are being put into a forest with limited forage, which forces them to disperse and makes them an easier target.
"We need to be changing what we're doing on the ground with livestock in the forest," Bachman said after attending Friday's meeting. "We can ride WDFW all we want about having to go in and lethally remove wolves, but Forest Service policy has to be adjusted."
Local journalism is essential.
Give directly to The Spokesman-Review's Northwest Passages community forums series -- which helps to offset the costs of several reporter and editor positions at the newspaper -- by using the easy options below. Gifts processed in this system are not tax deductible, but are predominately used to help meet the local financial requirements needed to receive national matching-grant funds.
Subscribe now to get breaking news alerts in your email inbox
Get breaking news delivered to your inbox as it happens.
---