News > Spokane
100 Years Ago in Spokane: Bolshevist ties, labor council vote all in a day's paper
Mon., April 8, 2019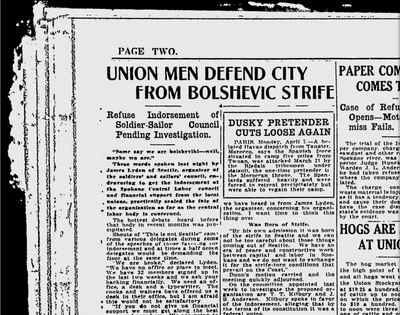 The Spokane Daily Chronicle ran two stories that warned darkly of bolshevist plots in Spokane.
First, police said they found evidence that Harry M. Wicks, a "professed bolshevist" was connected with a California bomb plot. Wicks was being held in Spokane on charges of disloyalty and "white slavery."
Authorities discovered a letter from Wicks mentioning a meeting of the C.C.C., which they believed was the Catsclaw Club of California, a "secret organization alleged to have been behind several of the California bomb plots."
Police believed the organization was expanding into the Northwest.
In a second story, the Chronicle recounted a debate in the Spokane Central Labor Council over whether to endorse a new organization called the Soldiers' and Sailors' Council.
A representative of that council was quoted as saying, "Some say we are bolsheviki — well, maybe we are."
Some in the audience responded by shouting, "This is not Seattle."
James Lyden, the Seattle organizer of the Soldiers' and Sailors' Council, said that they were mainly in favor of unionism, which is why the central council should support them.
"We are broke," said Lyden. "We have no office or place to meet."
A number of speakers said that they did not want to exchange Spokane's relatively peaceful labor relations for the "strife-torn conditions that prevail on the Coast."
A motion to deny the endorsement passed.
Local journalism is essential.
Give directly to The Spokesman-Review's Northwest Passages community forums series -- which helps to offset the costs of several reporter and editor positions at the newspaper -- by using the easy options below. Gifts processed in this system are not tax deductible, but are predominately used to help meet the local financial requirements needed to receive national matching-grant funds.
Subscribe to the Coronavirus newsletter
Get the day's latest Coronavirus news delivered to your inbox by subscribing to our newsletter.
---