Getting There: Congestion pricing isn't coming to Spokane, but these roads aren't free and never were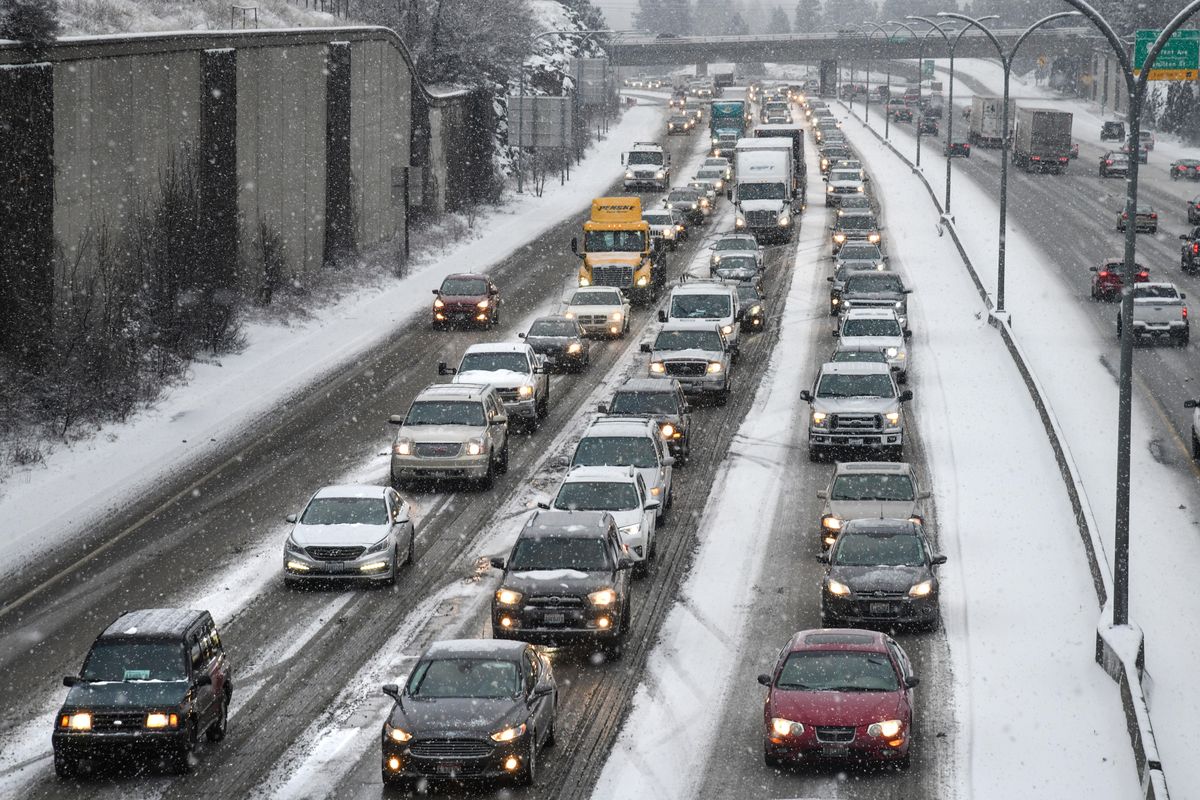 Roads have been free so long, people have forgotten how expensive they really are.
We pay enough when it comes to commuting – for our cars, gas, insurance, titles and new tires – the running assumption is the road should just exist for us to drive on. We can be forgiven for assuming as much: The government owns this public space, and has chosen to give it away.
Taking the streets for granted is evident when there's a pothole on the street – why hasn't the city fixed it? When there's a traffic jam on the highway – why hasn't the state widened it? When there's no parking – why isn't there more and why isn't it free?
But with last week's approval of congestion pricing in Manhattan, these long-held, mistaken beliefs and demands may begin to change.
Last week, the New York Times described this shift following the approval of new policy, which will charge a fee on motorists entering Manhattan in an attempt to dissuade them from doing so and, in the process, increasing traffic congestion. The idea is to regulate, and depress, demand through increasing prices.
The article detailed how when government holds the price of something down, shortages occur. If airline tickets were in demand, prices would go up, the article said. Same with avocados. And traffic congestion is essentially a shortage of road, yet the government – that monopolistic provider of pavement – artificially keeps its cost way down.
Congestion pricing, then, is bringing the laissez-faire to the thoroughfare.
"Most radically, if the policy spreads it could challenge a deeply embedded cultural idea, requiring people to pay for something Americans have long demanded – and largely believe they've gotten – free of charge," wrote Emily Badger, who covers cities and urban policy for the Times. "This system looks to us, instead, like an entitlement – driving is an American right, and so the infrastructure that enables it should be free."
In Washington state, where we've gone into debt to build and maintain our roads much like the federal government, the hidden costs of roads comes from the gas tax, bond sales, general fund revenue, tolls, rental car taxes, the vehicle sales tax, ferry fees, and permits and fees on motorists and nonmotorists alike. In Spokane, the city has also tapped into property taxes to help pay for roads.
It's a hodgepodge of funding that everybody chips in to – whether they drive or not. The fact that the government – aka the taxpayers of today and tomorrow – subsidizes driving, while hiding its costs, has been known and hotly debated since the automobile first stormed American cities.
The story goes like this.
In 1909, the First National Conference on City Planning took place in Washington, D.C., and the attendees mostly arrived by horse-drawn carriage. It would be another three years before the New York City's traffic counts showed more automobiles than horses, but the attendees already knew that year that urban transportation issues were quickly changing. Manure in the streets and dead horses causing congestion were yielding to city planners trying to guess what motorized travel would bring.
Mostly, they couldn't. They did, however, realize that roads could help shape how cities looked and advocated for zoning rules to attach land use with transportation, and in a way put on display the costs and benefits of transportation. These early planners also recognized that fast-moving traffic probably wasn't wise in the dense hearts of cities, but that's beside the point of funding.
For awhile, that's how it worked. Early city highway plans called for municipalities to buy land along future freeway right-of-ways to permit certain types of real estate development. After the highway was built, the city-owned property along the road would explode in value and the city would then sell the property to pay off the cost of road construction.
Watching development and value soar along the edges of a new road is anything but hidden. But this way of paying for roads didn't last long.
During the Depression, real estate values and the corresponding property tax plummeted, but car ownership continued to boom, creating a conundrum. The need for new roads was great, but the way they had been paid for to that time had basically collapsed.
Then came the gas tax. Though the first gas tax became law in Oregon in 1919, it wasn't widely adopted by every state until the late 1930s. An easy sell for funding road work, it put the tax burden directly on the road users, was easy to collect and people were driving like crazy when the tax was instituted, making it a greatly increasing source of revenue.
It seemed like a solid solution, until it didn't.
This switch – decoupling roads and property, and moving to a gas tax – had two big repercussions felt to this day.
First, it shifted the power of road-building from the nation's city halls to its statehouses and D.C. No longer would cities carefully plan transportation networks in an effort to accrue road financing. Instead, planning became large and national in scope. Financing had trumped good planning.
Second, it allowed these federal and state governments to "fund roads with gas taxes that feel far removed from a direct user fee," as the New York Times said.
To make things worse, the gas tax has become less and less effective in actually paying for the work its supposed to fund, for a number of reasons, but primarily because of federal lawmakers. The federal gas tax stands at 18.4 cents per gallon. It was last raised in 1993, and it's estimated that only half of the Highway Trust Fund – the main source of federal highway spending – will come from the gas tax by 2020. The fund also runs a $15 billion deficit every year just to maintain current spending.
The picture's a little better in Washington, where the state transportation department funds its work through the nation's second-highest gas tax, which currently stands at 49.4 cents per gallon.
But an increasing share of the state's gas tax goes to paying off a growing pile of debt. As Roger Millar, the secretary of the Washington State Department of Transportation, said last year, by 2027 more than 70 percent of the gas tax's revenues will go toward paying off bond debt, "so we'll be sending the bulk of the gas tax to the bank."
What's more, Spokane city's road projects are funded through a voter-supported property tax levy, meaning value is siphoned off of every piece of property in the city, goes into a general pot and then is divvied up to pay for the many miles of pavement in the city. Everyone pays here, motorist or not, either directly as a homeowner, or indirectly as a renter.
If you don't think these funding schemes and mountains of debt hide anything, then I've got a Monroe Street Bridge to sell you.
Spokane probably doesn't have any near futures with congestion pricing, but you never know. Since 2013, the city's roads have experienced a 10 to 25 percent increase in traffic volumes. As our roads become more and more jammed, the commuters of Spokane could do with a dose of reality, just like motorists in every other city in the U.S.
These roads aren't free, and never were.
Second, Third see work, impacts
Stormwater piping work begins Monday, and will effect commuters on Second and Third avenues.
Eastbound traffic on Third will be restricted to one lane at the intersection of Arthur Street.
Second will be reduced to one lane from Perry Street through its intersection with Arthur.
Arthur will be closed between Second and Third.
This $1.7 million project will install new storm water piping on Second from the Hamilton Street overpass to Perry Street, and Third from Hatch to Arthur.
North-south freeway work affects Euclid commuters
Work on a sewer and water project will affect commuters on Euclid Avenue beginning Monday.
Euclid will be closed to eastbound traffic between Market and Freya streets.
Ralph Street will be closed from Euclid to Courtland Avenue.
This $2.4 million project will relocate and encase water and sewer mains beneath the railroad tracks near there. It also includes installation of a new water main. This work is related to the construction of the North Spokane Corridor, otherwise known as the north-south freeway.
In the city
Spokane Falls Boulevard between Wall and Post streets will be fully shut down Monday starting at 7 and re-open Tuesday morning as a crane is set up.
Lanes will be partly closed at Freya Street and 35th Avenue on today and tomorrow for sewer work.
The right southbound lane of Monroe Street between Boone to Mallon avenues will be closed on Wednesday for excavation work.
Post Street between Riverside and Sprague avenues remains closed as CenturyLink places conduit. The work is expected to be finished Friday.
The northbound curb lane of Freya Street between Main Avenue and Olive Street will be closed from Wednesday to May 10 for work related to communication network infrastructure.
---