Sports
Grip on Sports: From first-round failure to first NCAA title, it's been quite a year for former WSU coach Bennett and Virginia
Tue., April 9, 2019, 8:25 a.m. A GRIP ON SPORTS • It was an historic defeat. But there was no running, no hiding. Take accountability, learn from it and move on to the next challenge. And overcome it. That's the story of Tony Bennett's Virginia basketball team in the past year, culminating in last night's national championship. Read on.
••••••••••
• Think back exactly a decade ago. Washington State fans were in a funk after Bennett had left the Palouse for the Wahoos of Charlottesville. Many felt betrayed and disappointed. It was a huge loss for the Cougars – and a big win for Virginia, though at the time it's not sure how many Cavalier fans knew it.
Some diehard WSU fans never forgave Bennett – until last night.
Such is the power of a redemption story. It can melt the heart of even the most Grinch-like sports fan. And, boy, is Virginia a redemption story. And a comeback one – on about four levels.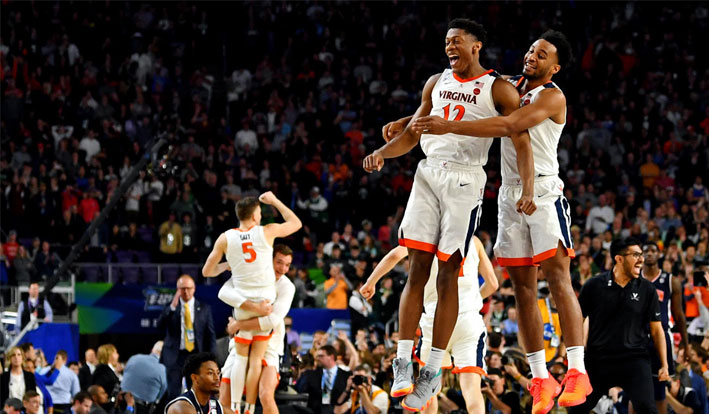 Redemption only occurs after failure. The Cavaliers took care of that just over a year ago when they became the first No. 1 seed to lose to a 16, shot down by a team from just up the road, University of Maryland, Baltimore County. It's the type of defeat that can derail a program, knocked off the rails by recriminations, complaints and fan unrest.
All of that happened – at first. But not from within the program. It was, instead, something to build upon. The Cavaliers owned it. After all, it had happened. Instead of trying to make excuses – De'Andre Hunter, last night's star, did not play after breaking his wrist in the ACC Tournament final – or ignoring the reality, Bennett told his team to embrace it. To use it as a focal point for the future.
The strategy seems to have worked.
Adversity didn't seem to bother this year's group. They had dealt with the worst already. So falling behind late against Purdue, against Auburn and again last night against Texas Tech, didn't seem to faze them. Comebacks? That's easy. Even if, as was the case against Auburn, a miracle was needed.
Monday night all that was really needed was perseverance. And toughness. Both teams had it – in boatloads. Maybe that's why there was overtime. And one key event, a replay review of a Texas Tech turnover, helped the Cavaliers over the top.
Well, that and Virginia made all the plays it needed in the extra five minutes.
From the worst possible outcome of an NCAA tournament to the best, all in the course of 12 months and a couple weeks. Talk about a story of redemption.
• My guess is not many of you were watching the M's game, what with one of the better NCAA title games on at the same time.
(And for all the experts who decried the game before it started because the two teams had the audacity to emphasis "defense," they can eat it.)
Anyhow, if you tuned in early, you saw Felix Hernandez leave after one inning – on his birthday no less. He was sick. Watching him in the dugout might have been enough to make you decide not to come back, at least not while the basketball game was on.
We missed another in a seemingly never-ending series of offensive explosions.
The M's won 13-5. They hit five more home runs. They have 32 in their first 12 games. That's a major league record.
If they continue to hit like this – sarcasm alert: It's perfectly reasonable to feel it's sustainable, right? – they will pound their way into the playoffs.
•••
WSU: Cole Madison just couldn't bring himself to play professional football last season. But he seems to have overcome his doubts, as he's joined the Green Bay Packers for offseason workouts. Theo Lawson has more in this story. … Theo also joins Larry Weir for the most recent Press Box pod. … Bill Moos seems to have weathered the Nebraska storm. … Elsewhere in the Pac-12, there is basketball news, if only because UCLA seems to have struck out on another potential coaching hire. Rick Barnes is staying at Tennessee. Next up, maybe, Texas Tech coach Chris Beard. … Could Arizona State lose Bobby Hurley? … There is also this from Colorado as the Daily Camera looks at every key player. … In football news, Washington practiced yesterday, so there are stories available. … There is also news from Oregon and Arizona.
Gonzaga: Around the WCC, is this the week BYU final names a head basketball coach?
Idaho: The Vandals practiced yesterday and Peter Harriman came out of it with a story on the offensive line.
Preps: With the weather a bit better, there were more games and matches yesterday. We have a roundup.
Mariners: As we said, the M's offense seems unstoppable right now. But it will slow down. It has to. … The emphasis, however, is still on the future. … Gene Warnick has an Out of Right Field summary.
Seahawks: Seattle continues to interview possible draft choices.
•••
• College basketball season is over. Time to cast our gaze on the summer sports. Baseball is about to take over. That makes me happy. Until later …
Subscribe to the sports newsletter
Get the day's top sports headlines and breaking news delivered to your inbox by subscribing here.
You have been successfully subscribed!
There was a problem subscribing you to the newsletter. Double check your email and try again, or email
webteam@spokesman.com
---