Washington hunter bags world-record moose in Ferry County With fog blanketing the dense slopes of Northeast Washington and only two days left in the 2018 moose season, Jim Hall wasn't optimistic.
The 52-year-old from Buckley, Washington, had spent the better part of two months hunting for the large ungulate. The once-in-a-lifetime tag meant that, in two days, his chance would be over after applying for the coveted tag for nearly 30 years.
"Things were pretty bleak," he said in an interview Monday.
He'd already passed up a few shots on legal moose earlier in the season.
"I was regretting it a little bit," he said. "But I was more thinking that I should have pushed harder before the season started to scout more."
On Nov. 28, Hall and his hunting partner, Jason Parlari, headed into an area recommended by an acquaintance who lives in Ferry County. The duo was hunting near Republic, Washington, in Game Management Unit 101.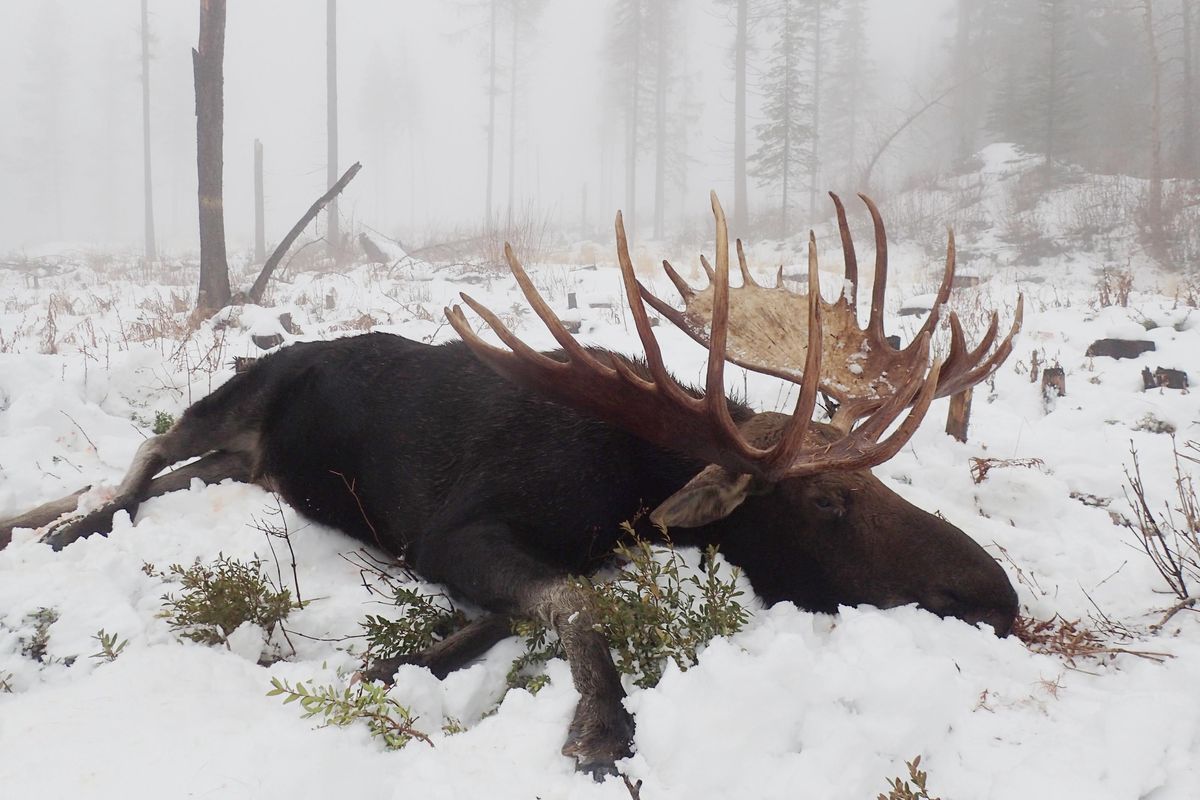 As Parlari drove, Hall scanned either side of the road.
"It was really foggy," Hall said. "We were thinking this is done because you couldn't see any more than 150 yards."
But then a bull moose appeared. The animal was looking toward the two men with his body quartered to the right.
Parlari stopped driving. Hall recalls Parlari asking him if he was going to shoot the bull. Nodding, Hall exited the vehicle, walked to the side of the road and shot the animal in the right shoulder.
He didn't notice the bull's antlers, instead focusing on making a clean kill.
"I'm not paying attention to its horns," Hall said. "I'm trying to get it down as quickly and ethically as possible."
He shot it again and the animal went down. As Hall and Parlari approached, they realized they'd found a remarkable creature.
"So walking up to … I'm just in awe," Hall said. "I'm texting pictures to people and all my friends are freaking out."
The men loaded the bull moose into their truck. As word spread of Hall's hunt, a friend who scores for the Safari Club recommended he enter the moose into the club's international ranking.
Hall did, and on April 4 he learned that his prize was the world-record Shiras moose.
"The reason why I scored so well (with the) Safari Club is because they measure the points and Boone and Crockett just counts them," Hall said.
The bull moose's antlers had 242 inches of aggregate tine length, Hall said. He scored 504 7/8 inches.
Gabriel Paz, the director of record book and world hunting awards for the Safari Club International, confirmed Hall's score and ranking as No. 1. Hall's moose beats out the former record Shiras moose, taken in Alberta in 2005, by an 1 1/8 inches, Paz said.
In 2018, there were 10 entries for Shiras moose.
In the Boone and Crockett record book, Hall's moose is somewhere around No. 60 with a gross score of 185 1/8 inches and a net score of 178 inches.
Hall estimates the moose weighed between 650 and 700 pounds. He's sent the animal's teeth to the Washington Department of Fish and Wildlife to learn the animal's age but hasn't received the results.
"His teeth were ground down pretty good," Hall said.
The Safari Club record doesn't come with any award, but the experience and recognition is plenty for Hall. He gave much of the meat to his hunting partners, although he kept a quarter and a back strap for himself.
"It's somewhere between a Michelin and a Firestone in texture," Hall said. "It was really tough meat. But it didn't have bad taste."
---