Flash flooding damages homes, cars and businesses in Pullman, Moscow PULLMAN – Heavy rain caused flash flooding Tuesday night in Pullman and Moscow, sweeping up cars, damaging buildings and trapping about two dozen people inside businesses.
The Pullman-Moscow Regional Airport received 1.21 inches of rain Tuesday – a record for April 9, according to the National Weather Service. Jeff Cote, a weather service meteorologist, said the rain unexpectedly pushed the South Fork of the Palouse River into flood stage around 7 p.m.
Clayton Forsmann, Pullman's deputy public works director, said water overtopped Missouri Flat Creek, a 15-mile tributary of the river, and spilled onto Grand Avenue near Stadium Way, resulting in a heavy downhill flow.
Pullman Fire Capt. Eric Reiber said it was the worst flooding he had seen in the city during his 31 years as a resident.
"This is the third or fourth time I've seen water in that region," Reiber said. "This was a more significant event then we've had in the past."
Flood warnings were still in effect Wednesday morning in Pullman and near Potlatch, Idaho. In Pullman, however, the water had receded by Wednesday morning, and traffic was flowing again on Grand Avenue.
A few parking lots were covered in brown muck, and heaps of wheat stubble and other debris – carried into town by the creek – were tangled in the wheels and bumpers of dozens of waterlogged cars.
The floodwater took the biggest toll on the building at 745 N. Grand Ave., which houses Carnahan Chiropractic, a Snap Fitness gym, a rolled ice cream shop called Rollys, the Kool Nails salon and a recently opened branch of Ideal Option, a health provider that offers medication-assisted treatment for drug addiction.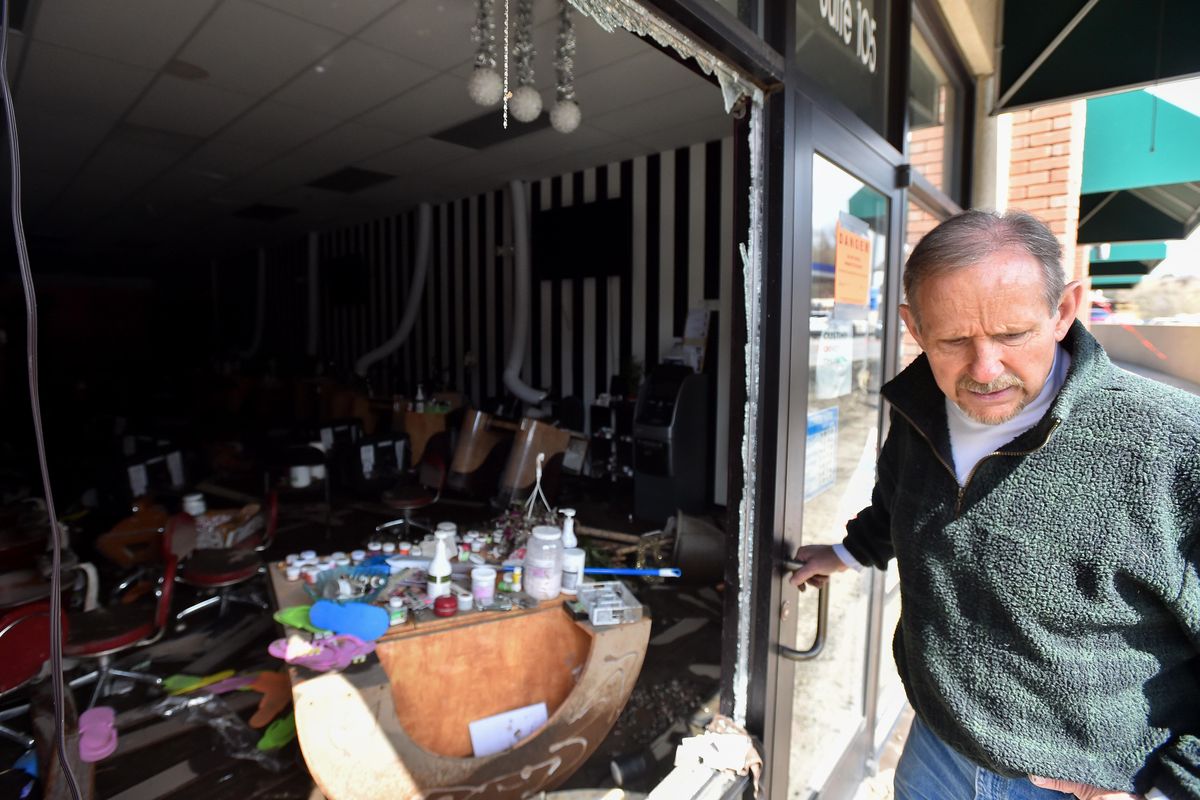 Murky water rushed into the building, which sits below the roadway, and reached a high mark of nearly 3 feet, submerging tens of thousands of dollars' worth of equipment at the gym and the chiropractor's office. Patient files and other items were left in mangled heaps.
Firefighters smashed the window of the nail salon to rescue employees who became trapped inside while laying sandbags. Water carried a small car into the side of the building, wedging it against a retaining wall. Patients at the counseling office were forced to reschedule appointments. The owners of the ice cream shop, which opened in October, scrambled to move tables, chairs and arcade games as water began seeping under the door.
"Unfortunately, this happened right before Mom's Weekend, and that was supposed to be a busy one," said Crystal Gayle, who owns Rollys with her husband, Adrian.
Parley Pearce, the building's owner, said he received the first of many phone calls about potential flooding around 6 p.m. "Within an hour they were just being inundated," he said.
Pearce, who lives in Walla Walla, estimated the cost of repairs to the building would exceed $1 million. He said he has flood insurance for the building, though at least one of his tenants does not have coverage for interior furnishings.
A city building inspector deemed the building unsafe and posted "do not enter" signs Wednesday morning. Several tenants were awaiting answers from claims adjusters.
"There's nothing to do now but get the place fixed up," Pearce said.
Reiber, the fire captain, said about 14 firefighters worked throughout the night, beginning in the evening when about 20 people needed rescuing from businesses along Grand Avenue.
In addition to the nail salon, firefighters picked up people at a laundromat and a gas station across the street, and at an insurance office a few blocks to the south, where Allen Kapofu, a State Farm agent, found himself surrounded by water after a long day of work.
The firefighters drove a front-end loader through the rising water. Those being rescued, including Kapofu, were helped into the vehicle's bucket and taken to safe locations.
"It was a lot safer," Reiber said. "The loaders had enough weight that they weren't going to get washed away."
Pullman Mayor Glenn Johnson drove around the area to assess damage Wednesday morning. He said he and his staff were looking forward to a call from Gov. Jay Inslee's office to discuss a potential emergency declaration, which could free up state funding for cleanup and repair efforts.
"Things are getting back to normal," Johnson said. "But we have some stuff to clean up."
In Moscow, the weather service reported that Paradise Creek entered minor flood stage at about 4 p.m. Tuesday.
Tyler Palmer, the city's acting public works director, said the area had experienced consistent showers for several days, leading to saturation in the ground. Then Tuesday, as heavy rain fell, drainage canals on Paradise Creek and the South Fork of the Palouse River began to fill and overflow.
"It spiked up very quickly," Palmer said. "It appears to be the highest event that we have on record."
Palmer said several dozen homes and businesses flooded throughout town, though Main Street and the downtown corridor were mostly spared. The floodwater receded Wednesday morning.
Palmer said the city and Latah County had declared a state of emergency.
"Today we're in cleanup mode, and a lot of people are trying to get water out of basements," he said. "We're just a little wet."
---