Former Seahawks star Curt Warner and wife share story of family's love, and resilience raising autistic sons A foundation of faith, love and hope is what carried Curt Warner through the most difficult times of his life.
Hand in hand with his wife, Ana, Curt said that raising four children, two of which are autistic, has been scary and humbling. The couple, co-authors of the book "The Warner Boys" with former Spokesman-Review columnist Dave Boling, said their story isn't a guide to autistic children or a how-to parenting guide; it's their love story, and the story of their love for their children.
"We love them, regardless," Curt said. "Even when they burn the house down, we love them. We may not be happy about what they're doing at the time; we forgive them and move on."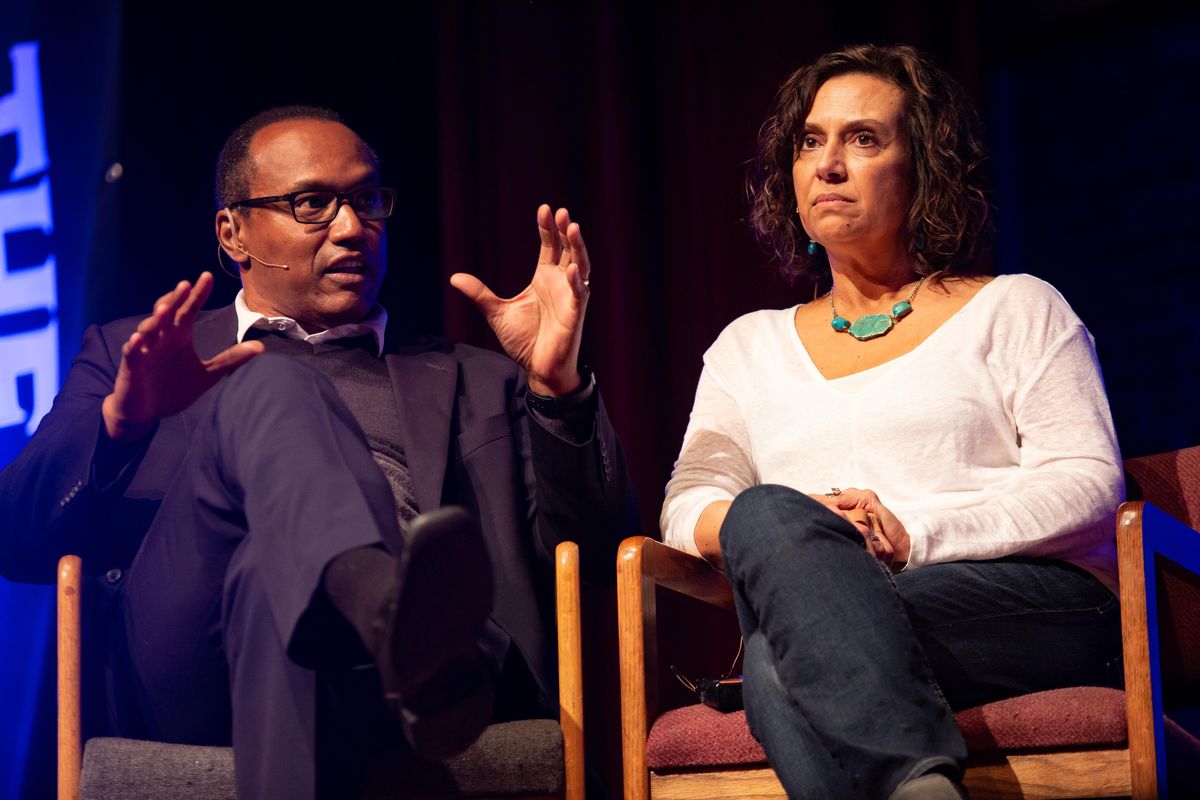 Ana Warner, who once was an aspiring model, and Curt, a star Seattle Seahawks running back in the 1980s, shared the story of when they lost their home to fire, and how they raised two severely autistic sons, to a crowd at the Bing Crosby Theater on Sunday.
Curt said one of the most difficult times the family went through, when their sons Christian and Austin became teenagers, was that the boys would sometimes have violent outbursts, punching or banging their heads against walls, and would occasionally scream and behave violently.
When they were 13, Austin found a lighter and set fire to their bedroom, reenacting a scene from the Disney movie "Pinocchio" in which Pinocchio starts a fire inside the belly of a whale while he is trapped inside.
Ana said their oldest son, Jonathan, was a hero, getting his younger siblings out of the burning home. She said the twins have post-traumatic stress disorder from the experience and don't really understand what happened.
"He thought it was a movie," she said.
Curt said during that time in their lives, they felt like they were drowning, but said they will never give up on their children.
"Even when it looks like there is no light at the end of the tunnel," he said, "we're going to keep going down that road."
He said their faith is the foundation that has kept their family together over the years. He and his wife pray together every morning, and plan throughout the day to make sure each of them can have a break, and have a little time to themselves to recharge.
Ana Warner said things have calmed down since the twins were teenagers, but they are still struggling with other health issues. She said Christian, now 24, has recently begun to hold his breath, to the point of hospitalization, but doctors don't know why he does this. Christian also has an autoimmune disorder that prevents him from working, she said.
Curt said they have been thinking about writing about their experience for years, but weren't able to until the boys were older and their lives stabilized. The twins still live at home.
Ana said she hopes the proceeds of their book will pay to build a home in Ellensburg, where the twins can live with house parents and other young adults in a group living community. There are already several homes attached to organic farms, where adults in a group-living setting plant and sell organic vegetables.
"When we're gone, we have to have something planned for them," Curt said.
One in every 38 boys and 1 in every 152 girls are on the autism spectrum, Ana said. Despite how common autism is, she said that people are quick to judge their family when a meltdown occurs.
She said autism spectrum disorder has become more prevalent than when her sons were born. She said her sons hit development marks later than other children, and weren't diagnosed until they were almost 5. Even though there are more resources and more awareness about autism, she said there are still many children who aren't diagnosed until they are school age.
"Everybody knows someone with a child with autism," she said. "I'm hoping people are more loving and accepting toward our family."
---