Sports
Grip on Sports: Brandon Clarke's shining moments for Gonzaga will live in Bulldog lore
Thu., April 18, 2019, 7:41 a.m. A GRIP ON SPORTS • There have been many bright, shining stars in the Gonzaga basketball constellation the past two decades. But has there ever been one that has shined as brightly, as quickly, and for as short a time, as Brandon Clarke? Read on.
••••••••••
• At this time a year ago, Clarke was more of a whisper than a shouted-about NBA draft prospect.
There were quiet murmurs of how the San Jose State transfer gave Johnathan Williams III, about to head to the NBA himself, all he could handle at practice. About how Clarke could jump to the rafters. How hard he worked.
Basically, much of the same stuff that floats around with every transfer at every program.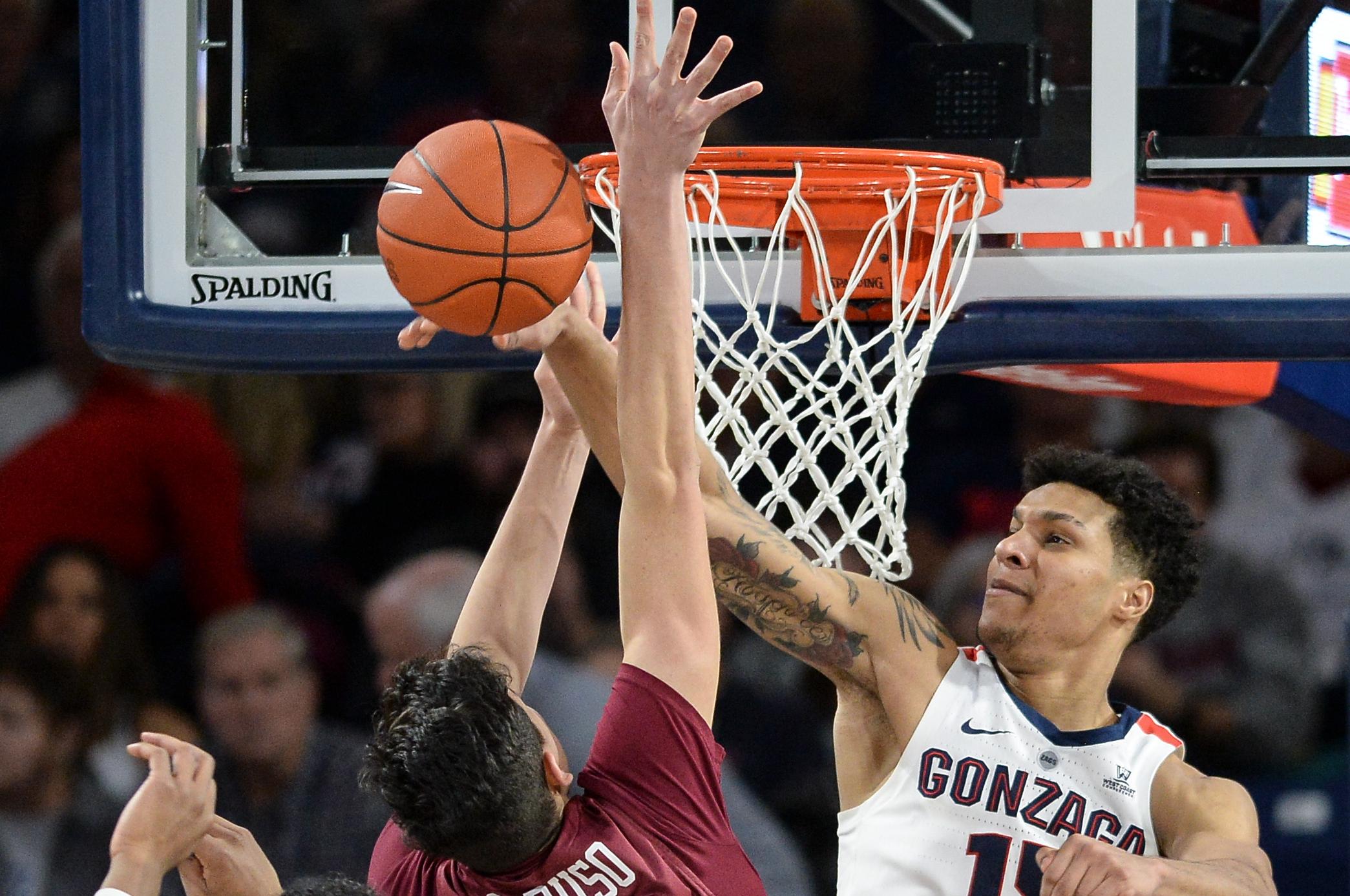 Except in this case it was true. Maybe even understated a bit.
Brandon Clarke, as we all found out in October (and November and through March), was the real deal. A game-changer. Many nights the best player on the court – in either uniform. A defensive force that could handle the ball, score in a multitude of ways and always – always – played with maximum effort.
And now he is gone.
One year of shining high above the rim is all Gonzaga fans received from Clarke.
Oh sure, he may be back. Despite declaring for the NBA Draft yesterday – Jim Meehan has all the details – Clarke could change his mind next month and return.
But our guess is, as he makes the rounds with NBA teams and they see what he has to offer, that's not going to happen.
There is no way they won't be impressed.
If you want potential, he has it. His offensive skills need refinement, but the base is there, as is the work ethic. Combine those two with his natural physical ability and he'll only improve as a scorer.
But it's what he can do on the other end that will intrigue NBA player personnel guys. Need someone long and tall to guard on the perimeter? He's your guy. Need someone around the rim? His ability to get off the ground so quickly – more than once – allows him to overcome his lack of bulk inside, but it is his quick feet that will sell him to those on the next level.
The NBA has become more and more of a position-less league, with players asked not only to be able to score inside and out, but to also be able to guard on the perimeter and around the rim. That's Clarke's strength.
So after one All-American year at Gonzaga, he is moving on.
With him will go the school's single-season blocks record, many of which will be played on phones and computers bearing GU logos for years.
With him will go the school's NCAA single-game scoring record.
And with him will go one of the more exciting players the Zags have ever had. A shooting star, sure. But such a bright one, he burned his way into the Bulldog faithful's collective memory.
•••
WSU: The weather is nice this week and Theo Lawson is in Pullman. Coincidence? Yes it is. Anyhow, in advance of Saturday's spring game at Martin Stadium, Theo talks with Larry Weir for the Press Box pod. … Elsewhere in the Pac-12, the future is brighter for the conference's basketball programs. … It can be even better if Oregon receives the right news from Payton Pritchard. … Arizona State has a staff opening. … No, this is not going to happen. I won't let it. … There is also football news from Washington, Oregon State, Colorado and a couple stories from USC.
Gonzaga: Besides the Clark announcement, Jim passes along the news it didn't take Mark Few long to come up with a replacement for the departing Donny Daniels.
EWU: Next season's freshman basketball class is going to be a big one, as the Eagles added three more players yesterday, bringing their total to six. Ryan Collingwood has all the particulars in this story. … Around the Big Sky, Central Valley High graduate Ryan Looney has moved up the coaching ladder the past decade or so. Eastern Oregon, Seattle Pacific, Point Loma. Now he will try to resurrect the program at Idaho State. Ryan has more in this story. … Travis DeCuire's new contract with Montana has everything, except a buyout that is high enough to discourage bigger schools.
Idaho: In a week when most schools are trumpeting their signing class, the Vandals admitted nearly a third of its basketball roster has opted to put their names in the NCAA transfer system.
Chiefs: Playoff beards are a thing in hockey. Even junior hockey. Dan Thompson takes a look at Spokane's growing facial hair.
Preps: It is Thursday. That means there are quite a few prep stories to pass along. We begin with two baseball stories, the first by Dave Nichols. He introduces us to St. George's three-sport star Xander Werkman. … Steve Christilaw does the same with Ferris High first-year coach Sam Brown. … The Mooberry Relays are this weekend at Rogers. Ryan has a preview. … Yesterday was another letter-of-intent signing day. Dave has a story. … As the weather warms, so does the competition. We have roundups from soccer, softball and tennis.
Mariners: After pounding the ball, and pounding home runs in each of the first 20 games, the M's offense is now on hiatus. They were shut out yesterday, losing to Cleveland 1-0. The good news was Erik Swanson's first-ever big league start was good. … Gene Warnick has the Out of Right Field summary for the sixth-consecutive loss.
Seahawks: Russell Wilson said all the right things at his contract press conference. He did all the right things, bringing his family along. And he even wore the right things, donning an old-school Sonics' jacket. … The final schedule was announced last night. The Hawks play a bunch of prime-time games. And don't have to go to London or Mexico or Japan. It's a win.
Sounders: Seattle is back to pretty much full strength.
•••
• Nice weather – it is supposed to hit the high 60s today, with plentiful sunshine – means hard work. It's a good day to fertilize the lawn and patch the spots decimated by winter. I would rather be on the golf course, sure, admiring someone else's handiwork, but it's not to be. Please keep my balky back in your thoughts. Until later …
Subscribe to the sports newsletter
Get the day's top sports headlines and breaking news delivered to your inbox by subscribing here.
You have been successfully subscribed!
There was a problem subscribing you to the newsletter. Double check your email and try again, or email
webteam@spokesman.com
---