News > Spokane
North Idaho College Foundation plans to sell former site of Aryan Nations compound
Thu., April 18, 2019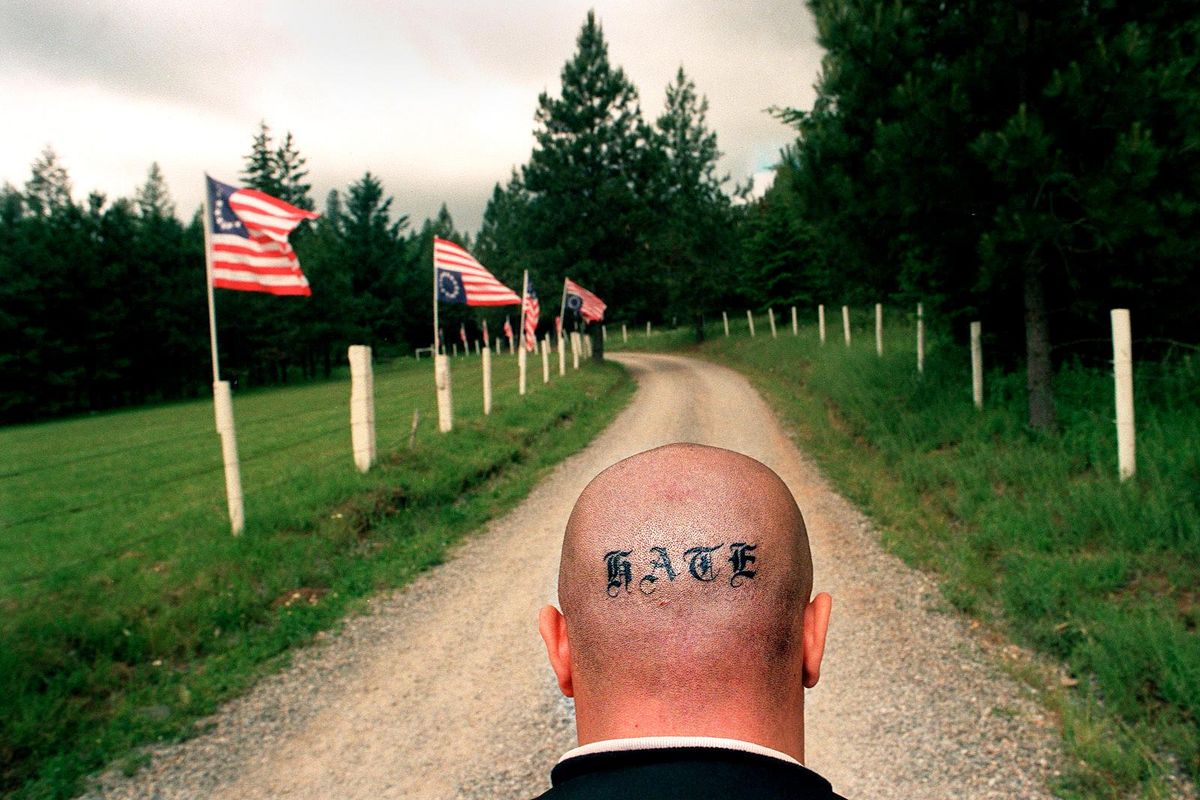 An Aryan Nation supporter walks to the former site of the white supremacist group's compound near Hayden Lake in December 2001. (Brian Plonka / The Spokesman-Review)
The former site of the Aryan Nations compound near Hayden Lake will soon be put up for sale.
The North Idaho College Foundation plans to sell the undeveloped 20-acre property along Rimrock Road and put the proceeds into an endowment for human rights education.
The land, now an idyllic slice of North Idaho countryside, once had around 11 structures that served as headquarters for white supremacists under the leadership of Richard Butler.
The Aryan Nations went bankrupt after losing a $6.3 million civil lawsuit in 2000, and the compound was later purchased by the Carr Foundation, which cleared out the burned remnants of Aryan buildings after firefighters used some of them for practicing arson investigations.
The Carr Foundation – led by Idaho Falls native, tech multimillionaire and philanthropist Greg Carr – gifted the property to the NIC Foundation in 2002 with a stipulation that it couldn't be transferred to another new owner for 20 years.
The college's president at the time said the land would be turned into a "peace park." It was never redeveloped.
Carr recently agreed to waive the 20-year requirement, allowing the NIC Foundation to sell the land in a favorable real estate market. The property, which comprises two legal parcels, was valued at about $260,000 for tax purposes last year.
In an emailed statement, the NIC Foundation's executive director, Rayelle Anderson, said the new endowment will be named after Carr.
"The endowment earnings will be annually distributed in perpetuity to North Idaho College in support of human rights education," Anderson said.
Attempts to reach Carr – who now spends much of his time in Mozambique working to restore a war-ravaged national park – were unsuccessful Wednesday.
Norm Gissell, a retired Coeur d'Alene attorney who worked with the Southern Poverty Law Center to bankrupt the Aryan Nations, on Wednesday recalled the incident that sparked the high-profile lawsuit: On the night of July 1, 1998, members of the Aryan Nations chased, assaulted and shot at a mother and son on a dirt road outside the compound.
Two decades later, new development could transform a site where crosses were burned and extremists convened to plot the creation of an all-white nation.
"It's a beautiful piece of land," Gissell said. "I'm very excited about the prospect of moving on and turning that over to a private developer."
Local journalism is essential.
Give directly to The Spokesman-Review's Northwest Passages community forums series -- which helps to offset the costs of several reporter and editor positions at the newspaper -- by using the easy options below. Gifts processed in this system are not tax deductible, but are predominately used to help meet the local financial requirements needed to receive national matching-grant funds.
Subscribe now to get breaking news alerts in your email inbox
Get breaking news delivered to your inbox as it happens.
---