Sports
Steve Christilaw: Cycling star puts new face on homelessness
Thu., April 18, 2019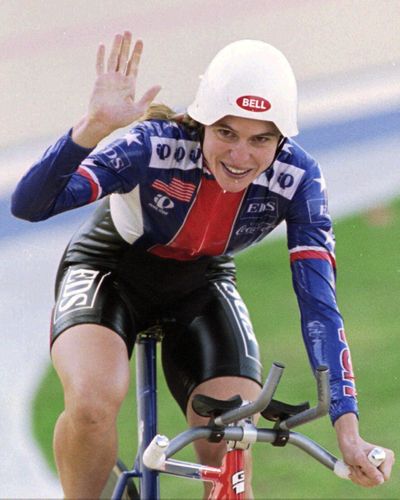 You meet some incredible, memorable athletes in this business.
If you're lucky, the meeting will be memorable.
I spent a warm, sunny June afternoon watching the Everett Giants go through their first workout when the father of one of the players sat down next to me and we struck up a conversation. His son had been signed by San Francisco and sent to Everett for the Northwest League season.
I had been paying close attention to my copy of the team roster, and I noticed he paid particular attention to a lanky pitcher working in the bullpen. I checked his name: Cepeda.
Coincidence, I thought. Growing up my favorite player had that same last name. Orlando Cepeda, nicknamed The Baby Bull for his massive upper body and his ability to mash home runs – first for the San Francisco Giants and later the St. Louis Cardinals.
Then I looked at the guy next to me. What do you know! Orlando Cepeda.
We had a great chat, and it ranks as one of my favorite moments – meeting a boyhood hero and finding him gracious, friendly and everything you hoped he would be back when you were squirreling away his baseball cards.
I've met a few over the years. I had chance meetings with Muhammad Ali, Bob Gibson, Johnny Unitas and Elvira, Mistress of the Dark, to name a few.
It's something special when you cover one of the best athletes in the world in their singular sport and get a chance to talk with them.
Rebecca Twigg is at the top of that list.
The Seattle-raised cycling superstar was fresh off a silver medal at the Los Angeles Olympic Games in 1984, where she and fellow American cycling star Connie Carpenter turned in a thrilling 1-2 finish in the road race.
She was in Spokane for the Washington Trust Cycling Classic, a short-lived stage race series that brought some of the top talent in the country to the area. It was exciting, and it was a chance to see Twigg at the top of her game.
I remember thinking that Twigg and a bicycle were a unit – that her bike was an extension of who she was.
She had a reputation for being exceptionally intelligent, but also a bit aloof and a difficult interview. I found her thoughtful and engaging so long as the subject stuck to bike racing. Intensely private, she was willing to share the part of her life that was spent on the bike as a way to allow others to know something about who she was. I came away from the interview impressed.
Twigg went on to focus more on track racing, winning six world track cycling championships in individual pursuit and a bronze medal at the Barcelona Olympics in 1992.
There were cover stories on her in Vanity Fair and Sports Illustrated over the years, and I followed her exploits. When she abruptly left the United States Olympic Team during the 1996 Games I was disappointed by her timing, but wasn't surprised.
What did surprise me was a Seattle Times story this week on Twigg.
For the past five years Twigg, 56, has been living without a home and on the streets of Seattle. She's been living with friends and family. For a while she lived in her car. For the most part she's been living in homeless shelters.
Still intensely private, Twigg talked to Seattle Times reporter Scott Greenstone in an effort to convince the public that not all homeless people are addicted to drugs or alcohol. Some, she explained, have struggled with employment and are, like her, "confused" about what to do next with their life.
Twigg declined to discuss mental health issues other than to say that we need to treat them more seriously.
There are pieces to the puzzle that is Twigg that are missing – pieces that exist only inside of her. But there are clues.
The story talks about her walking into Mary's Place Women's Day Center in downtown Seattle, a place she frequents. She helps clean and seems to enjoy talking with other women, which she says is "better than getting lost in my own thoughts."
She told Greenstone that "some of the hard days are really painful when you're training for a race. But being homeless, when you have little hope and no knowledge of where the finish line is going to be, is just as hard."
Homelessness is a through-line in Twigg's life. A prodigy in both academics and athletics, she started at the University of Washington at 14. Her mother kicked her out of their basement apartment before her 16th birthday.
Perhaps the most telling thing Twigg told the Seattle Times was this: "Once you've done something that feels like you're born to do it, it's hard to find anything that's that good of a fit."
My immediate family works in the not-for-profit world that tries hard to connect at-risk and homeless people with the help they desperately need. They work hard to find ways to allow people to stay in their homes and to find homes once they lose the one they had.
It's been an eye-opening experience, and it frustrates me to hear people dismiss the growing homeless population for being lazy, alcoholic and drug-addicted. Too many of us live on the razor's edge of homelessness, and we need to acknowledge that fact.
People have reached out to Twigg with offers of assistance and with housing. She demurs.
"The point is not so much that I need help," she told the Seattle Times. "It's that there are a bunch of people who need help – 12,000 in this area, half a million in the country. Help should be provided for everybody, not just a few."
We too often rankle at requests for a handout, but we must not extend that frustration to the local organizations that offer a hand up.
Groups that offer help to the less fortunate need support, whether they work to find shelter or find a way to keep the heat on in the winter.
Whether it's an organization like SNAP or Catholic Charities that offer wide-ranging programs, or Transitions, which runs the downtown Women's Day Center, or any number of groups that offer a range of assistance – all face the hard truth that there is a bigger need for services than there are dollars to offer them.
Rebecca Twigg puts a new face on homelessness. Hopefully, it's a face that will alter the way some of us think about the issue.
And that seems to be why she took the brave and selfless step of putting herself in the spotlight once again.
Local journalism is essential.
Give directly to The Spokesman-Review's Northwest Passages community forums series -- which helps to offset the costs of several reporter and editor positions at the newspaper -- by using the easy options below. Gifts processed in this system are not tax deductible, but are predominately used to help meet the local financial requirements needed to receive national matching-grant funds.
Subscribe to the sports newsletter
Get the day's top sports headlines and breaking news delivered to your inbox by subscribing here.
---