Depths of despair: Climbing family loses son to greatest fear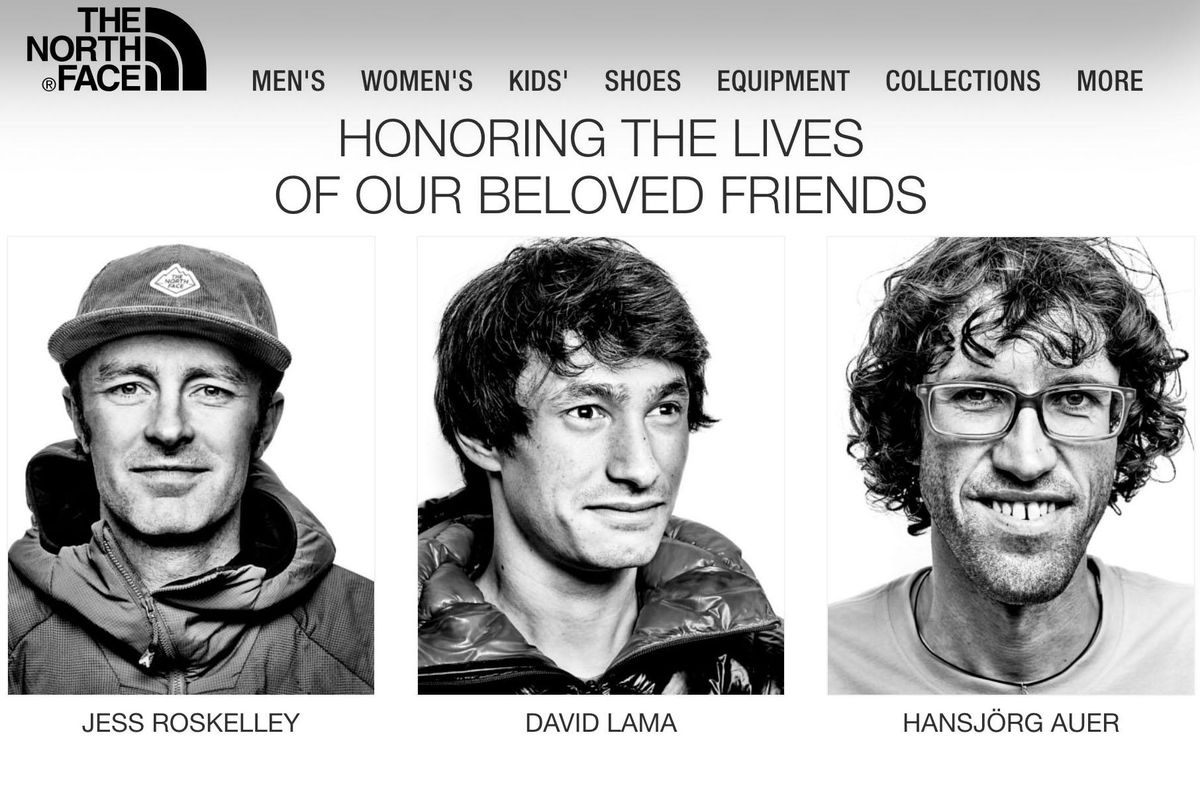 CANMORE, Alberta – The bodies of climbers Jess Roskelley, of Spokane, and two Austrians were recovered Sunday from an avalanche field in the Canadian Rockies. Among the recovered items was a phone Roskelley carried that contained an image of the trio smiling, suggesting they had reached the summit before their deaths.
Roskelley, 36, along with David Lama, 28, and Hansjörg Auer, 35, were overdue after Roskelley failed to contact his family last Tuesday. Searchers in a helicopter reported seeing signs that the three were swept off Howse Peak by an avalanche. Bad weather kept crews from Parks Canada from recovering the bodies while Roskelley's family waited.
In Canmore, a small town nestled between the Canadian Rockies just south of Banff, the mountains have been packaged for their beauty, not tragedy.
The sharp silhouettes grace mugs and storefronts. T-shirts. Menus. They're used to sell children's clothing – "Glacier's edge: Clothing for active kids" – and tanning salons – "Mountain Glow."
The mountains are a prop, and the tourists treat them as such. On a rainy Friday evening, a man barreled out of a brewery, staring intently at his phone. He stopped, looked up, and said to his companions: "Look at the backdrop," while vaguely pointing in the direction of the sharp peaks rising into the clouds.
One woman said, "Next time we should go to a lake."
Less than a mile away, the Roskelley family and a few friends ate pizza and drank wine in an Airbnb that The North Face rented for their son, Jess, before he disappeared into these mountains.
They told stories. Stories about how funny and kind he was. About the time he dressed up in his wife's clothes and sent pictures of himself, neck down, to all of her friends asking them how he looked.
Or, the time he was climbing in Patagonia with two good friends and they had an impromptu dance party on the top of an imposing peak (the Fitz Roy) listening to a Taylor Swift song Jess had on his phone.
Or, about his love of trucks. Big, black trucks. He'd just bought a new one.
Silence followed the mention of trucks, because after he disappeared in the mountains, the truck was impounded and towed. They had to pay $1,400 to go get it.
As his mother said, if you have to go get your son's body out of the mountains, you shouldn't also have pay to get his truck out of hock.
The mountains are close and present during this meal. The grief shades every word and every story. Each laugh nearly turns to sobbing.
There are long silences in which no one really makes eye contact and the reality of the mountains bears down.
"He was all worried about having a baby, because we're old and he wanted the baby to know us," said Joyce Roskelley, his mother. "He called me one day and said, 'Don't worry Mom, we'll have a baby before you die.' "
Blazing a path out of the shadow of his father
Jess Roskelley's climbing career was born in the shadow of his father, although by all accounts, John Roskelley did all he could to minimize that.
One of the most prolific and successful high-altitude alpinists in the '60s, '70s and '80s, the elder Roskelley's résumé is long. He is best known for climbs in the Himalayas such as Dhaulagiri, Nanda Devi, Trango Tower, Gaurishankar, K2 and Uli Biaho, all without supplemental oxygen. He wrote several books and made a living at high altitude. In 2014, he received the prestigious Lifetime Achievement Award at the Piolet d'Or in Chamonix, France.
John Roskelley has had plenty of close calls with death, and has lost a number of partners and friends over the years. He knows the risks of climbing.
"There are certain sports that are very risky," he said in an interview last week. "This is one of them. I never pointed (Jess) in the direction of climbing."
Still, Jess was a member of climbing's royal family. When he was 14 months old, he traveled to India with his mother and father. His dad was invited to a mountaineering conference in Delhi. On that trip Jess shook hands with Prime Minister Indira Gandhi. On April 14, days before he went missing in the mountains, Jess shared a photo of that moment.
This high-flying life only continued. In an article for the climbing magazine Rock and Ice published Friday, Jess wrote, "We had dinner with Jeff Lowe, hung out with Royal Robbins, and visited casually with Reinhold Messner. Sir Edmund Hillary even stayed at our house. Yet I knew nothing about what these great men had done. All I knew was that my dad would go climbing for months at a time and my mother would worry, rushing home when she picked my sister and me up after school in case there was a call."
The summer before Jess' freshman year at Mt. Spokane High School, John Roskelley took Jess to Bhutan to climb Stok Kangri, a 20,000-foot peak in India.
When Jess returned to school after that climb, he hoped to play football. But he'd missed practices and didn't know the plays.
"Every day at practice the coach would just say, 'Go run,' " Joyce Roskelley said.
That's when Jess realized he was pretty good at running. He stopped playing football and ran track, cross country and raced bikes. He continued to climb, occasionally accompanying his father on trips.
When he was 18, he started guiding on Mount Rainier. By the time he turned 20, he'd reached the summit 35 times as a guide.
Yet, despite all that experience and time in the mountains, Jess told the S-R earlier this year he didn't really start taking climbing seriously until 2003. That's when he climbed Mount Everest with his father. At 20 years old he was the youngest person to climb the world's highest peak (several years later, a 13-year-old climbed Everest).
He started training more. Slowly ticking off a long list of impressive climbs. Unlike his father, he didn't focus on the high-altitude, expedition-style climbs. Instead, he climbed technical routes on smaller peaks.
He gained a reputation as a bold and innovative climber. In 2017, he and friend Clint Helander established the southern route up Mount Huntington in Alaska, something believed all but impossible. That headline-grabbing climb helped secure him a place as a sponsored athlete for The North Face.
And while he still worked as a welder to pay the bills, he was one step closer to realizing his dream of being a professional climber.
"In a lot of ways, he lacked confidence," Joyce Roskelley said. "It's not easy growing up with your dad being a famous climber. It was really a big deal for him to be a North Face athlete."
A mountain family
The sensitive side of Jess, the side that worried about following in his father's footsteps, wasn't the Jess people first met. Scott Coldiron, one of Jess' climbing partners and friends, remembers meeting Jess for the first-time ice climbing. Jess, who loved to joke around, seemed like a "cocky kid," Coldiron said.
It didn't take long for him to realize he was much more than that. The two became good friends and climbing partners.
"Everybody is pretty macho up on the mountains," Coldiron added. "Jess never cared about that."
That love often expressed itself in the form of humor. When asked, his climbing partners and friends all noted how hard he'd make them laugh, whether it was shivering in an ice cave thousands of feet off the ground or floating down a river enjoying a warm summer day.
Jed Conklin doesn't remember when he first met Jess. But, in the past five years, Conklin and his wife became close friends with Jess and Allison Roskelley.
Last summer, Conklin was rowing the four of them down the Spokane River when they passed a group of people on the shore.
"I just hear Jess making a ruckus behind me," Conklin said. "(Jess) says, 'Pay no attention to the man in the green bikini.'"
Sure enough, when Conklin turned, around Jess was wearing an emerald green thong, "dancing on the back of the boat, and these people are looking in horror as we row by."
"You know, it's classic," Conklin continued. "And it's funny. It's funny as hell. But it was pretty normal for him."
Those kinds of antics were just part of who Jess was.
"Jess didn't give a crap what anyone thought of him," Jordan Roskelley, Jess' sister, said. "That was the best part about Jess."
Living with death
Alpinism is one of the most dangerous types of climbing. In addition to worrying about falling, alpine climbers have to worry about falling rock and ice. Getting lost. Running out of food. Freezing.
And of course, avalanches.
It's part of the appeal.
"I just think it's hard to know a person if you haven't been with them in the mountains," John Roskelley said.
In the days before his body was recovered, Jess' mother, sister and father maintained a strong outward façade. They all knew the risks involved. They'd always known that it was possible Jess wouldn't come home one day.
During the few interviews they granted, they were matter-of fact and to the point. Just the facts. John, in particular, was brutally honest.
Early in the tragedy, after helicopter pilots spotted climbing gear and a person's leg buried in an avalanche, Roskelley didn't mince words. He knew, in his gut, his son was gone.
"They're dead," he said then. "They aren't missing."
There are occasional moments that show his pain. On Friday evening, John scrolled through his phone to check media reports about his son. He corrected some when necessary, responded to emails from loved ones and friends, and then it fell apart and the grief overwhelmed him, and he had to leave.
"I can't take it," he said while walking out of the room, leaving his phone behind.
A little later, Jordan, Jess' sister, excused herself to go sit in Jess' brand new Dodge Ram 1500 for half an hour. She looked at the CDs he had in there. She turned on the heat to stay warm.
"Jess loved his trucks," she said when she returned. "Massive black trucks."
Is it worth it?
In the hours and days following news of Jess' death, the world took notice. Parks Canada received about 700 separate media inquiries. It was mentioned in the New York Times, the Washington Post and CNN, among many others.
It was an international story that devastated both climbers and non-climbers. The North Face dedicated the homepage of their website to the trio. Professional and amateur climbers alike posted tributes and remembrances on social media.
And the question that is always asked when someone dies in the mountains was asked again.
Is it worth it?
Climbers point to the bonds forged in the alpine. Friendship and love. The sense of self-worth, self-reliance and self-inquiry.
Those answers seem shallow in the face of Allison Roskelley's grief.
Married since 2015, Jess and Allison were so clearly in love. As a sponsored athlete, Jess was expected to regularly post photos of his latest adventure on Instagram or Facebook. He did, of course. But more often than not his feed was dominated by photos of his wife, Allison, and his second love, his dog Mugs.
They were the kind of couple who others looked up to. Soul mates, as many described them.
Five days after Jess failed to call, Allison had hardly eaten or slept. When she saw a good friend of Jess, she broke down and cried.
It has happened. It can't be undone. Three lives are lost, futures ended.
There is some consolation knowing that Jess loved climbing and was in his element. But for those left behind, perhaps the words "Fortitude Vincimus" that Jess had tattooed across his chest – famous explorer Ernest Shackleton's family motto – offer the best, most honest comfort: "By endurance, we conquer."
---