Sports
Grip on Sports: Gonzaga players are wise to realize if the door is open, and it won't be locked in the future, why not walk through it?
Tue., April 23, 2019, 8:14 a.m. A GRIP ON SPORTS • Think about it this way. If someone at, say, Microsoft or Amazon offered to give a free evaluation of your employable assets while you were still in college, and they offered to do it for free, would you pass? Me thinks not. Read on.
••••••••••
• There are always unintended consequences to every NCAA action. Not unforeseeable ones, just unintended ones.
When the organization, under public pressure to allow its best basketball players to test the NBA waters, decided to liberalize its archaic rules and give the best of the best an opportunity to evaluate their professional worth, it opened the door for everyone. There was no way to not.
If Player A, a first-team All-American, wanted to go through an evaluation process prior to the NBA draft, then Player D, who played only a few minutes a game, had to be given the same freedom.
So Player D on many teams decided to do it. They submit their name into the system, they spend a few weeks talking with folks and then, armed with a blueprint for what they hope is a multi-million dollar NBA career, return to school to work on the foundation.
Washington State's Robert Franks did that last spring. He may or may not have been drafted. But he knew it was an iffy-proposition at best. So he headed back to Pullman. And then produced one of the Pac-12's best seasons his senior year. It was a win-win for him and the Cougars. But it did cause some consternation among the WSU faithful.
That's happening at Gonzaga now.
The announcements Rui Hachimura and Brandon Clarke were each foregoing their final year of eligibility was expected. Both should be first-round draft picks, receive guaranteed money and begin what they hope is long professional careers.
The Zag Nation celebrated their success. And then held its breath. Who else would declare?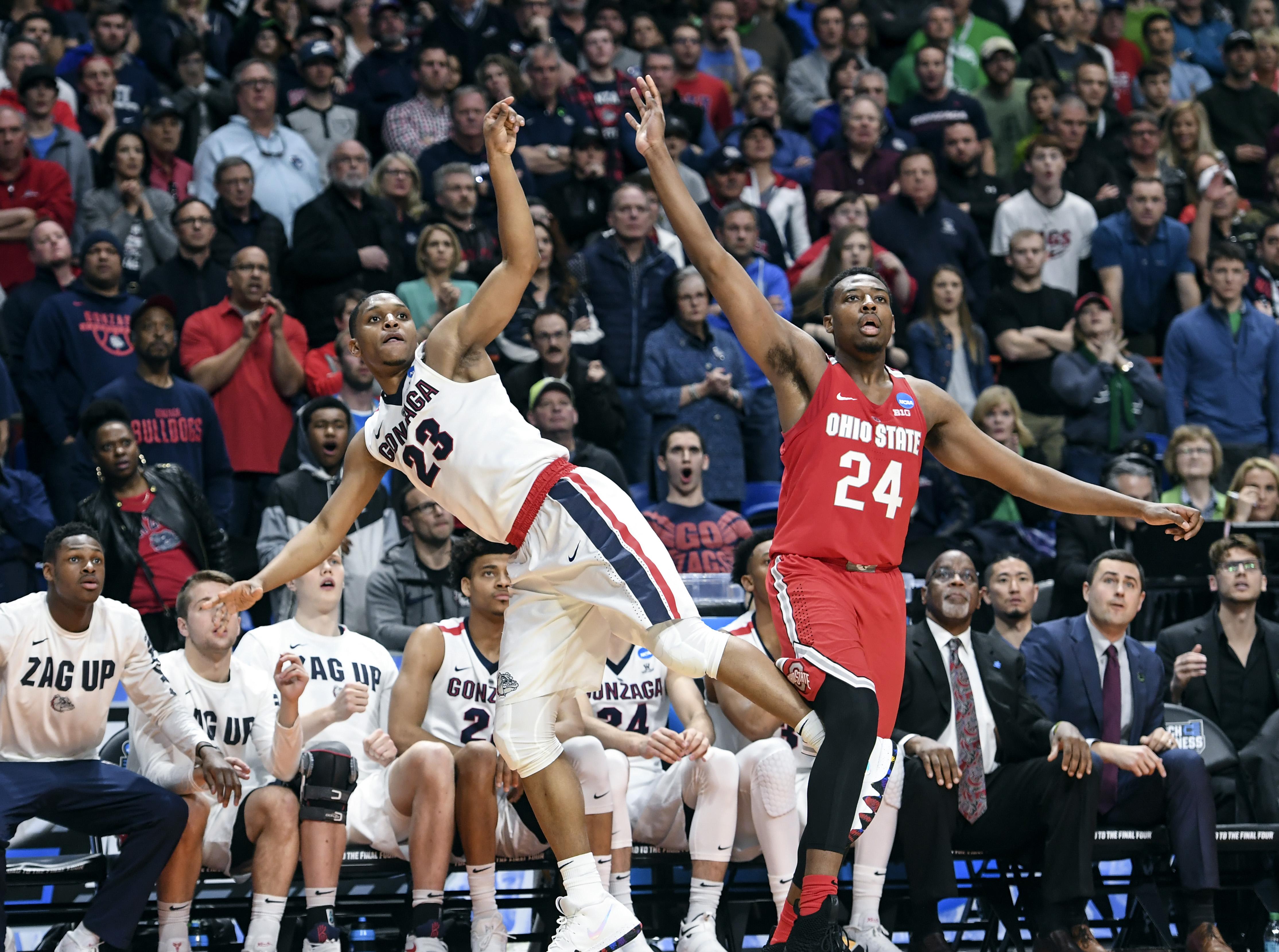 Zach Norvell Jr., who has improved his game each of his three years in Spokane – a redshirt one and then two years as a starting wing – was next, putting his name in the process with the hope of being told he's ready to move on. Next came Killian Tillie, whose Gonzaga career has been highlighted by a few glorious moments but also pockmarked by multiple injuries. Then the deadline came.
That seemed to be it. Two guys who were certainly gone. Two more that, hopefully, will make a sober intellectual decision based on what's best for their future, no one else's.
But as those old commercials used to say, wait, there's more. Yesterday we all found out that seldom-used freshman big Filip Petrusev had also submitted his name for consideration and evaluation.
For many Zag fans, it was a headscratcher, I'm sure. He could hardly find minutes with our team, they thought, why would the NBA want him?
The league probably won't. Not now. But why not avail yourself of the opportunity to see what professional evaluators think? It can't hurt, can it?
As far as I can tell, at least 125 players with eligibility have entered the process. At least half of them have to return to school, right?
After all, there are only 60 players around the world who will be drafted. Some will be seniors who have exhausted their eligibility and some will come from overseas. There are, basically, 50 spots available for underclassmen. Anyone else who stays in the draft will be looking at playing in the G League or overseas. It may be the preferred path for a few underclassmen – money or other reasons might make it tough to return – but most will head back to their campus with more information to process. And their future a bit clearer.
•••
WSU: Around the Pac-12, football takes the spotlight today, with Washington continuing its spring practices yesterday. … Summer workouts loom for the Oregon players. … Two Utah kickers hope to be drafted. … Colorado hopes to have improved at running back. … Speaking of the draft, which Pac-12 player will be the first picked? Most are guessing it will be Washington State's Andre Dillard. … Money isn't the only reason the NCAA decided not to expand baseball and softball coaching staffs. Wait a minute, yes it is.
Gonzaga: Yes, there have been five players off last year's Elite Eight team that have declared for the draft. Jim has the story on the last of the group. … He also joined Larry Weir yesterday for the Press Box pod, though it came before the news of Petrusev's decision was common knowledge.
Whitworth: There are a lot of stories worth sharing at the area colleges and not all of them come from the major sports. Dan Thompson shares one today about the Pirates' Marissa Kirk, a tennis player who just finished her career for Whitworth.
Chiefs: The WHL Western Conference finals move to Spokane tonight. Kevin Dudley has a preview as the Chiefs try to dig out of a 0-2 hole.
Preps: We can pass along roundups for baseball, softball and soccer.
Mariners: No game yesterday. The M's open a two-game series in San Diego tonight. And may be using the newest fad in baseball, an opener, soon.
Seahawks: When the smoke clears from this weekend's draft, will Frank Clark still be in Seattle? That seems to be the million-dollar-plus question. It's all about the Benjamins. And the Amazon stock.
•••
• An early heads up. We are going out of town this weekend. I already know I won't be able to write Saturday morning. And may not be, due to flight considerations, able to get the column done on Monday. If our flight has wi-fi, then yes. If not, no. You've been warned. Until later …
Subscribe to the sports newsletter
Get the day's top sports headlines and breaking news delivered to your inbox by subscribing here.
You have been successfully subscribed!
There was a problem subscribing you to the newsletter. Double check your email and try again, or email
webteam@spokesman.com
---