Sports > Spokane Chiefs
Jake McGrew's overtime goal gives Chiefs breakthrough win against Vancouver in conference final
April 23, 2019 Updated Tue., April 23, 2019 at 11:10 p.m. It wasn't a must-win game, but it wasn't far from one.
The Spokane Chiefs, down 2-0 in the Western Conference Championship series against the Vancouver Giants, came home Tuesday looking to avoid going down 3-0.
Thanks to Jake McGrew's overtime heroics, the Chiefs head into Wednesday night's Game 4 with some life. McGrew scored 8 minutes, 51 seconds into the extra frame to give Spokane a 3-2 win. The Chiefs are down 2-1 in the series.
Luke Toporowski and Eli Zummack each had a goal and an assist in the win. Bailey Brkin stopped 27 shots, while his counterpart David Tendeck stopped 35 for Vancouver.
The game went to overtime thanks to Vancouver's Jared Dmytriw's power-play goal at 17:01 of the third. With Toporowksi in the box, Dmytriw sent a puck to the slot where it bounced off Filip Kral's skate and into the net.
But despite the sour ending to regulation, the Chiefs stuck to their game plan in overtime. Bobby Russell held the puck in the zone behind the Vancouver net and sent it out front for McGrew to end the game.
"I saw Bobby coming down the wall and I just tried to get to the net and call for it," McGrew said. "Luckily, he put it in front and I was there to bang away at it. Luckily, it went in."
The Chiefs started the game with an aggressive forecheck and didn't allow Vancouver a shot on net until the 7:58 mark of the first.
"I was very pleased with our effort and some guys stepped up in situations and played in roles they don't always play in," head coach Dan Lambert said.
Some of those guys playing in new situations included 17-year-old Connor Gabruch, playing in place of injured 20-year-old Luc Smith. The Chiefs also lost Kral in the first period after he took a crushing hit from Justin Sourdif. Kral returned midway through the second period after Spokane rotated its five remaining defensemen.
"It's hard when you lose a guy for about a full period," Lambert said. "In saying that, guys stepped up. It puts pressure on some guys because they're playing more, and guys were able to stick with it."
As for Gabruch, he hadn't played in more than a month.
"I liked his game. He got pucks in deep and was relentless," Lambert said of Gabruch. "He finished a few hits and had a couple shots on net. I thought he played very well."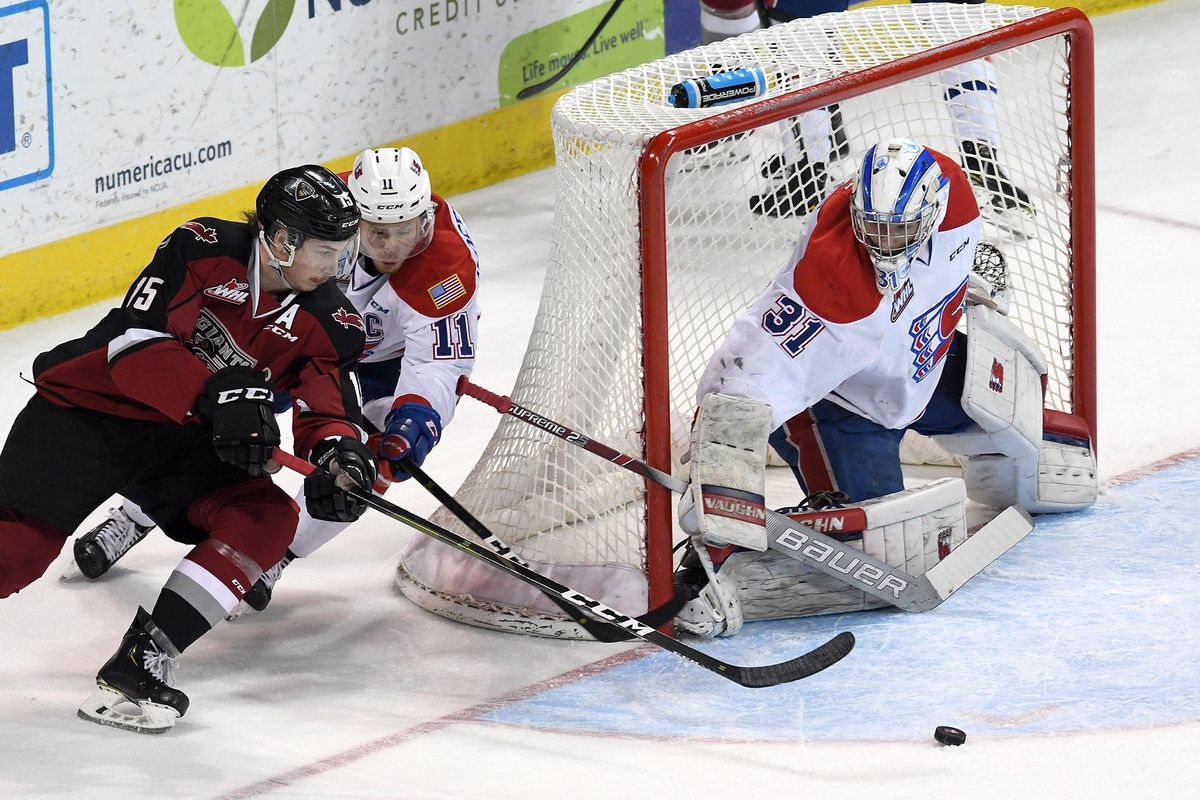 As Vancouver Giants forward Owen Hardy (15) and Spokane Chiefs forward Jaret Anderson-Dolan (11) chase the puck, Spokane Chiefs goalie Bailey Brkin (31) keeps it out of the net during the scoreless first period of a WHL playoff game, Tues., April 23, 2019, in the Spokane Arena. (Colin Mulvany / The Spokesman-Review)
After a scoreless first period, Zummack broke the ice at 17:40 of the second when he put home a rebound past Tendeck. Nolan Reid had the original shot and Zummack was camped out front.
Sourdif tied the game at 2:22 of the third after sending a wrist shot past Brkin's blocker.
The Chiefs retook the lead at 10:51 of the third when Toporowski scored off a rush. Zummack carried the puck into the zone and slid a nice pass to Riley Woods, who sent the puck across the goal crease to Toporowski.
The game was a physical affair, with Toporowski and Vancouver's Dylan Plouffe dropping the gloves for a fight in the first period.
"I think we carried (the physicality) over from the last game," McGrew said. "I think we were the more physical team the first two periods. That's the message, when we're playing good, we're physical and getting after it and winning battles. We know they're a physical team and a real fast team, so we have to keep on them."
Playoff overtime can last forever, as teams play full 20-minute periods instead of the 5-minute 3-on-3 overtimes in the regular season. Ending Tuesday's game without playing too long will help both teams with Game 4.
But McGrew said the Chiefs are used to quick turnarounds.
"We've been doing this all year, back-to-backs, (three games in three days), stuff like that," he said. "It's in the back of your mind, but you have to take it one shift at a time. You can't think about tomorrow."
Local journalism is essential.
Give directly to The Spokesman-Review's Northwest Passages community forums series -- which helps to offset the costs of several reporter and editor positions at the newspaper -- by using the easy options below. Gifts processed in this system are not tax deductible, but are predominately used to help meet the local financial requirements needed to receive national matching-grant funds.
Subscribe to the sports newsletter
Get the day's top sports headlines and breaking news delivered to your inbox by subscribing here.
---