News > Spokane
Andy Rathbun drops out of mayor's race to run for Spokane City Council, but there are still 8 people running for mayor
UPDATED: Wed., April 24, 2019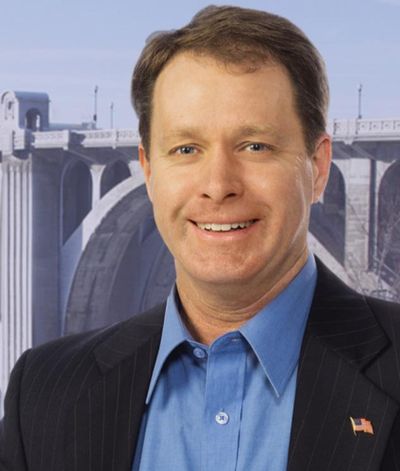 An Air Force veteran who pledged to spend $30,000 of his own money in a run for Spokane mayor announced Wednesday that he's changing his goal.
Andy Rathbun, 55, said he may not have the name recognition necessary to win the city's top position, so he's instead pursuing a run for a Spokane City Council seat representing northwest Spokane, where he's been a leader on the West Central Neighborhood Council.
He is now one of three men trying to unseat incumbent Councilwoman Karen Stratton.
Jeff Martin, a northwest Spokane resident who works in fraud prevention for the state Department of Labor and Industries, also announced Wednesday he was running for Stratton's seat.
Christopher Savage, a 28-year-old Lyft driver, filed to run for the council at the end of January.
Rathbun said former TV anchor Nadine Woodward entering the mayor's race wasn't the only factor in his decision to drop out, but beating a household name in an election would have been difficult.
"It's almost insurmountable to overcome that," he said. "I think I'm more qualified than she is, but I need to show the people that first, before I go for the top position."
In a text Wednesday, Woodward said she looked forward to hearing Rathbun's ideas for the city and appreciated every candidate who runs for office.
Rathbun has repeatedly criticized his opponents in the mayor's race, accusing Woodward of filing her candidate financial forms late and criticizing City Council President Ben Stuckart for fundraising outside of Spokane.
Rathbun said he may run for mayor in the future, but before then he hopes to be elected to a council that focuses less on social issues and more on fiscal policy. He said he respected the work Stratton has done while on the City Council, but was frustrated by decisions such as indefinitely tabling a land deal with homeless shelter Union Gospel Mission that would have allowed the city to build a stormwater filtration system.
Rathbun said he believes the council's focus on social issues, such as concerns over UGM's religious and LGBTQ policies, may have interfered with a deal that would have kept pollutants out of the Spokane River.
"It's kind of crazy that they didn't approve that," he said.
Martin, Rathbun's opponent for the northwest council position, echoed his concerns about the council's focus on social policies.
Martin, a fiscal conservative, said he hopes his presence would create a more balanced council. The council has a progressive majority, often leading to 6-1 votes on controversial issues. That makes many Spokane residents feel like they're not being represented, he asserted.
"I don't think City Council or governments work well when it seems like there is only one point of view," he said.
If elected, Martin said he hopes to bring a moderating, middle-of-the-road voice to the legislative body's discussions.
Savage, the first candidate to challenge Stratton, said he opposed the council's decision to go to taxpayers to pay for more police officers and firefighters, instead of staying within its budget.
"The city of Spokane has enough funding that it could utilize the funds it already has without asking for more," he said.
Stratton said facing several opponents may be challenging, but she was proud of what she's accomplished in her four years in office and has been involved in campaigning most of her life. Stratton's mother, Lois Stratton, was a state senator in the 1980s and '90s.
"I've been doorbelling since I was 6 years old, so none of this is new or scary for me," she said. "You just have to do what you got to do."
Stuckart said he wishes Rathbun luck in the council race, though he supports Stratton.
"I think she's a great representative for the citizens of her district and the 2,000 employees at the city," Stuckart said.
A few days before Rathbun dropped out of the mayor's race, another candidate, "Mike" Gahvarehchee Manoochehre, owner of the Muneris Inc. construction company, also filed for the city's top position. If Rathbun had not have switched races, there would have been nine people running for mayor.
In 2015, three candidates ran for mayor in the primary. In 2011, five did.
Stuckart is the only candidate who has previously been elected to office. Several other candidates have military experience, own businesses or have been involved in their local neighborhood councils.
Manoochehre is one of several business-focused candidates to enter the race, including Woodward, business owner Jonathan Bingle and firefighter Shawn Poole.
Woodward has faced criticism from several of her opponents that she has an advantage through name recognition, but has not taken a stance on any specific issues. In a text Wednesday, Woodward said she's been working on seeing the "overall picture" over the past weeks and will unveil policies at a campaign kickoff next month.
"I can't change the fact that I have name recognition, or that people trust me because they've been watching me report on Spokane issues for nearly 30 years," she wrote. "The same is true if you're running against an incumbent who people already know."
Bingle, a business owner and first-time candidate, said he wasn't worried about name recognition because he believed he still had time to get in front of voters and make his case. He said he also wasn't discouraged by the number of candidates in the race, because that means people will have more choices than they normally do.
"Spokane benefits from having a lot of options," he said. "I encourage everyone to run."
Chris Schroll,a more progressive candidate who hasn't yet raised money, said name recognition is a concern, but Rathbun's exit and Manoochehre's entry into the race probably won't affect his campaign.
"We're just going to keep chugging along," he said. "My campaign is not going anywhere."
Jason Dixon, a vape shop and former medical marijuana dispensary owner who is running for mayor as well, said Woodward has a clear advantage over other candidates because of her career in television news, but that doesn't make her the most qualified for the job.
Mayoral candidates Kelly Cruz and Poole could not be reached for comment.
Local journalism is essential.
Give directly to The Spokesman-Review's Northwest Passages community forums series -- which helps to offset the costs of several reporter and editor positions at the newspaper -- by using the easy options below. Gifts processed in this system are not tax deductible, but are predominately used to help meet the local financial requirements needed to receive national matching-grant funds.
Subscribe to the Coronavirus newsletter
Get the day's latest Coronavirus news delivered to your inbox by subscribing to our newsletter.
---