Rep. Matt Shea links to white nationalist website, defends running background checks on political opponents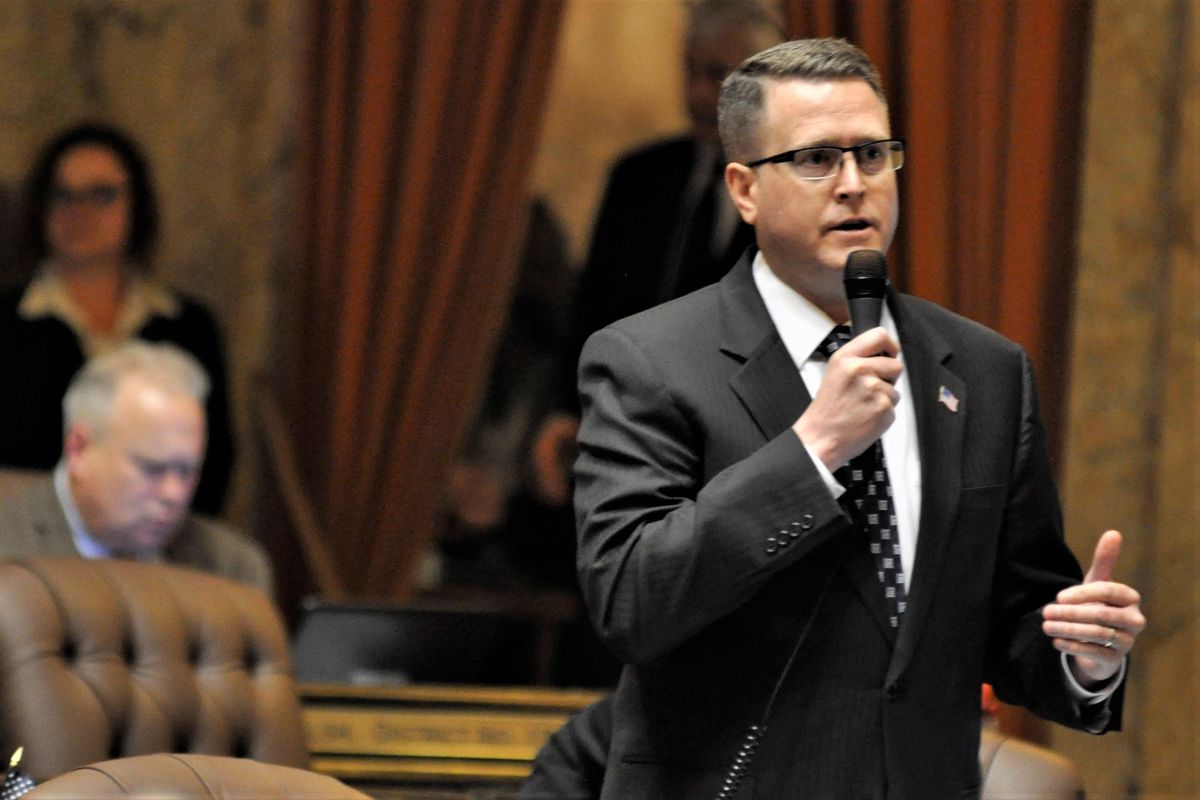 Fuming after a new round of headlines about his interactions with far-right activists, state Rep. Matt Shea directed his 4,600 Facebook followers to an obscure Australian website that traffics in white nationalist memes and Holocaust revisionism.
Specifically, the Spokane Valley legislator shared a link to an article on XYZ.net.au that attempts to discredit Guardian journalist Jason Wilson, who revealed on Saturday that Shea took part in a 2017 text chat that discussed attacking and spying on political enemies.
It's unclear if Shea visits the site regularly. He doesn't appear to have shared any XYZ articles before Monday night, and he didn't respond to multiple messages seeking comment on Tuesday, in keeping with his usual practice of ignoring media inquiries.
XYZ is akin to a slightly more extreme Australian version of Breitbart News that regularly takes aim at mainstream outlets such as the Guardian and the Australian Broadcasting Corporation.
"They're a white nationalist source, and that's a new level for Shea," said Jac Archer, the vice chair of the Spokane County Democrats and a member of Spokane Community Against Racism. "And I think it raises the question: Is this regular reading material for Shea? Is he getting sent this stuff and not vetting it?"
If Shea had scrolled through the XYZ homepage, he might have spotted an article that mentions "how the cancerous system is cracking down on White Nationalism."
Or he might have noticed this headline: "Alt-Christ: The emerging Christian revolt against Satanic globohomo disorder."
That post cited a tweet by Mike Cernovich, an alt-right provocateur who promoted the hoax known as Pizzagate, which resulted in gunfire at a Washington, D.C., pizza parlor.
If Shea had clicked around to see some older XYZ content, he might have found numerous anti-Semitic references to the financier George Soros.
Or he might have come across a review of a book titled "The Myth of German Villainy," which purports to "destroy the official narrative" of the Holocaust and questions the innocence of millions of murdered Jews.
Shea earlier this month voted for a new law encouraging Holocaust education in public schools.
In an April 12 speech on the House floor, Shea said teaching about the Holocaust "is not just about the Jewish people. It's about all people, of every ethnicity and every religion. When human beings do that to one another, nobody wins, and we allow it to happen, we allow evil into the world. And we can stand here on this floor today and say that the Holocaust was evil."
However, Shea has been accused of religious bigotry before, including when he founded a local chapter of the anti-Muslim group ACT for America.
The article that Shea shared Monday was published in January 2018 and makes a number of exaggerated claims and tenuous connections to paint Wilson, the Guardian writer, as an anarchist sympathizer.
It wasn't the first time XYZ had complained about Wilson, an Australia native living in Portland who has reported extensively on political extremism in both countries.
In his Facebook post Monday night, Shea called the Guardian story "an extremely misleading hit-piece."
But neither he nor two other men who participated in the 2017 group chat, Anthony Bosworth and Jack Robertson, have disputed any factual details of the story, which was based on copies of the chat obtained from an anonymous source.
According to the Guardian, Bosworth, who took part in the 2016 armed occupation of an Oregon wildlife refuge, talked of confronting antifa, or anti-fascists, in their homes and workplaces.
Robertson, who hosts the show Radio Free Redoubt using the pseudonym John Jacob Schmidt, added child day care centers to the list of suggested targets, and described assaulting a woman by slamming her face into a traffic barrier.
There was no indication that Shea made threats of violence himself, though he did not attempt to dissuade the others. At one point, the Guardian reported, he volunteered to run "BG checks" on at least three individuals, including a college professor and an organizer for Indivisible, a local liberal group.
In Monday's Facebook post, Shea wrote: "Of course I have done background checks to protect my family and my community, but that was only in response to threats already coming from the left. I will continue to fight to protect the Constitution, my family, and my community. I will not back down. I will not quit. I will not give in. Ever."
Meanwhile on Tuesday, the Washington State Democratic Party and the Western States Center, a progressive group based in Portland, continued calling for Shea to be expelled from the GOP caucus.
The House Democratic caucus also issued a statement denouncing Shea. The caucus urged Republican leaders "to act swiftly and decisively," stopping short of calling for his ouster from the GOP.
"Rep. Matt Shea's offer to conduct background checks and his association with those condoning violence, surveillance and intimidation on political opponents is abhorrent. We strongly condemn his words and actions," the statement said. "Rep. Shea has shown through his pattern of increasingly alarming behavior that he has no remorse or willingness to change."
On Tuesday, House Republican Leader J.T. Wilcox, of Yelm, said he had talked to Shea about the 2017 messages and was aware of the website that Shea had shared on Facebook. But Wilcox said he had no immediate plans to expel Shea from the caucus.
"He can link to whatever he wants," Wilcox said. "Everybody has their own Facebook page."
Rebekah Mason, a Democratic organizer in the 4th Legislative District that Shea represents, said the sharing of racist propaganda can't go unchallenged.
"It's embarrassing to have an elected representative who throws around conspiracy theories and racism like that," Mason said. "When you're an elected official, you have to be held accountable, and that includes social media posts."
As of Tuesday evening, the post remained on Shea's Facebook page.
Spokesman-Review reporter Jim Camden contributed to this report.
---