Sports > Spokane Chiefs
Spokane Chiefs squander third-period lead, lose in overtime to Vancouver
April 24, 2019 Updated Wed., April 24, 2019 at 11:04 p.m. For the second time in three games, the Spokane Chiefs lost a two-goal lead in the third period.
This time, the Chiefs were able to get the game to overtime, but Vancouver's Dawson Holt scored at 7:07 of the extra period Wednesday night, giving the Giants a 4-3 win in Game 4 of the Western Conference finals. Vancouver is up 3-1 in the series, with Game 5 Friday in Langley, British Columbia.
Adam Beckman scored twice for Spokane. Bowen Byram had a goal and an assist for Vancouver.
Shot totals were nearly even, with Spokane holding a 31-30 edge. Bailey Brkin stopped 26 shots for the Chiefs, and Vancouver's David Tendeck turned away 28.
The Chiefs blew a 2-0 third-period lead in Game 2 in Langley as Vancouver scored four goals in a 3:21 span. The pain Wednesday night wasn't as sudden, though it wasn't all that prolonged, either.
The Giants scored three goals in a 5:38 span this time, turning a 2-0 deficit into a 3-2 lead.
"They came at us and we froze a little bit, and they applied pressure," head coach Dan Lambert said. "They put a goal in off our foot again on the power play. That's what happens when you get pucks to the net. It's unfortunate, because for the first 40 (minutes), we were pretty good."
Jadon Joseph scored at 4:26 on a delayed penalty call, cutting Spokane's lead in half. Byram scored on the power play at 9:11, and just 53 seconds later, Brayden Watts gave Vancouver the lead, scoring off the rush.
"This hurts right now," Beckman said. "We had the game in our hands, but we gave up three goals. I think it's important we turn it around and focus on the next game, because that's all that matters."
Riley Woods made sure the game didn't end in regulation when he scored with 3:35 remaining out of a net-mouth scramble.
But the Chiefs couldn't solve Tendeck in overtime, and hardly had any chance to do so. Spokane had just one shot on net in overtime to Vancouver's three.
Holt's game-winner came from the right wing, and he took advantage of space created when Spokane defenseman Noah King stumbled in the neutral zone as Holt skated in. King recovered, but Holt was still able to get a good shot off, sending it past Brkin.
The loss erases what was a dominant game for Spokane through the first two periods. The Chiefs held Vancouver to just 13 shots on net through the first 40 minutes and controlled the play.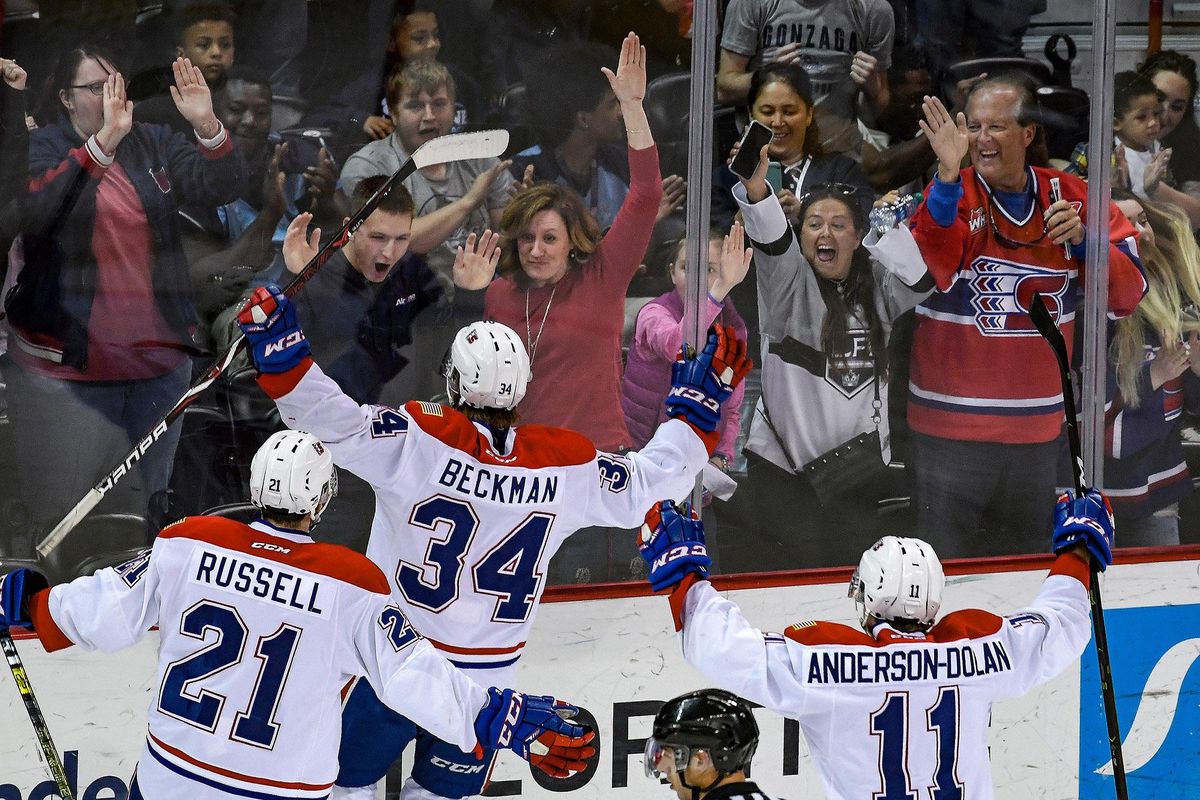 Spokane forward Adam Beckman (34) celebrates the Chiefs first goal of the night during the first period of a WHL playoff game, Wed., April 24, 2019, in the Spokane Arena. (Colin Mulvany / The Spokesman-Review)
Beckman's first goal came after he won a puck battle behind the net with Vancouver's Dylan Plouffe. Beckman used his body to hold off Plouffe and muscle his way to the front of the net, where he sent the puck past Tendeck at 18:38 of the first.
Beckman's second goal came after the puck bounced to him near the half wall. Vancouver's defense was out of position and Beckman had a clear path to the net, where he backhanded a shot past Tendeck at 10:06 of the second.
The Chiefs were playing without defenseman Filip Kral, who left Game 3 on Tuesday for a chunk of time but re-entered in the second period. Matt Leduc moved up to the second defense pairing with Nolan Reid in Kral's absence.
Egor Arbuzov played on the third pairing with Bobby Russell. It was just Arbuzov's third playoff game this postseason.
Like the rest of the team, Spokane's defense played well for the first two periods, but Kral's absence was apparent.
"He's a top-four D and a leader on our team, and a very good player," Lambert said. "Whenever you lose a player like that, it leaves a mark."
The Chiefs' season will be on the line Friday in Langley in Game 5. Should they win, Game 6 would be back in Spokane on April 29.
Local journalism is essential.
Give directly to The Spokesman-Review's Northwest Passages community forums series -- which helps to offset the costs of several reporter and editor positions at the newspaper -- by using the easy options below. Gifts processed in this system are not tax deductible, but are predominately used to help meet the local financial requirements needed to receive national matching-grant funds.
Subscribe to the sports newsletter
Get the day's top sports headlines and breaking news delivered to your inbox by subscribing here.
---