News > Spokane
First-time homebuyers met with few housing options in seller's market; Spokane officials offer potential fixes
Sat., April 27, 2019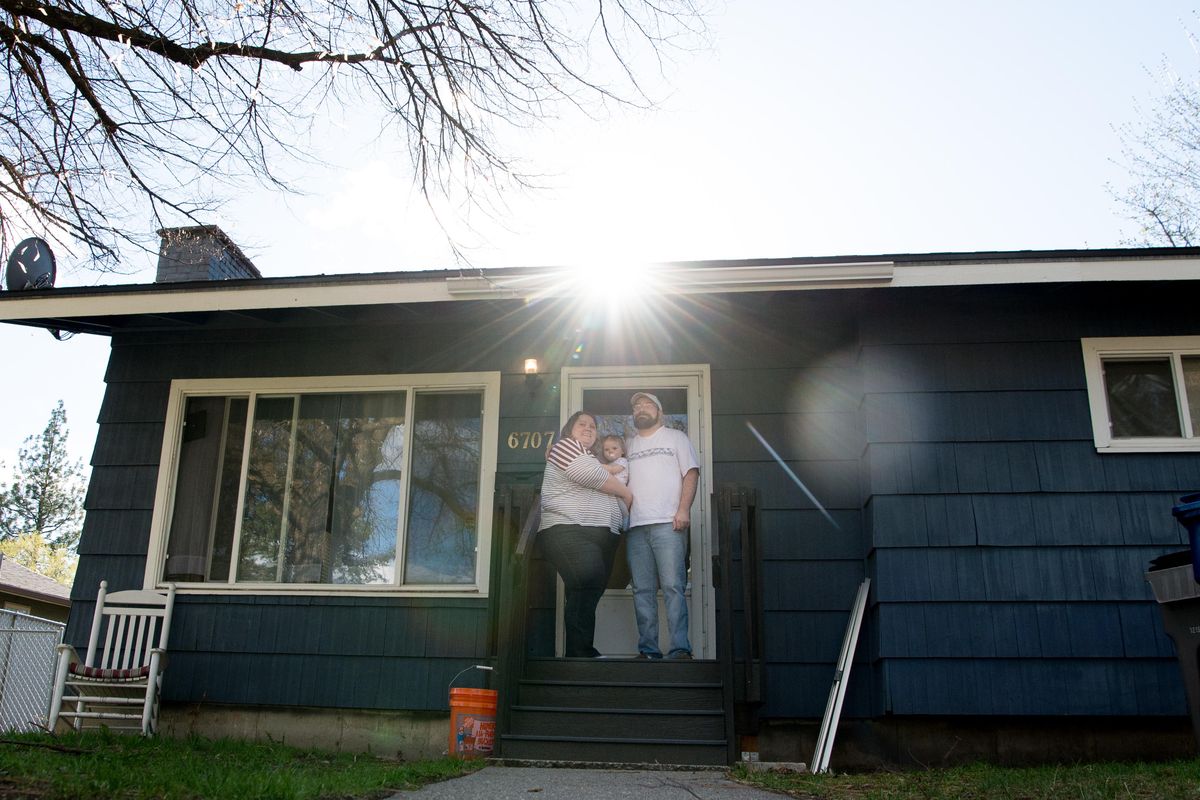 Micah and Katie Blake stand on the porch of their home with their daughter Rylee on Wednesday, April 17. The Blakes were turned down multiple times by sellers before striking luck, buying their first home north of Francis Avenue. (Tyler Tjomsland / The Spokesman-Review)
A small supply of affordable homes for first-time buyers, along with a frenzied market, means one thing for many Spokane residents looking to take the leap from renting to owning.
Rejection.
"We were looking at houses for months and probably put in close to two dozen offers," said Micah Blake, who along with his wife, Katie, and sister-in-law Emily Clavel, found a three-bed, one-bath rancher north of Francis Avenue after months of searching. "We were outbid almost every time."
The couple worked with Steve Silbar of John L. Scott Real Estate to find their home. Silbar, who's been working the real estate market in Spokane for two years after moving from Los Angeles, said he's seen the bidding wars. Those who walk in with cash or conventional loans are getting more of a look than potential buyers with government-backed loans, often those seeking to buy their first home.
"It can get discouraging for the buyers, and it can get discouraging for the Realtor, too," Silbar said.
Engaged couple Emma Schmitt and John Kircher, both 19, had a similar experience when they decided to start married life owning rather than renting. They navigated the seller's market with their Realtor, Kircher's mother, Vicki.
"Every night after work, we were calling somebody and looking at two houses," said Kircher, who eventually found a one-bed, one-bath home in the Hays Park area that had just been flipped.
Their success stories demonstrate determination, something that first-time homebuyers have had to show for years as affordable, starter home stock has lagged in Spokane County as it has across the nation. Just 21 homes were listed in March in Spokane County ranging from $100,000 to $200,000 in price, considered nationwide to be within the median price for first homes, according to data from Realtor.com.
Policymakers insist one of the easiest ways to solve the housing shortage is to loosen the state's strict liability laws for construction of condominiums, which would allow developers to build units that fit within an affordable price range and allow owners to build equity they can later use to buy their first detached home. But when it comes to increasing that single-family home stock, potential solutions include opening up more real estate outside of the urban core for building and providing for denser construction near urbanized centers of far-flung neighborhoods.
"One of our huge issues we have is nobody's building any affordable housing for the aging population," said Spokane City Council President Ben Stuckart, who's pushed for easing certain building standards within city limits to allow for greater infill development.
Stuckart said allowing for those easing of standards near areas of the city identified in planning to be more walkable, urban centers would provide options for aging residents who are remaining in their single-family homes. When they do so, those houses aren't available for purchase by younger buyers who are looking to break into ownership.
It's causing downward pressure on the real estate market that both Realtors and lenders are noticing.
"We're talking thousands of people now who don't have an opportunity to move somewhere that would be affordable for them," said Marianne Guenther Bornhoft, a broker-Realtor with Windermere-Spokane. "That housing stock is lost."
"There seems to be heavier inventory on the $300,000 price point and up," said Darren McNanny, director of real estate for STCU. "We're pretty tight on the below-$300,000, so that's a challenge."
U.S. Census data shows that property owners in Spokane County, when asked, mostly value their property at a price between $200,000 and $400,000 if it were on the market. In 2017, according to a census survey, close to 47 percent of property owners valued their home in that range, while 33 percent valued their property between $100,000 and $200,000.
That's led first-time buyers to compete fiercely for available properties in their price range, oftentimes giving up on some wishes in order to find a property, Guenther Bornhoft said.
"Some of the homes that generally would take longer to purchase are being snapped up by people saying, 'I'm going to have to get in something,'" she said.
Potential buyers are also competing with investors who are hoping to flip a house in the seller's market and make a tidy profit. Kircher said he and his fiancee ran into that problem multiple times.
"People that just have stacked up bank accounts, as soon as this kind of house comes on the market, they snatch it up," he said.
Spokane County is working to ease the market pressure by advocating for larger housing density in areas on the urban fringes of its incorporated cities, Spokane County Commissioner Al French said. That's done by expanding a boundary known as the urban growth area, revisions that often invite criticism from neighborhood and smart planning advocates concerned about sprawl.
"It has taken a lot of land that would otherwise be developable and drives up the price by creating an artificial sense of scarcity in the county," French said of the efforts to keep expansion at bay.
But several groups sued Spokane County to halt any growth in unincorporated areas, and the county agreed to settle those lawsuits in 2016 by not advocating for any extensions until 2025. But that agreement does not prevent the county from advocating on behalf of other communities, like Airway Heights and Cheney on the West Plains, to expand their boundaries, French said. Commissioners are also looking at increasing the allowable density in areas covered by the current growth agreement.
City Councilwoman Candace Mumm, who has fought efforts to extend utility services beyond those boundaries, said expanding the growth area is not the right approach to address the housing shortage, siding more with her municipal counterpart Stuckart in arguing for more concentrated growth in the city's urban centers.
"That's not financially sustainable," Mumm said. "It costs more to deliver services to people, it's the citizens who pay for the roads and fire services or who pay for schools."
But efforts to increase density in neighborhoods are also met with backlash, Stuckart said.
"We want density around these small neighborhood centers, but we haven't fully had the political will to do that," Stuckart said.
As an example, when developer Jim Frank proposed a Kendall Yards-like addition on Spokane's South Hill, neighbors quickly raised concern about traffic, parking and crime.
For now, first-time homebuyers offer one piece of advice to those looking to get into one of the few affordable starter homes on the market: Cover your bases. Have a backup offer waiting, just in case an initial sale falls through. Blake said it was that backup offer that saved their family their current home, after 10 years of renting and five moves from property to property.
"A lot of the people looking at houses, they don't put in a backup offer," Blake said. "Somebody outbids you, and a lot of the people move on to the next house."
Local journalism is essential.
Give directly to The Spokesman-Review's Northwest Passages community forums series -- which helps to offset the costs of several reporter and editor positions at the newspaper -- by using the easy options below. Gifts processed in this system are not tax deductible, but are predominately used to help meet the local financial requirements needed to receive national matching-grant funds.
Subscribe now to get breaking news alerts in your email inbox
Get breaking news delivered to your inbox as it happens.
---