News > Spokane
Rep. Matt Shea was part of violent 2017 chat from the beginning
Sat., April 27, 2019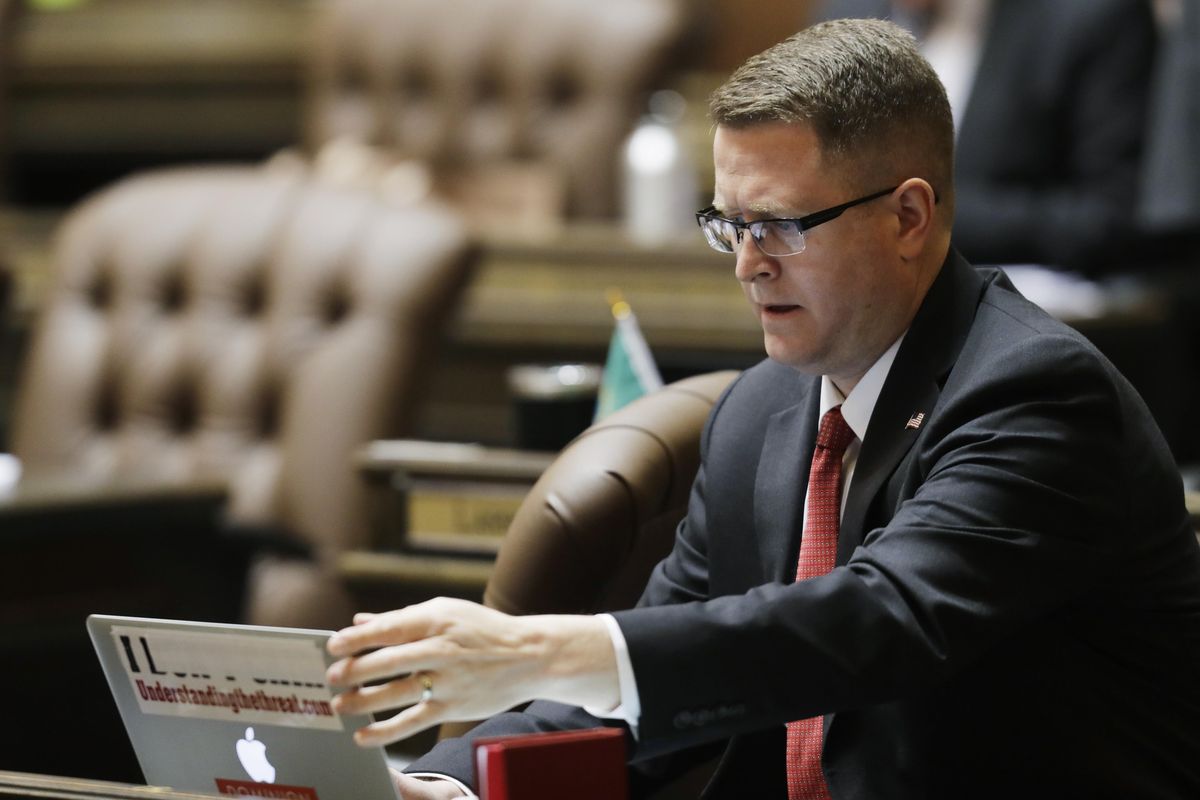 Washington State Rep. Matt Shea, R-Spokane Valley, adjusts his laptop computer on the floor of the House, Monday, April 22, 2019, at the Capitol in Olympia. (Ted S. Warren / AP)
Portions of a 2017 chat log obtained by The Spokesman-Review contradict state Rep. Matt Shea's claim that he was not a participant in the conversation when other far-right figures suggested acts of violence against left-wing protestors.
The Guardian revealed last Saturday that Shea took part in the Signal group chat, connecting the Spokane Valley lawmaker to his screen alias, Verum Bellator – Latin for "truth warrior."
Democrats were quick to condemn Shea and his participation in the chat. Two other participants, Anthony Bosworth and Jack Robertson, have claimed Shea was not part of the conversation during the talk of violence, which they called a "tongue-in-cheek" response to rumors of left-wing protests in early November 2017.
Shea, who called the Guardian story "an extremely misleading hit-piece," repeated that claim Wednesday in an interview with Jason Rantz, a right-wing radio host in Seattle.
"I was added toward the end of the conversation, absolutely," Shea said.
"The fact of the matter is that this conversation was started by the individual who ended up leaking this to the media," Shea said. He said he was added to the conversation "two days after the more egregious part of the conversation that is being trotted out there."
But portions of the chat obtained by The Spokesman-Review indicate Shea joined or was added to the group on Oct. 29, 2017.
That's the same day Bosworth suggested confronting leftist activists at their homes and workplaces, and five days before Robertson described slamming a woman's face into a traffic barrier and shaving her head with a military combat knife, according to the Guardian's reporting.
On Nov. 4, Shea sent a message to the group at 9:45 a.m. – just three minutes before Robertson suggested "hoisting communists up flag poles. Especially the ones with nipple rings."
There has been no indication that Shea proposed acts of violence himself, but he didn't attempt to dissuade the others. He also expressed a willingness to conduct background checks on political opponents.
Reached by phone Thursday, Bosworth, who took part in the 2016 armed occupation of an Oregon wildlife refuge, insisted the chat logs had been altered before they were shared with reporters. He didn't dispute the contents of the individual messages, but claimed they had been shuffled out of chronological order.
Bosworth refused, however, to provide his own copies of the chat for comparison.
"It was a private conversation and I intend to keep it that way," he said.
Shea did not respond to a message seeking comment.
Local journalism is essential.
Give directly to The Spokesman-Review's Northwest Passages community forums series -- which helps to offset the costs of several reporter and editor positions at the newspaper -- by using the easy options below. Gifts processed in this system are not tax deductible, but are predominately used to help meet the local financial requirements needed to receive national matching-grant funds.
Subscribe now to get breaking news alerts in your email inbox
Get breaking news delivered to your inbox as it happens.
---