News > Spokane
100 years ago in Spokane: Trainloads of soldiers to make Spokane go 'hero wild'
UPDATED: Thu., May 2, 2019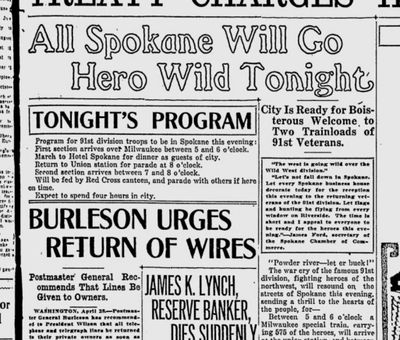 The arrival of returning soldiers from World War I was about to make the city go "hero wild," the Spokane Daily Chronicle predicted.
Two trainloads of the "famous 91st division, fighting heroes of the northwest" were scheduled to arrive at Spokane's Union Station. A reception at the train station, meal at Hotel Spokane and parade through downtown was planned. Dozens of the men were from Spokane.
From the health beat: Spokane had a new health commissioner to replace Dr. John B. Anderson, the doctor who led the city's response to the recent flu crisis.
The new health commissioner, who was named by the newspaper as "Major Hendricks," was returning from Europe where he served as a doctor in France at "camp hospital No. 4, located four miles from the gates of Paris."
"I don't want to leave home and I never want to see France again," Hendricks said.
From the mystery beat: A 19-year-old "mystery girl" named Lillian Davis was in jail, and prosecutors weren't sure what to do about her.
The girl claimed to be a freshman at the University of Washington two years ago. She said she had rich relatives and that her father was a wealthy promoter of Juneau, Alaska, but that she had been unable to reach him.
Davis was accused of stealing a $45 coat from a shop. The coat was found in her room at the YWCA.
Jim Kershner is on sabbatical.
Editor's note: This article was changed on May 2, 2019 to correct the age of the Lillian Davis.
Local journalism is essential.
Give directly to The Spokesman-Review's Northwest Passages community forums series -- which helps to offset the costs of several reporter and editor positions at the newspaper -- by using the easy options below. Gifts processed in this system are not tax deductible, but are predominately used to help meet the local financial requirements needed to receive national matching-grant funds.
Subscribe to the Coronavirus newsletter
Get the day's latest Coronavirus news delivered to your inbox by subscribing to our newsletter.
---