News > WA Government
Gun rally shows off weaponry and flags
Sun., April 28, 2019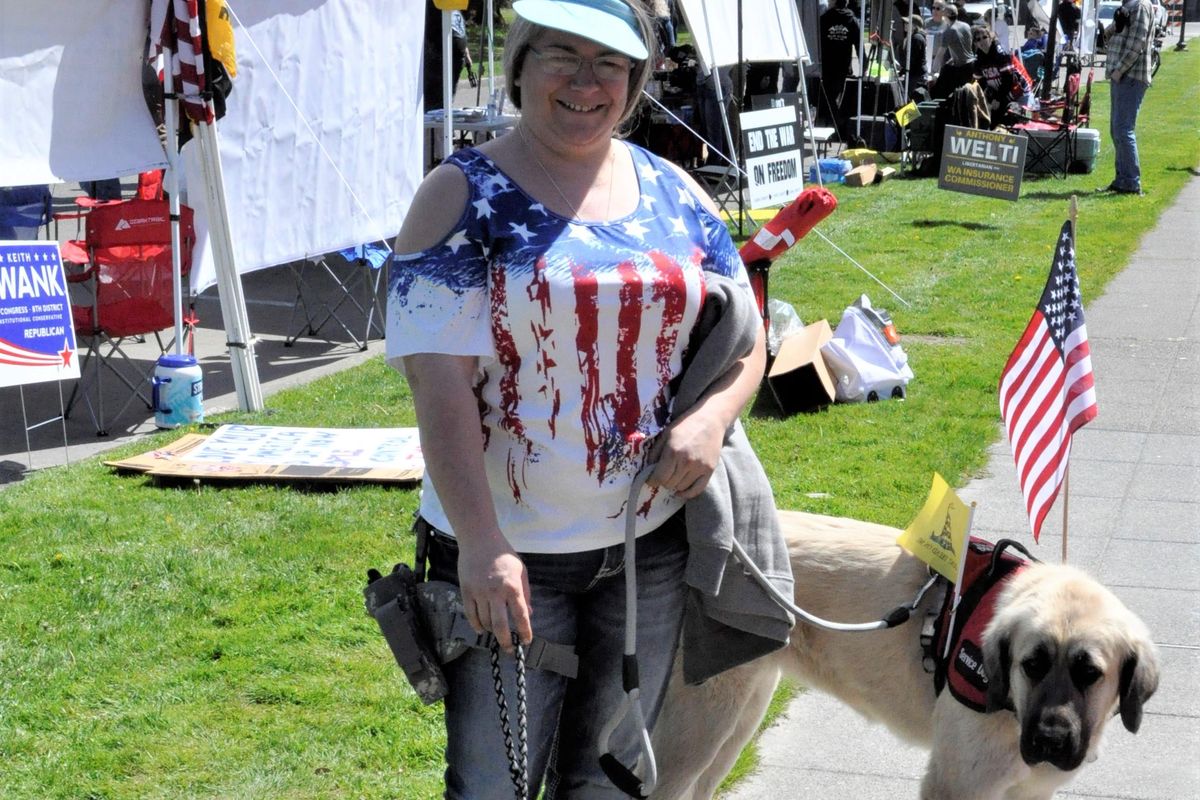 OLYMPIA – Shaila Martin, of Nine Mile Falls, came to the March for Our Rights rally with Sansa, an Anatolian Shepherd and Great Pyrennees mix, and Karma, a shepherd puppy. She said she's part of the the Three Percent movement and "not real happy about what they're trying to do to take away our rights." (Jim Camden / The Spokesman-Review)
OLYMPIA – Equipped with a variety of armaments and dressed in tactical military gear, protestors displayed their appetite for guns, the constitution – and in some cases, flags.
Among the crowd Saturday at the "March for Our Rights" on the Capitol Campus was Spokane-native Spencer Lowell, who had a Remington 870 shotgun strapped to his chest, and a backpack full of patriotic flags. He had a sign advertising them for $5 each – and was accepting cash, Visa and Mastercard.
Lowell estimated he'd sold about 200 flags. One person bought 20.
The ability to own guns is a not up for debate, and gun legislation makes it harder for good folks to own guns, Lowell said.
Lawmakers led the crowd in chants and warned of Democrats taking guns, raising taxes and installing a socialist regime.
The country is being divided by "fake news" and those who want to go against the Constitution, said Rep. Matt Shea, R-Spokane Valley. After listing off the races of several family friends, Shea urged the crowd to no longer define people by race.
"I don't care! We're Americans!" Shea shouted.
Democrats are stealing money and are "hell bent on destroying the rule of law," said Rep. Robert Sutherland, R-Granite Falls.
If you fight for your property or your family "they will kill you without hesitation," Sutherland said.
Rep. Jim Walsh, R-Aberdeen, assured the crowd he would defend against taxes and lies from Democrats.
"You are the high point of man's evolutional development," Walsh said. "You're not scared because you live in liberty."
Also speaking were activists and representatives of different gun-rights organizations.
There are "greater threats" than women, minorities and the LGBTQ community, said Kerry Slone of We The Females. She called on the crowd to unite under gun rights.
"The real enemy is a broken and manipulative system that is used to divide us," Slone said.
Despite the warnings from speakers, the Legislature has passed relatively few gun regulations this year. One bill would temporarily remove guns from a household of a domestic abuser. Another would place limits on untraceable guns and ban plastic guns created on a 3D printer.
One common target was Initiative 1639, approved by state voters in 2018. It raised the age to buy semiautomatic rifles to 21 and expanded background checks. The Legislature did not take any steps to overturn the initiative, which would have required a supermajority to change.
Local journalism is essential.
Give directly to The Spokesman-Review's Northwest Passages community forums series -- which helps to offset the costs of several reporter and editor positions at the newspaper -- by using the easy options below. Gifts processed in this system are not tax deductible, but are predominately used to help meet the local financial requirements needed to receive national matching-grant funds.
Subscribe now to get breaking news alerts in your email inbox
Get breaking news delivered to your inbox as it happens.
---