First Friday: Inspiration from graphic novels, dreams, motherhood and Iraq and Syria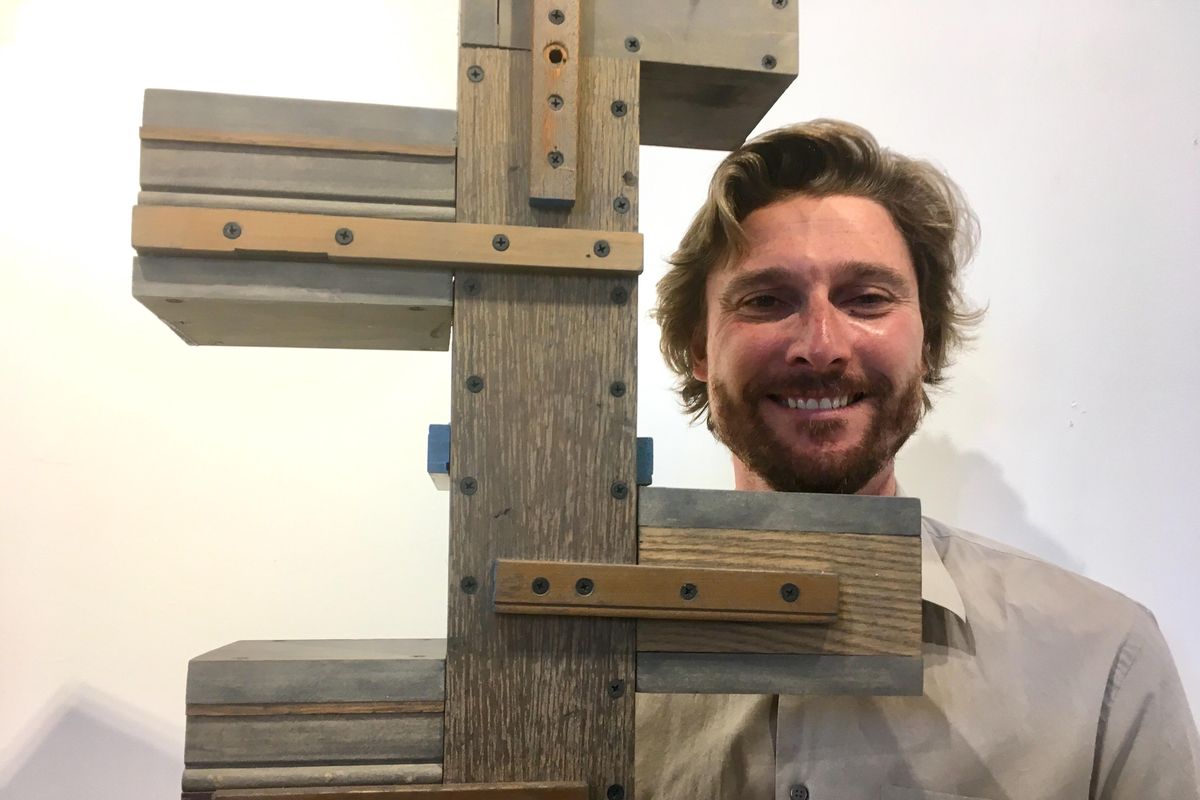 Stroll in the sun and soak in some art during August's First Friday's Art Walk. On the first Friday of every month, local galleries, wineries and bars welcome the art curious to enjoy free shows, usually during happy hour. Below are a few highlights.
Anyone inspired by the compelling storytelling experiences found in film, literature and graphic novels will want to immerse themselves in Terrain Gallery's drawing installation by Bay Area artist James Gouldthorpe. His exhibition, "Worrisome: Short Stories," invites viewers to make connections among cartoonish depictions of guns, booze and "busted knuckles." Gouldthorpe's densely pinned and layered drawings are like an immersive graphic novel, with images that invoke rural noir narratives, filled with intriguing characters and suspenseful mini-dramas. Gouldthorpe, who won the Jay DeFeo Prize, the Threfethen Merit Award and the Murphy-Cadogen Award, describes his visual storytelling process as "writing a painting." 5-8 p.m. at 304 W. Pacific Ave., Suite 190.
Summer just got trippier at the Chase Gallery with its seasonal exhibition, "Summer Daydreams," running through Sept. 25. The show features three regional artists who work in three different mediums with very distinct styles. Yet their works all share an evocative dream-like quality. Western Washington University associate art professor Seiko Purdue works primarily in fiber to create pieces exploring identity and environment. Spokane-based artist Amanda Caldwell draws with colored pencils and paints constructed environments to provoke dialogue around interpretations of memory and how individuals distort reality. The third Chase Gallery artist, Seattle-based Kenneth Susynski, uses his oil paintings to explore the emotional psyche of motherhood. But there is nothing sentimental about these surreal mothering scenarios. Babies are alternately coddled, ignored and thrust into life's dangerous playgrounds. Mommy basks in all her glory and power; best to hold her hand tightly and try to relax. Curator Spokane Arts will host an "office hours" reception Friday to answer questions about upcoming events, artist opportunities and the Spokane Arts Grants Awards. 4-7 p.m. at 808 W. Spokane Falls Blvd.
The Community Building's exhibition, "What We Carried: Fragments and Memories From Iraq and Syria," is a collaborative visual storytelling project wherein refugees share their perspectives through mementos carried when they fled. Award-winning Portland-based photographer Jim Lommasson brings his images of the items that several Iraqi and Syrian refugees chose to bring with them when they immigrated to the U.S. years ago. The pictures of cellphones, cherished family photos, shoes, glasses, toys, etc. is a moving display about where true value lies. It makes us ask the question: What if I could take but one thing with me if forced to leave my home? "What We Carried" aimed at presenting the experiences of these refugees and creating a platform for discussion. Go early. The building is open 10:30 a.m.-5:30 p.m. at 35 W. Main Ave., Suite 340.
Another sobering conversation can be had at Kolva-Sullivan Gallery in a show titled "Air Has No Borders." Nicole Chochrek, an artist-in-residence with local program Laboratory, will use light in the gallery to communicate the breathability of Spokane's sometimes smoky air. Chochrek will monitor our air in real time with her light installation while also seeking stories from residents and visitors about the impact that fire season has had on them in the past, and will continue to have, on our communities. Opening reception is 6:30-8:30 p.m. at 115 S. Adams St.
Artist Charles Brian Mayfield will display his latest oil paintings at a benefit at the Berserk Bar where he also bartends. The benefit is actually for the artist. Someone stole his bike. The bands Bad Motivator, Itchy Kitty and Big Raffle start playing at 9 p.m. Suggested $5 donation at the door. 5-11:30 p.m. at 125 S. Stevens St.
Head to the Kendall Yards area to check out three artists of note. Laurie Ann Greenberg's macraweave and fiber works are at Boutique Bleu. 5-8 p.m. at 1184 W. Summit Parkway.
Down the street is a show of non-ceramic sculpture by Spokane Falls Community College professor Rob McKirdie at Marmot Art Space. 5-8 p.m. at 1202 W. Summit Parkway.
Also in Kendall Yards is community nonprofit Spark Central, which will exhibit the watercolors of Jessica Wade, who focuses on expressionist paintings of animals. 6-8 p.m. at 1214 W. Summit Parkway.
For all that's happening at 26 venues this First Friday, go to firstfridayspokane.org.
---