Man swims 23-mile length of Idaho's Priest Lake There is a point in any endurance sport – once the muscles have loosened and the seconds have blended into minutes and then, even, hours – that the world condenses, and awareness is reduced to only the next step, stroke or pedal.
Ned Hastings knows this better than most.
"It really turned into a Zen thing," he said. "A spiritual thing."
On July 21, Hastings spent 14 hours and 24 minutes swimming the length of Upper Priest Lake and Priest Lake. The 54-year-old from the Tri-Cities swam the 24 miles without touching the ground or resting on any flotation device.
He's the first person to do so, as far as he knows and according to a database of distance swims maintained by the Marathon Swimmers Federation.
"It was really hard. I didn't think it would be that hard. And I had great conditions," Hastings said. "I felt like I barely made it."
Although he couldn't receive help from his support boat, per Marathon Swimmers Federation rules, he was able to get food from the support boat. That included homemade energy gels, chia seeds, cookies and potato salad. His friends on the support boat would tie the food to a string and toss it out to him.
"It's something that doesn't make me feel bad," he said of the potato salad. "I didn't eat a whole lot of it."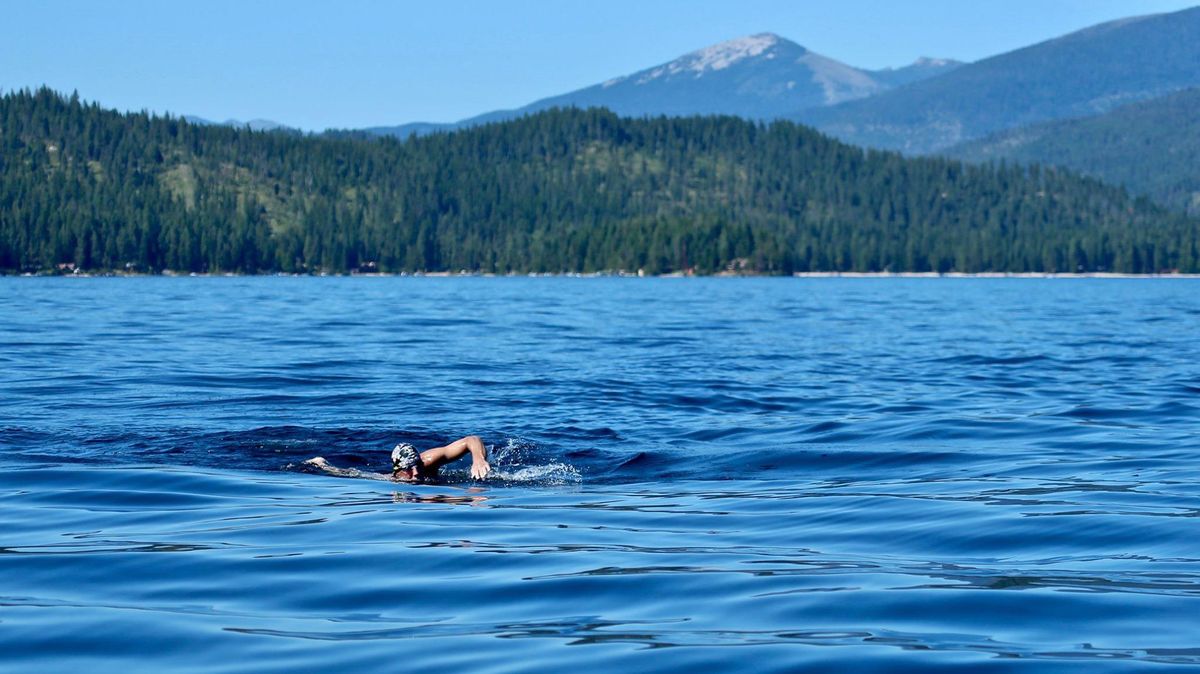 Hastings came to distance swimming late in life. Although he swam competitively when he was younger, it wasn't until 2016 that he started swimming seriously.
That's when he met Sean McGrath, who he calls his "H2O Bro." McGrath wanted a training buddy for the Waikiki Roughwater Swim, a 2.4-mile swim in the ocean off the coast of Hawaii. Hastings, recently divorced and in the process of switching careers, at first trained reluctantly with McGrath in the Columbia River. The meditative quality, combined with the full-body workout, quickly hooked Hastings.
So he kept swimming. Because he can't stand chlorine, he kept swimming outside. By October 2017, he was swimming in the Columbia River regularly. That fall, as the water temperature dropped, Hastings researched cold water swimming and stepped into a long tradition of hearty cold water swimmers.
"I continued all the way into January," he said. "With no wetsuit."
Around the same time, he started thinking about doing a longer open-water swim. One of his friends, who has a cabin on Priest Lake, suggested the North Idaho destination. The plan was born, and they prepared to swim Priest Lake in 2018.
But wildfire thwarted them. The week of the planned swim, the air was so smoky many of the volunteers and friends who'd signed up to assist Hastings canceled. He had to back out.
"So, I'm bummed out," he said. "Heck, you have a goal and you can't do it."
But he persisted and on July 20 he boated to the northern end of Upper Priest Lake and spent the night, with friends, at Navigation Campground. At 5:42 a.m. on July 21, he headed out.
He was followed by a support boat, with a warning flag. As he swam, others on Priest Lake started to notice, such as photographer Keith Currie. Currie, who has photographed numerous professional and amateur sporting events, including Eastern Washington University's national championship, said Hastings' swim outshone them all.
"I have never been witness to something as 'gutty' or mind-challenging or physically grinding as Ned's swim," he said in an email. "To watch him every stroke through my 100-400 mm lens, to see him battle boat wakes, strong midlake currents, blazing sun and cold water, breathing and dipping below the water and breathing from the opposite side, over and over and over again was, well … breathtaking … Ned is a powerhouse. Forget about the time. What he did was simply phenomenal."
For his part, Hastings said his brain was "foggy" and he felt numb, entranced as he was by the repetitive physical exertion. But at a certain point, he realized he was going to make it – an outcome that had been far from assured.
In a video of him reaching the Coolin beach, spectators cheer him on. He swims nearly all the way to the water line, standing up only about 5 feet from the shore. From there, he staggered the final few steps, raised his arms in triumph, looked back at the boat-bound supporters and promptly fell to the ground.
Pecky Cox, another photographer who captured the achievement, said watching him swim was like "watching a machine with perfect strokes and (that) never seemed tired.
"Watching him arrive and walk out of the lake was the 'thrill,' " she said in a Facebook message. "(I) could not help the tears."
---