100 years ago in Spokane: Lakes lure locals, leaving society writer in lurch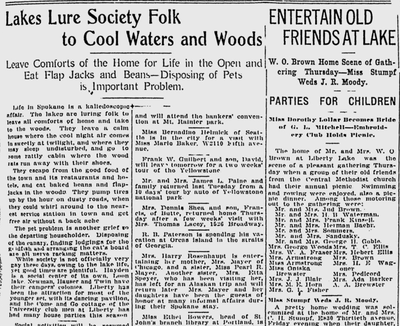 The Spokesman-Review's "society" writer didn't have much to write about during the dog days of summer – and seemed to resent it.
Here's how the Sunday society column began:
"Life in Spokane is a kaleidoscopic affair. The lakes are luring folk to leave all comforts of home and take to the woods. They leave a calm house where the cool night air comes in sweetly at twilight, and where they may sleep undisturbed, and go to some rattly cabin where the wood rats run away with their shoes.
"They escape from the good food of the town and its restaurants and hotels, and eat baked beans and flapjacks in the woods. They pump tires up by the hour on dusty roads, when they could whirl around to the nearest service station in town and get free air without a backache.
"The pet problem is another grief to the departing householder. Disposing of the canary, finding lodgings for the goldfish and arranging the cat's board are all nerve-wracking matters.
"While society is not officially very gay these days, owing to the lake life, yet good times are plentiful. Hayden is a social center of its own. Loon Lake, Newman, Hauser and Twin have their campers' colonies. Liberty had been the attraction for most of the younger set, with its dancing pavilion, and the Come and Go Cottage of the University Club men at Liberty Lake has had many house parties this season."
The writer concluded with, "Social activities will be resumed late in August."
---