A&E > Books
Summer Stories: 'Eat, Drink and Be Merry' by Sherry Jones
Sat., Aug. 3, 2019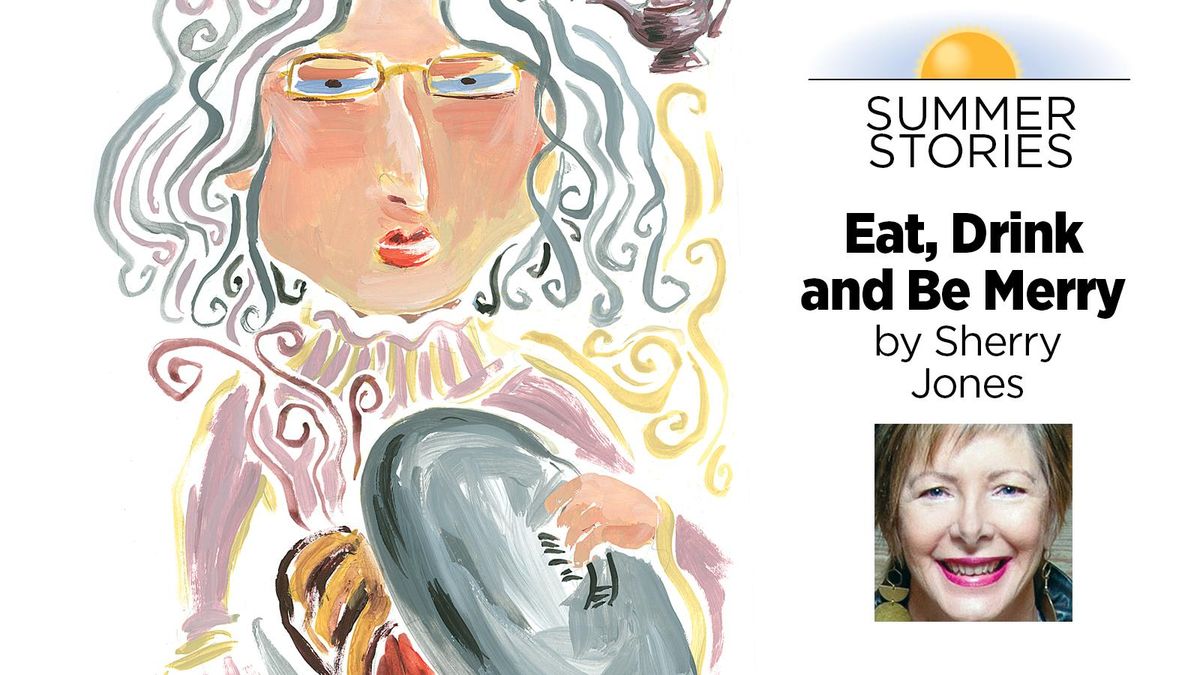 All Jack wants for his 69th birthday is to celebrate the way the people used to: around the table, feasting with friends, everyone happy. Is that too much to ask?
"A party in these times?" When Jack had apparated to his daughter's place with the invitation, her husband, Bob, hadn't even tried to hide his contempt. He'd smirked at Sunny, who shook her head ever so slightly. But Bob was never to be dissuaded from speaking his mind, especially when he had something negative to say, which was always. "Nabob," Jack calls him under his breath.
"While Rome burns, Nero fiddles," Nabob said. "Typical of your generation."
How has Sunny put up with this loser for so long? At their wedding, Jack had restrained himself from leaping to his feet during the "speak now or forever hold your peace" part. Maybe it won't last, he'd consoled himself. The cake tasted like ash, not a good omen, he'd said, hope rising in his heart until his wife had pointed out that, with all the fires now, even the air was tinged with the je ne sais quoi of ashes and dust.
But not at his party. At Jack's party, the flavors will be delicious. The prime rib will ooze with blood, rare and succulent, not like the prefab "meat" that his Meal Mate prints out. He'll serve the printed kind, he has no choice, but with his new Genie environment simulator, it will look, smell and taste the way meat used to when it came from animals instead of machines, before the blazing sun sucked all the juice from the planet leaving a shriveled husk. Imagining the astonishment on Nabob's face when he takes that first bite of "beef" tonight almost makes up for having to invite him.
They said technology would save humanity from destruction. They were wrong. But thanks to Jack's new toy, technology might save the day.
The apparator chimes 10 minutes before the 5 o'clock start time. When Jack accepts the request, it's no surprise who appears: Destiny, his girlfriend from high school, the one who got away, he likes to joke, except that it's not really a joke. She's always punctual, which is why she and Jack, who is perpetually late, didn't work out. He watches as she appears before him in a granny dress and big sunglasses, her long, white hair curling wildly, the very image of Janis Joplin had she lived to be 69. She's holding the fingers of one hand up in a V.
"Happy Birthday, Jack," she says. "You look groovy. Give me a birthday kiss."
She hands him a package wrapped in blue paper decorated with peace signs and kisses him on the lips. Jack's body snaps to, on the alert in ways he hasn't felt since his wife died four years ago, but before he can go for another kiss, the apparator chimes, and Justin, his best friend since college, joins them in a flowing beard and tunic, a red mark like a thumbprint between his eyes.
"I am overwhelmed with joy to see the entire youth of America gathered here in the name of the fine art of music," Justin says in a badly contrived East Indian accent, his eyes bright as he waits to be identified. Jack shrugs. How in the hell would be know? It's been a century since Woodstock – way before his time.
"Sri Swami Satchidinanda!" Destiny shrieks and throws her arms around Justin's neck. "What's the secret of happiness, Swami?"
"Let us not fight for peace, but let us find peace within ourselves first," the Swami says.
"No politics, today, OK?" Jack hooks his arm around Destiny's waist. She giggles and says something about free love, but then the guests are apparating into his living room one after the other, and soon his house is filled with musicians from Woodstock: Richie Havens and Joan Baez and Carlos Santana and the entire Grateful Dead band. Jack makes a wish to hear the Joplin song "Piece of My Heart," and the Genie fills the room with her gravelly voice, and he thinks, "Bring on the LSD," and colors begin to pulsate and swirl through the room.
After a round of Purple Haze cocktails and a couple of joints, Jack checks his watch. Sunny and Bob are late, as usual. They refuse to apparate, Bob suspicious of the technology, saying the government could too easily snatch anyone in transition and send them to a torture camp, or worse. The government can do that, anyway, Jack had argued, they can show up at your doorstep to take you if they choose, but why would they bother with Jack's crowd? He and his friends aren't activists, not anymore. They'd all been young firebrands protesting in the streets for a Green New Deal, but the 2020 elections had filled them all with despair. Nothing anyone could do would make a difference now. Many of them had even stopped voting. What was the point? They might as well focus on living their lives as best they could.
"I've got the munchies. When do we pig out?" Janis says. She grins, proud of herself for researching 1960s slang, and Jack ushers her to the chair beside his own. The room looks great, he has to admit: So far, the Genie has proven a wise expenditure. As the guests take their seats at what appears to be a table covered in white linen under what appears to be a crystal chandelier, Jack's doorbell rings. He makes a half-hearted wish, wanting to see Sunny but dreading the Nabob's nattering attempt to put a damper on the day. The Genie opens the door, and into the dining room bursts Sunny in a too-short miniskirt and Bob in porkchop sideburns and a flowered polyester shirt.
"Cool, you two, dig those crazy threads," Destiny says, giving Jack a sly look. The Woodstock theme was her idea. Jack had resisted, saying the event had too much political baggage, all that peace and love, but she'd called him a square, which made him relent. She'd promised him it would be fun, and now he sees in her eyes the pride of being right. Jack grins, wondering if he might get lucky on his birthday this year, but Bob cuts their moment short with his usual histrionics.
"My God, what are you all doing?" he cries, waving his hands. "Don't you know what's happening outside?"
"I don't go out these days," says Emily, in her wig and mini-dress resembling a plump Joan Baez. "The world has gotten so ugly."
"Don't you watch the news? There's a big firestorm coming this way," Bob says. "It's already destroyed half the city. We've got to get out of here now!"
"The news is too depressing. It disturbs our inner peace and fills us with despair," the Swami says, lighting another joint. "Turn on, tune in, drop out."
Jack shuts his eyes. What's the kid going on about? Get out? To go where? The whole world is on fire, has been for several years, the planet is a living hell, and the only escape is right here, in this room.
"People are going crazy out there, Dad." Sunny's eyes are wide and filled with tears. "Running all around the streets like ants from a kicked nest, smashing windows and heads, smoke and heat and dead bodies everywhere."
"Enough!" Jack stands up so quickly his chair clatters to the floor. "There's nothing we can do."
"Should we apparate to a safer place?" Destiny says, standing, too.
"There is no safer place," Jack says, his thundering tone making her jump. Damn that Nabob, throwing a wrench into what's supposed to be his day.
"This is all your fault." Bob's hands clench into fists, like he's about to start throwing punches. He glares at Jack's friends sitting around the table in their optimistic colors, their love beads, their smoldering reefer passing from hand to hand. "We're all going to die, the Earth is in flames, and it's because of you. Your generation gave up."
This is getting out of hand. How can Jack make it stop? All he'd wanted was a nice celebration. In the corner of the room, he sees the Genie, an orb pulsing a purple glow, and forms a wish that Bob and Sunny had never come to his party.
And just like that, they're gone, disapparated to who knows where, maybe – hopefully – back to their home. A disoriented hush has fallen over the room, the sound of a party falling flat. Jack feels a twinge of regret for sending his daughter away, but mostly he's relieved that the disruption has ended. He'll make it up to Sunny later, but for now he's got a birthday to celebrate.
He steps over to the sideboard and moves the platter of printed meat to the center of the table. As he lifts the silver lid, he makes a wish for juicy prime rib, and the beautiful slices of pink-and-brown meat evoke oohs and aahs from the dinner guests. Destiny leans over the platter slightly and inhales the aromas as she resumes her seat, her cheeks flushed, angry over being yelled at or – he hopes – excited for what's to come.
Jack unveils other dishes, transforming printed food with wishes into buttery potatoes, a red-wine reduction, asparagus spears, a Caesar salad, sliced peaches and plums.
"The Woodstock Festival was 100 years ago today," Justin, aka the Swami, says as they pass the dishes around and Jack wishes the bottles of flat homemade beer into champagne and a fine cabernet. "Four hundred fifty-thousand people gathered for three days of music and peace. Does anyone know what they ate?"
While his friends call out answers ranging from the absurd to the vulgar, Jack turns to Destiny and apologizes. He shouldn't have snapped at her, he says. She gives him a puzzled look.
"You snapped at me?" she says. And Jack realizes: The Genie not only made his daughter and her husband disappear, it truly granted his wish and erased their arrival completely. No one but him remembers that they were even here. No one but Jack is thinking of the violence outside the door, the bodies strewn in the street, the wall of fire rolling toward them at this very moment.
The Swami stands, lifting his glass. "I propose a toast to our good friend Jack, celebrating his 69th birthday on this day in 2069. Thank you for treating us all to this delectable and nourishing meal, the likes of which we haven't enjoyed in many years."
A boom drowns out his voice and shakes the room; a window explodes and sends shards of glass flying. One lodges itself in Justin's forehead, and blood splatters his tunic and the white tablecloth. Destiny screams, but Jack, having the hang of things now, wishes the explosion had never occurred, and in the next instant the window is intact, the Swami is finishing his tribute, and everyone is raising their glass in a birthday toast to Jack.
"This party's a gas," Janis Joplin says, squeezing his thigh under the table.
Jack winks at her, takes a swig of champagne and lifts his fork and knife.
"Thanks for coming, everybody," he says. "Eat, drink and be merry."
Local journalism is essential.
Give directly to The Spokesman-Review's Northwest Passages community forums series -- which helps to offset the costs of several reporter and editor positions at the newspaper -- by using the easy options below. Gifts processed in this system are not tax deductible, but are predominately used to help meet the local financial requirements needed to receive national matching-grant funds.
Subscribe to the Spokane7 email newsletter
Get the day's top entertainment headlines delivered to your inbox every morning.
---