Sports
A Grip on Sports: Asking questions about football's popularity is a little like asking about the chicken or the egg
Sun., Aug. 4, 2019 A GRIP ON SPORTS • Today's column will start with a question, somewhat rhetorical in nature but also meant to elicit a response. Are you a football fan? We mean something specific here, actually. Are you a fan of the game, not a fan of your college's team or the local pro franchise or that kid-down-the-block's high school squad? Do you enjoy the game?
•••••••
• Football is America's favorite sport. Has been for a while now. Fall Saturdays and Sundays (and Thursdays and Fridays and Mondays and the occasional Wednesday) are for watching the game either live or on TV.
It's what we do. Almost all of us. But is it the game itself, the battles in the trenches, the passes, the runs, the chess match, or is it the name on the front of the jersey?
Do we watch Washington State – or Eastern, or Washington, or Idaho, or Oregon, or Whitworth or Montana – play because it's "our" school? Is that why? Or is it because the game itself is worth watching?
Do 68,000 people cram themselves into CenturyLink to destroy their vocal cords for the Seahawks, or do they attend because the sport is so enticing? Is it the social event or the hitting?
I guess the answer lies in our habits. Many of us make time in our busy week to watch "our" teams. If they are on the television, we will be camped out, ready to voice our support in a variety of ways. Others will join them, sure, but it's not just that game they watch. They will spend hour after hour, blob-like, sitting in the Laz-E-Boy, watching every game that flows through the cable into their TV room. Doesn't matter if it is UTEP vs. New Mexico, it will be on.
Like all things, there are a variety of opinions and motivations. The "average" football fan probably has his or her favorite schools and teams. They try to never miss those games. Everything else? Well, if the rerun of Chopped isn't all that interesting, watching Iowa host Indiana will have to do.
• There seems to be two things about August in these parts you can count on: Football practice will begin and the air will deteriorate.
Such is the case today. Went to bed last night smelling smoke and arose to the same aroma this morning. Checked the air quality index and it stood at 135, which is unhealthy for some groups. Smack in the middle of that rating.
The smoke here seems to be coming from a wildfire in the hinterlands northwest of us, which means we will probably be dealing with it a while.
Like the weather, there is little we can do about it except complain. So we will. It's almost enough to make me move to someplace nice this time of year, like Barstow or Biloxi.
•••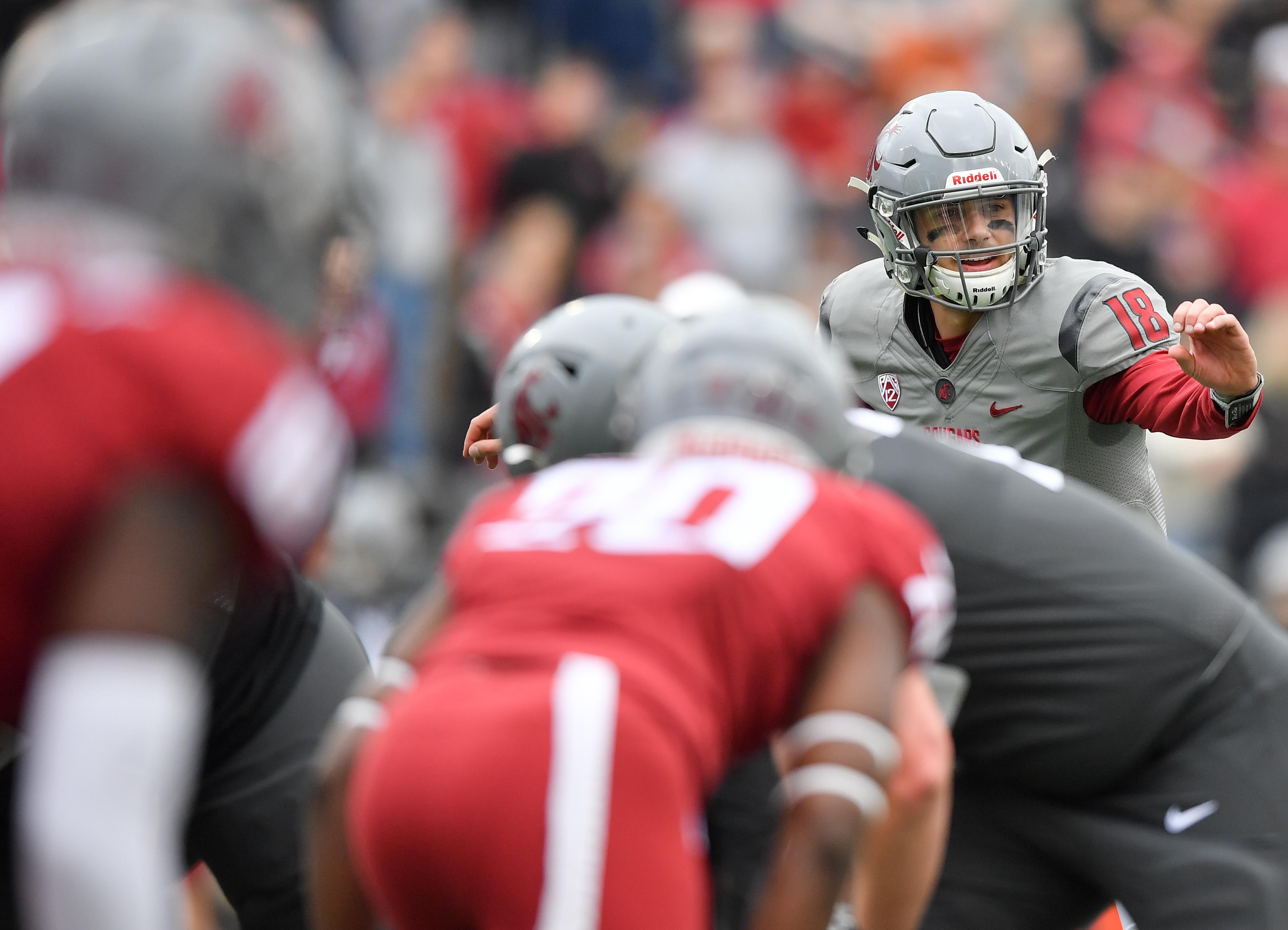 WSU: Just checked. The air quality in Lewiston is great, just like the Air Raid. But of the five position battles Theo Lawson is focused on, three of them are on defense. The most important one, however, is quarterback. … Theo has his recap of Saturday's practice, the second day the Cougars have been on the field and the first in Lewiston. … Theo keeps you up-to-date with interview videos featuring Mike Leach, line coach Mason Miller, quarterback Anthony Gordon, receiver Easop Winston and defensive tackle Will Rodgers III. … Elsewhere in the Pac-12, though no one knows for sure who will be throwing them the ball, Washington expects its receivers to make big plays this season. … Oregon will have different looks on defense and offense. … Oregon State's offensive line coach, a former Cougar, is the reason the Beavers have a grad transfer onboard. … Colorado is trying to build success from the ground up. … Utah's success has a family bent. … USC's linemen are doing well on and off the field. … Darnay Holmes is the focal point of the UCLA defense. … Not everyone who entered the transfer portal left their school. Case in point, an Arizona State cornerback. … Arizona is far enough long in practice to hold a scrimmage.
Gonzaga: Pitching coach Brandon Harmon plays a key role in Dan Thompson's look at baseball's mound visits and how they work. As someone who was involved in thousands over the years – like Charlie Brown's catcher, Schroeder, I walked the ball out to the mound every time I could because I didn't want the other team to realize there was no way I could throw it all the way to second base – there is an interesting dynamic to this part of baseball. A lot of it has to do with the relationship between the participants, including respect and attitude.
EWU: Ryan Collingwood probably has about 10,000 questions, but he picked out five big ones about the Eagles as they begin preseason practice. … Around the Big Sky, though not every conference school has begun practice, we have stories worth reading from Idaho State, Montana State, Weber State, UC Davis and Northern Arizona.
Idaho: Peter Harriman attended the Vandals first practice of the season. He saw a couple of wide receivers stand out. So he wrote this story about them.
Whitworth: One of our good buddies, Bob Castle, will serve as the interim softball coach for the Pirates. A former standout umpire as a head coach? I really would like to be a fly on the base when Castle comes out to argue the first controversial call. Castle's appointment is part of our local notebook.
Indians: One way to get out of a lull is to have the pitching staff combine for a one-hitter. That's what Spokane did in a win at Everett. … Elsewhere in the Northwest League, Eugene's pitching staff has been almost impenetrable lately. The Emeralds shut out Boise for the second consecutive night.
Mariners: Did the M's win last night? Nope. Did the M's get a hit last night? Nope. Twenty-three days after last being no-hit, it happens again, this time by the Astros. … How has Yusei Kikuchi's first major league season been? … J.D. Crawford works hard at his defense. … Over on this side of the state, we've been watching in, well, horror, as Kyle Seager's career seems to be on a downward slide. It's not cool to see someone the Mariners felt they could build around become a liability at the plate, but it's happened. And doesn't show much in the way of stopping. Seager is the subject of our Out of Right Field column.
Seahawks: The Hawks took their show on the road yesterday, holding a mock game in Bothell's Pop Keeney Stadium. A good time was had by all. Except D.K. Metcalf, who sat. … The mock game had a real comeback.
Sounders: Seattle will host Sporting Kansas City tonight. We are making sure dinner is done before it comes on.
•••
• There are important milestones in everyone's life, right? Marriage, kids, finding a new taco place. On the journey we all make through the cosmos, it's great to have a partner to help you through the good and bad times. I'm lucky. I found the perfect person for me years ago. Nothing reiterated that more than yesterday, when the two of us bought a new car, one that I will drive about 98.6 percent of the time. Every time I said no to some doodad or thingamabob, Kim kept saying yes, reminding me that down the road, I would wish I had added it. Does she know me, or what? Until later …
Subscribe to the sports newsletter
Get the day's top sports headlines and breaking news delivered to your inbox by subscribing here.
You have been successfully subscribed!
There was a problem subscribing you to the newsletter. Double check your email and try again, or email
webteam@spokesman.com
---