Sports
A Grip on Sports: Sure it's still early August, but who among us can't wait to watch the games play out this football season?
Mon., Aug. 5, 2019 A GRIP ON SPORTS • It's hard to stay in the present this time of year. The days are getting shorter, which is a harbinger of winter. And football practice has begun, which is a harbinger of fall. It makes it tough not to look ahead.
•••••••
• Here we are, five days into August and all I can think of is which local college football team will win the most games this season. Last year it was Eastern Washington, with its 12-3 mark, that took the Spokane-area competition. (Not that there is one, really, but we all know you guys count the wins.) But it took the Eagles marching all the way to the FBS title game to surpass Washington State's record 11-win season.
And being that one of those 11 wins was over EWU, it seems in some regards that the Cougars had the better year. Except, maybe, for that darn Apple Cup.
Anyway, it's a new year, a new outlook and a new schedule.
The Cougars will be hard-pressed to win 11 games again this season, that's for sure. Being it's been done all of one time in school history, that's a pretty safe statement.
Besides, there is what looks to be a pretty tough test on the nonconference schedule (Sept. 13 at Houston), which makes another 3-0 start to the season a bit iffy. The conference schedule is challenging, as always, with only Stanford of the Pac-12 North contenders coming to Pullman.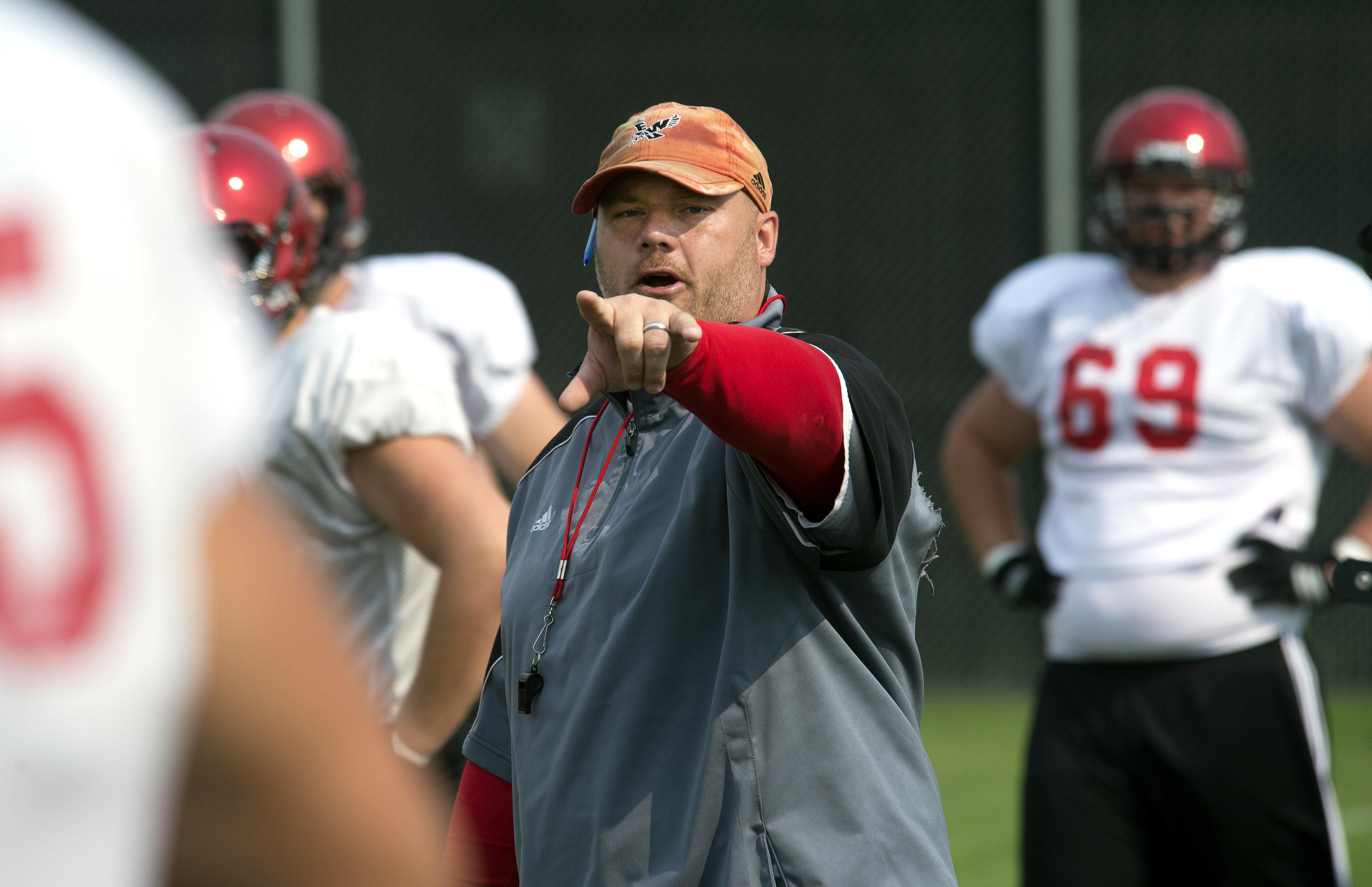 Eastern's Big Sky schedule isn't as daunting, as the Eagles miss many of the suspected contenders, including UC Davis and Weber State. But the non-conference, with games at Washington, at Jacksonville State and at Idaho, is enough to add a few gray hairs to Aaron Best's scalp.
Speaking of the Vandals, they must play two money games against FBS opponents, including the opener at Penn State. They do get Weber State in Moscow, which is a plus, and also don't play UC Davis or Montana State.
Whitworth's nine-game schedule doesn't include one in Spokane until October, as we've mentioned before. But four of the Pirates' seven conference games are in the Pine Bowl, which should help as they seek another Division III playoff berth.
As for the region's professional team, perusing the Seahawks' schedule just gives me a headache. The same might be said for Pete Carroll. The opener, at home against Cincinnati is just typical of the who-knows-what-will-happen nature of the NFL. The Bengals shouldn't be much of a test, but for the first time in more than a decade they have a new coach and a new philosophy. How that will manifest itself on the field is anyone's guess, especially in the opener.
From there Seattle faces, in order, Pittsburgh, New Orleans, Arizona, the Rams, Cleveland, Baltimore and Atlanta. Then November begins. Does anyone see a fast start coming?
On Aug. 5, maybe. But as the British say, there are many a slip betwixt the cup and the lip. By the time we get into the meat of the schedule, the Cougars may have the best offense in the nation, the Hawks defense might have solidified and Eastern could be en route to another title game. Or everyone could be lamenting long losing streaks. That's the best part of the next couple months, the discovery. Even if the days will be way too short by then.
•••
WSU: The passing of the tor, er, pink cleats? That seems to be the way Andre Dillard ceded his left tackle position to Liam Ryan, by giving him a pair of pink cleats. Theo Lawson's story has on Ryan has that and more after the third day of Washington State football practice. … Elsewhere in the Pac-12, deciding who stood out at Washington's third practice is in the eye of the beholder. … Oregon State may have a two-way player. The Beavers do have a corner they can count on. … Oregon is trying to sort out the depth chart at receiver. … An injured Colorado player is happy to be back on the field. … Utah's offensive line benefits from dealing with the Utes' defensive line every day. … It's quarterback day in Los Angeles, with stories on that position from UCLA and USC. … Arizona State does quite a bit of work at home and then heads to the hinterlands for a week. … How well Khalil Tate bounces back this season will determine how well Arizona does.
Indians: A walk-off win is usually not literal. It was yesterday as Spokane headed into the All-Star break with a 10-inning defeat at Everett. The AquaSox scored the winning run on a bases-loaded walk. … Elsewhere in the Northwest League, Eugene has been playing well headed into the break.
Mariners: If you are looking for silver linings, may we offer one? The M's got a hit yesterday. Sure, they lost, but they did get a hit. … The M's will probably expand the starting rotation as the season winds down.
Seahawks: Rushing the passer may be a bit of a chore for the Hawks this season. Today we focus on a couple guys whose main role is to do just that.
Sounders: Down by two goals early, Seattle scored to start the second half. Than gave up another goal. But the Sounders rallied, scored again and had a golden opportunity later to tie it. Nope. Sporting Kansas City picked up a 3-2 win in CenturyLink. … Portland was dealt a brutally tough-to-take road loss in Minnesota.
•••       
• What do you drink in the morning? I used to be a Diet Coke guy, swigging a few of the bubbly concoctions down before noon. It was a serviceable caffeine-delivery system. But since I "retired," I've moved on to the hard stuff. Coffee. Juan Valdez finally hooked me. I mention this because I am my second cup this morning, something I usually avoid. It was a hard night, however, with the old dog wandering the house at 2:30 in the morning looking for something. What that might have been, I have no idea. But when you are at least 15 years old, with bad hips, no hearing and limited eyesight, I guess standing at the top of the stairs sniffing the air is to be expected. For 45 minutes, though? I kept expecting Lassie's ghost to appear and carrying our dog into the great beyond. Didn't happen. Neither did much sleep. Until later …
Local journalism is essential.
Give directly to The Spokesman-Review's Northwest Passages community forums series -- which helps to offset the costs of several reporter and editor positions at the newspaper -- by using the easy options below. Gifts processed in this system are not tax deductible, but are predominately used to help meet the local financial requirements needed to receive national matching-grant funds.
Subscribe to the sports newsletter
Get the day's top sports headlines and breaking news delivered to your inbox by subscribing here.
---