Then and Now: The Early Birds Breakfast Club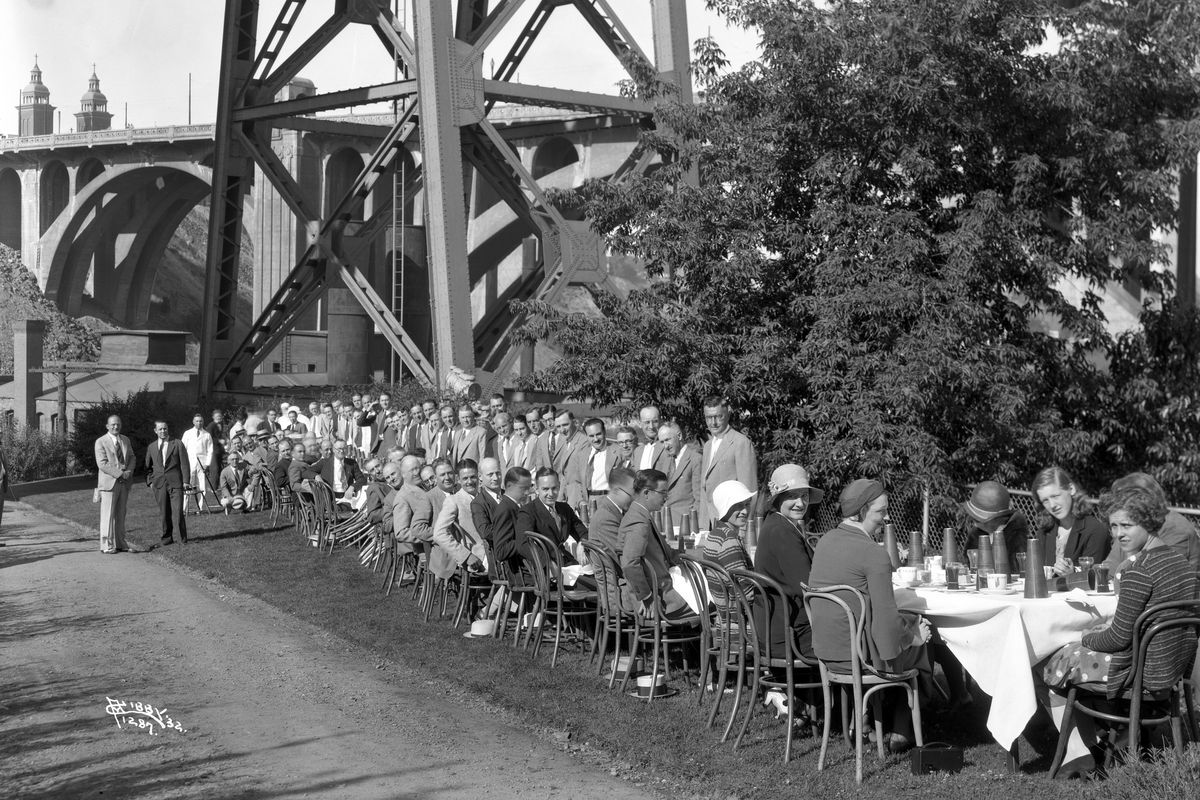 During the Depression, nine business leaders sent out invitations to start a new club where businessmen could network and do public service, not unlike today's Rotary or Kiwanis. The meetings would take place at breakfast, so it would be called The Early Birds Breakfast Club. For more than 35 years, the club played an important civic and social role in Spokane.
The club started with 132 members, and its first breakfast was in June 1932. Because the focus of most of the members was business, membership was seen as vital to success. Its importance rivaled the Chamber of Commerce. Visiting dignitaries and government leaders often would speak to the Early Birds if the Chamber couldn't pull together its membership. Wendell Willkie, the former Republican presidential candidate, stopped in at the Breakfast Club to sell war bonds in 1943.
In the 1940s, the club opened an elegant room in the basement of the Davenport Hotel, and the bar became a place where business was discussed and consummated over drinks. Bingo games provided money to keep the doors open. On weekend evenings, the club was the venue for singers, comedians and dance bands. The Sylte Sisters, of Rathdrum, performed there. A comedy duo of TV writer Dan Rowan and radio writer Dick Martin teamed up and had their first gig there in 1953. "We were told we had a chance to make the big time," Rowan said in a 1974 interview. "Like Butte. Butte! And we made $300 for that booking."
"I think we lost 80 bucks on the deal," deadpanned Martin. The pair's TV show, "Rowan & Martin's Laugh-In," made them wealthy and famous in the late 1960s.
Representing a consortium of local businesses, the Early Birds spearheaded raising $150,000 from businesses toward a municipal auditorium on the north bank of the Spokane River. The club presented the deed for an empty 12-acre parcel to the city in 1945 and planning began for the Spokane Coliseum, which would seat 6,000 to 8,000 people.
By the 1960s, the mostly male club faced a society in which women were more involved in the business world. In 1967, a woman fell at the Davenport club room and was injured. She sued the club, winning $8,500. Less than a year later, county Prosecutor George Kain ordered all bingo and card games to cease immediately. Though bingo and other gambling had been allowed in nonprofit organizations and private clubs for many years, they were statutorily illegal. The new prohibition strained the finances of many civic and social clubs and shuttered the Early Birds Club for good in 1968.
This column first ran on May 23, 2016. Writer Jesse Tinsley is on vacation and a new column will appear Sept. 2, 2019.
---