News > Education
New Mead schools superintendent leads district amid budget turmoil
Tue., Aug. 6, 2019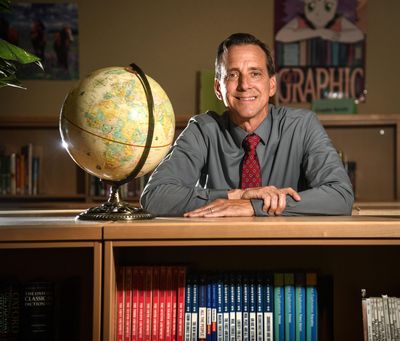 The word "collaborative" often gets overused in academic circles, but that's fine with Shawn Woodward.
As long as he gets results.
For the new Mead superintendent, that means "sitting at a table with people who are a lot smarter than me and pushing them to be aspirational."
The only aspiration that really matters is "a better chance at ensuring high levels of learning for our kids," Woodward said this week from his new digs at the district office on Farwell Road.
Woodward has been on the job for only four weeks, but Mead's new collaborator-in-chief is off to a fast start. He's held one-on-ones with 43 district employees; next up are meetings with school principals in a district that serves more than 10,000 students.
"I can't wait to sit down with them," said Woodward, 49, who comes across as that oddball kid who can't wait for the first day of school.
When Sept. 3 arrives, "I absolutely will not be sitting in this office to see how things are going," Woodward said.
Then again, Sept. 3 will be no different than any other school day. "My goal is to visit one or two schools every single day that kids are in class," Woodward said. "I get most of my energy by seeing kids and teachers in action."
Woodward saw that energy firsthand during a summer break while he was a student at Washington State University. Working at a day camp near his hometown of Bremerton – "I never had so much fun" – he shifted his studies at WSU toward elementary education.
After graduation, Woodward taught for seven years in Port Orchard – so thoroughly enjoying teaching that he wanted to "have more influence in the system" as a principal.
For Woodward, that meant schools where parents wouldn't talk about what room they didn't want the child in, to having a school where everywhere there was evidence of high learning.
After nine years at two K-8 schools in the Burlington-Edison district in Skagit County, his vision widened again in 2007, when he was named assistant superintendent at the North Kitsap School District in Poulsbo.
"I asked myself, 'What about having a school district where you had these schools that no matter what school or class your child attended, there would be excellence?'" Woodward said.
Four years later, he and his wife, Michelle, and their three children moved to Sandpoint, where for the last seven years he was superintendent of the 4,000-student Lake Pend Oreille School District.
Life on the lake can be idyllic; not so the fiscal realities in a state that grudgingly supports public education.
However, Woodward was able to find a sweet spot at the intersection of idealism and reality.
"It was good for me to go to a resource-poor state. Sometimes you can focus on things that don't require a lot of resources," Woodward said.
At Lake Pend Oreille, he established the Homeschool Academy, a program that provides supplemental education for home-school students in grades K-8.
The district also boosted social-emotional learning. It was the first district in Idaho to establish school-based mental health clinics and one of the first to develop a competency-based-learning high school with an emphasis on experiential education.
Usually, progress was the product of collaboration.
"He's just always super-interested with what's going on in my classroom," Sandpoint business teacher Kevin Hutchens told the Sandpoint High School newspaper in April, after Woodward was named superintendent at Mead.
"The culture in our schools right now amongst teachers is very, very positive and I think a lot of that definitely has to do with his style of interacting with people and how he leads."
For Mead school board president Carmen Green, a big factor was Woodward's problem-solving ability, particularly in raising the performance at a Sandpoint-area school that was underperforming.
"He had that difficult conversation and came alongside that principal, and said 'I'm here to help you,'" Green said. "And in one year, that principal really turned it around."
Expectations are high at Mead, one of the top-performing districts in the region. "The level of eagerness and motivation is similar to what I felt when I went to Lake Pend Oreille," Woodward said.
On April 12, the board named Woodward to replace retiring Tom Rockefeller.
A week later, the district held open meetings as it considered how to cope with a projected $12 million budget deficit for the 2019-20 school year.
The meetings drew hundreds of people, many of them pleading for popular programs such as the project-based Riverpoint Academy and the M.E.A.D. Alternative High School.
"That was hard to watch," Woodward said.
Three weeks later, both programs were cut, and Woodward must help pick up the pieces as the district moves some of the students to Mead and Mt. Spokane high schools.
"I'm a strong believer in alternative education, and I know there isn't a one size fits all," Woodward said. "Both high schools have stellar reputations, but right now the paradigm that we live in is that not all of the needs of all kids can be met in one place."
"We're not there yet, but we have to ensure that there are options for kids," said Woodward, who noted the district is assembling a task force to address alternative education challenges.
"We're looking at what else we can do for kids who are at risk," Woodward said.
Local journalism is essential.
Give directly to The Spokesman-Review's Northwest Passages community forums series -- which helps to offset the costs of several reporter and editor positions at the newspaper -- by using the easy options below. Gifts processed in this system are not tax deductible, but are predominately used to help meet the local financial requirements needed to receive national matching-grant funds.
Subscribe to the Coronavirus newsletter
Get the day's latest Coronavirus news delivered to your inbox by subscribing to our newsletter.
---