100 years ago in Spokane: Budding local movie industry tries to survive, despite studio bankruptcy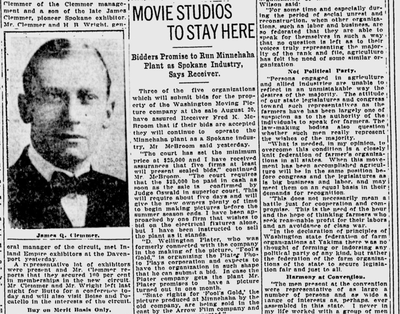 The Washington Moving Picture Corp. – the movie studio at Minnehaha – was in receivership, The Spokesman- Review reported, but Spokane was still clinging to the hope that this wouldn't spell the end of Spokane's budding movie industry.
Three of the five organizations bidding to buy the bankrupt studio said they intended to operate it as a movie company.
The receiver, Fred K. McBroom, said there would be plenty of time for the new owners "to begin making pictures before the summer season ends."
One of the bidders had been involved with the previous organization in making "Fool's Gold," the only movie that the Washington Motion Picture Corp. made. He promised, if he won the bidding process, to "have a picture turned out in one month."
From the immigrant beat: The "coast" cities – Seattle and Portland – were seeing a rapid increase in their Japanese populations, but Spokane was experiencing the opposite.
A representative of Spokane's Japanese community said there were only about 400 young Japanese men in Spokane, compared with 800 three years earlier.
Why? Because they were leaving Spokane to get "higher wages and better jobs" on the coast. He predicted many would come back after they found out how much it costs to live on the coast.
---