ALS warrior Jenny Hoff dies at 61, after 13 years with disease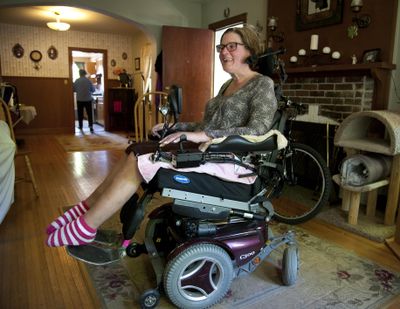 The dragonflies in Lisa Braddock's yard remind her of her sister, Jenny Hoff.
Get-togethers meant good food and music. Hoff was a talented singer and guitar player, and the song "Circle Game" by Joni Mitchell was a family favorite. The lyric "Yesterday a child came out to wonder, caught a dragonfly inside a jar" resonates for Braddock now more than ever.
"We talked about wondering when someone dies, like Mom and Dad, that sometimes people see symbols that remind them of somebody," Braddock said, adding Hoff's decision to take on a dragonfly. "They are a lovely symbol to help us think about people still with us."
Hoff died on July 19, one day after her 61st birthday and 13 years after she was diagnosed with amyotrophic lateral sclerosis.
The average lifespan post-ALS diagnosis is between three and five years.
Even when speaking became near-impossible, Hoff had a voice, advocating for a cure and providing guidance and support to ALS sufferers. Making the most of her 13 years, Hoff considered herself living with – not dying of – ALS.
A celebration of Hoff's life will take place at 2 p.m. Aug. 24 at the Spokane Valley Event Center.
"You research and find out, 'Oh my gosh, that's the killer one, just being trapped in your body,' " said Dale Hoff, Jenny's brother. "It was like, 'OK, our time with Jenny is going to be short,' but amazing enough, she beat the odds."
Easter 2006 is clear in Braddock's mind. Over dinner, Jenny described her latest symptoms: twitching in her hand and tongue. Braddock had been researching possibilities for Jenny's ailments. Based on those symptoms, Braddock was certain Jenny had ALS.
"I held it together because I felt like I knew something that she didn't at that point, and cried the whole way home," Braddock said.
Jenny was with her other sister, Linda Richardson, when she received her diagnosis. Upon the recommendation of Jenny's Spokane neurologist, she visited a specialist at Seattle's Virginia Mason Hospital who watched Jenny walk and perform other activities. The neurologist's suspicion was confirmed: Jenny had ALS, a progressive neurodegenerative disease commonly known as Lou Gehrig's disease.
"Jenny, we are going to celebrate your life today," Richardson told her sister at the time.
They went to Cutters Crabhouse on the water, ordering oysters and champagne. More family joined, and they sat in the sun in Magnuson Park.
"She later told me it started out being such a horrible day, but it turned the worst into something very positive," Richardson said. "If anything, Jenny was so positive all through her 13 years of battling ALS, and she had a fabulous sense of humor all of the time."
Jenny's brand was impishly self-deprecating. Since ALS's effects muddied her speech, she liked to play a game called "What did Jenny just say?" – except with a cruder title.
"They'd all laugh, and she just made the most fun out of all of her hardships," Richardson said.
Using a retina-scanning computer, Jenny sent a Facebook message to her best friend, Janet Rizzuto-Dibler, starting at around 2 a.m. on a daily basis. Dating back to 2013, Rizzuto-Dibler saved all of the messages, and reading through them has comforted her since Jenny's death, often providing much-needed levity.
"You get used to talking to someone in the middle of the night and then they're not there," Rizzuto-Dibler said. "Usually, Jenny and I would end up cracking up over something we'd talk about, because, honestly, we were raised Catholic, but in our youth and in our older age now we would talk like truckers, and we shared some pretty good ones."
Rizzuto-Dibler said she knew the end was near for her "crib mate" – their parents had always been friends, and the two often ended up in a crib together as babies – when she received a pillow in the mail that said, "I love you to the moon and back."
"That was something that Jenny and I used to say to each other, and she knew that my mom and I used to say that to each other," Rizzuto-Dibler said. "So this pillow is a continual reminder that she loves me to the moon and back."
Advocacy and support
From the time Jenny was diagnosed, Jenny was active with the ALS Service Organization (ALSSO) as a board member and volunteer, constantly providing suggestions for fundraisers and ideas to make life easier for ALS families. She was the mastermind behind "The Smile Project" – ALSSO left baskets on the doorsteps of families who recently received an ALS diagnosis to let them know ALSSO would support them.
"She has done so much for our group and for ALS just as a person, and then second as a person living with ALS," said Debbie King, ALSSO board member and volunteer. "She was always looking for ways to improve lifestyles for people who were suffering and progressing easier ways to handle things."
Jenny also advocated for a cure in Olympia and Washington, D.C., and put on a yearly spaghetti dinner fundraising event at what used to be Aracelia's Mexican Restaurant. The entire ALSSO group loved Jenny dearly and will miss her, King said, adding that Jenny never let her limitations get in the way. Proof can be found in a 37-mile trek on the Centennial Trail she completed in her powerchair.
"It was so hot," King said. "She was supported by several wheelchairs that followed her when she needed to change to wheelchair, to go over rough terrain. She never quit, never quit, and she was going 7 mph on the Centennial Trail all day long."
On Saturday, ALSSO participated in Gleason Fest, an annual music festival inspired by Steve Gleason, who was diagnosed with ALS in 2011.
In total, Jenny raised more than $30,000 for ALS organizations. A decade ago, ALS Association's Evergreen Chapter named Jenny and her then-partner, Jeff Swartz, the family that best exemplified the spirit of "ALS Across America."
Sara Bunke met Jenny in April 2008 at a candelight vigil put on by the ALS Association Evergreen chapter. Bunke lost her mother, also named Jenny, to ALS, and she described Hoff as "a beacon of hope for so many people that had ALS."
"It was hard the first time I talked to her, because my mom had only been gone for four years," Bunke said. "Jenny thought that her and my mom somehow had a spiritual connection based of their name and that they both had ALS, which I thought was really cute."
A friend to all
All of Jenny's helping just made everyone around her want to help her more. Neighborhood children, who Jenny called the "Angels of Empire Street," came by to help out with household chores.
"I take my relationship with each of them very seriously, and try to teach them something to take with them into life," Jenny wrote in a 2008 Spokesman-Review column. "It's given me a fantastic purpose."
Jenny decided she wanted to earn spending cash for herself and others, selling pies at Millwood Community Presbyterian Church's Wednesday farmer's market. Jenny's brother, Michael Hoff, and his wife Linda Hoff, would start making pie crusts Sunday night, and on Tuesday, the children would arrive.
Hutton Settlement arranged for about a dozen kids to assist Jenny on a weekly basis, peeling apples and preparing peaches and other fruit that farmer's market vendors donated to Jenny.
"She loved being able to pass on her knowledge, and actually see it still happening, even though her hands weren't the one doing it," said Tamara Milliken, Hutton Settlement lead health parent. "She was really good at giving instructions in a way that the kids understood really well and received really well. She just had a really good way about her."
Kathy Buchanan, Jenny's caregiver and friend, said the children loved being around Jenny.
"They worked, but they had fun," Buchanan said. "They never wanted to leave. We played music with them, we joked around with them all of the time, and they knew they were really helping."
Buchanan had known Jenny since seventh grade. She had been living in California but returned to Spokane to take care of her mother. When she found out about Jenny's diagnosis, she started helping out and eventually decided to go through the training to become Jenny's caregiver.
"It was great in many ways," Buchanan said. "It was challenging for me because I'd never taken care of somebody that has such a serious illness, but she is a pretty positive person and she has a lot of people that really care about her."
Evan Hoff, Jenny's nephew, said he was surprised by how wide her network was. In December 2017, as part of the project for his film degree at Eastern Washington University, he made a documentary about Jenny called "The Little Things," which played at the Sandpoint Radius Film Festival and the Spokane International Film Festival.
"Every time that film would screen in any sort of public environment, I would for certain get two or three people that would come up to me and say, 'I knew Jenny personally, and that was just really moving. How is she doing?' " Evan said.
A peaceful end
Much of Jenny's family said it became difficult for even them to understand what Jenny was saying near the end. There was an exception to this rule – Danica Larson, who had been one of Jenny's full-time caregivers from 2014 to 2017 and who kept in close contact until the end.
"I was very honored to be able to communicate for her and with her," Larson said. "One of her biggest things was she wanted to talk, and tell people her story. She wanted to have fun and talk and visit, so I was glad that I was able to do that for her in those times."
Jenny lived with ALS on her own terms. Michael, who helped modify two of Jenny's houses to make them accessible, said ALS gave his positive sister's life a purpose.
"I really have no regrets," Jenny said in Evan's documentary. "In the beginning, I wanted to go see everything, but honestly, when you look back, it's not that big of a deal. What's really important are the friends that you've made, memories that you've made, and all the little things that you've learned."
In "Circle Game," Mitchell sang, "There'll be new dreams, maybe better dreams, and plenty, before the last revolving year is through."
---