News > Business
Sears at NorthTown Mall to close by late October
Aug. 7, 2019 Updated Wed., Aug. 7, 2019 at 6:20 p.m. The Sears in Spokane's NorthTown Mall is closing because of a "weak retail environment."
The location is the only one that will be shuttered in Washington state in this latest round of closures but is among 26 Sears and Kmart stores nationwide that will shut their doors, liquidate product and lay off employees.
Sales are anticipated to begin mid-August, and the store – which opened in NorthTown in 1961 – will close in late October. The Sears location in the Spokane Valley Mall will remain open, but the company said it "cannot rule out additional store closures in the near term." The NorthTown store is the only one in the Pacific Northwest that is to close.
Representatives from the NorthTown location referred questions to corporate public relations.
Few shoppers plied the aisles of the store Wednesday afternoon, and those that did expressed little surprise at the impending closure.
"I think I know why they're closing," said Connie McCoy, 58, noting she only comes to the store when she gets a $10 coupon and buys about $10 worth of merchandise. "I'll come in here and wander around for hours and still can't find anything."
Doris Mors, 77, said she rarely comes to the NorthTown Mall, but said the closing would leave "a big hole in the mall."
"It's going to be a big empty space, but there's a lot of empty spaces here," she said. "There's nobody here."
Paul McFadden, 60, said it was sad to see the store go, but noted shopping on the internet is more convenient for most people.
"It's a sad day. I'm older, and I remember when Sears was a little more big and powerful," he said. "The whole retail thing has changed so much, it's tough to have a huge place like this and afford it."
The move to close the stores by Transform Co., the parent company of Sears and Kmart, illustrates the continued struggles the company faces as it emerges from its October 2018 bankruptcy.
The company began as a mail order cataloger and had 3,500 big box stores at its peak. In the 1980s, the company launched its own credit card, the Discover card, which had 20 million cardholders within four years. In 1990, it was the largest retailer in the nation. Now, it's a shell of its former self, and will have 400 stores remaining following the upcoming round of announced closures.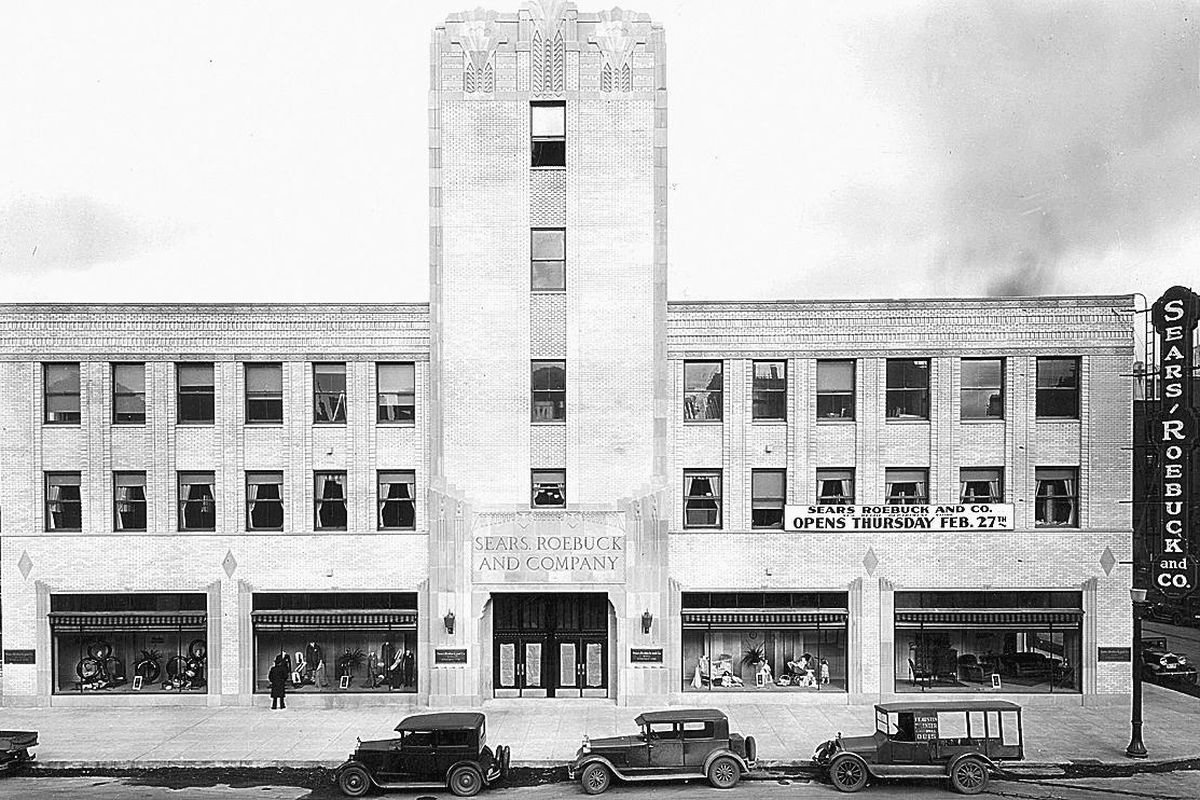 This photo was taken March 3, 1930, less than a week after Sears, Roebuck & Co. opened a new store in Spokane at 906 W. Main. Sears invested $750,000 in the building site and stock. The building had three stories and a full basement and was equipped with the lastest combined heating and ventilating system. In September 1961, Sears sold the building to the Comstock Foundation which converted it into the main Spokane Public Library. The building was demolished in 1992 to make way for a new library. (Photo Archive / SR)
On Wednesday, Transform said it was shifting focus away from its big box stores in favor of its "smaller store formats," such as its Home & Life stores and Sears Hometown stores.
Following bankruptcy, the company has "faced a number of challenges returning our stores to sustainable levels of productivity," a statement from Transform said. "These challenges have unfortunately affected our performance and limited our strategic choices. After careful review of where we are today, we believe the right course for the company is to accelerate the expansion of our smaller store formats which includes opening additional Home & Life stores and adding several hundred Sears Hometown stores after the Sears Hometown and Outlet transaction closes."
Transform is controlled by Sears' former CEO and largest shareholder, Edward Lampert, and his hedge fund.
The company said its goal was to "return the company to profitability and preserve as many jobs as possible in the communities we serve." Eligible NorthTown Sears employees will be offered the same number of weeks of severance pay offered to employees before the bankruptcy.
The NorthTown location opened to great fanfare nearly 60 years ago.
On June 1, 1961, the Spokane Daily Chronicle detailed the imminent opening of the $2.5 million, 226,000-square-foot building. A center aisle was two blocks long. The store would employ 500 people. A paved parking lot had room for 3,000 cars. An automotive service station could work on 18 cars at a time. The store would have 52 departments, including one "strictly for saddles, and an optometrists' shop." The employee cafeteria had seating for 160 people. The store took 135,000 man-hours to build, 700 tons of structural steel, 8,000 cubic yards of concrete and 3,000 lighting fixtures.
The new location opened just four days after Sears closed its downtown location, which sat on the block where the Spokane Public Library now sits. The Spokesman-Review reported on the new store's offerings: "an indoor boating and water sports shop, refreshment bar, luggage department, office furnishings, camera supplies, teen-agers' undergarments and foundation shop, drug store, book store, camera shop, hat bar and fur department."
About 4,000 people showed up for that day's ribbon-cutting, as Spokane City Councilman Jerome Kopet cut a broad lilac ribbon with golden shears. By the end of the day, between 12,000 and 15,000 shopped at the NorthTown store. At one point, every one of the 3,000 parking spaces was filled.
Local journalism is essential.
Give directly to The Spokesman-Review's Northwest Passages community forums series -- which helps to offset the costs of several reporter and editor positions at the newspaper -- by using the easy options below. Gifts processed in this system are not tax deductible, but are predominately used to help meet the local financial requirements needed to receive national matching-grant funds.
Subscribe now to get breaking news alerts in your email inbox
Get breaking news delivered to your inbox as it happens.
---