Marketing > Sponsored
Bummer! But at least you're ready.
Thu., Aug. 8, 2019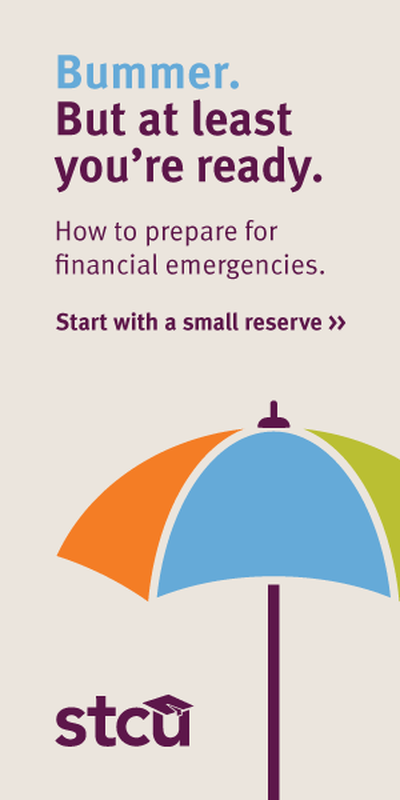 Illness. Injury. Damage to your home or car. Veterinary bills. Job loss. It's just a matter of time before a costly event comes your way.
Building up a cash reserve to cover emergencies means that when the transmission falls out of your car, you don't have to put the repair on your credit card, and start racking up interest charges.
Financial experts often recommend stashing enough in an emergency fund to cover three to six months' worth of living expenses.
"That's a lot of money, so set smaller milestones, starting with $500. Then a month's worth of living expenses. Then two months' worth. And so on," says Sherry Wallis, an STCU financial educator.
Your credit union or bank can help you open a savings account to use as your emergency fund – separate from your other checking and savings accounts.
Set up automatic transfers to the account every time you get paid. If money is tight, you may have to start with contributions, and grow the size of those deposits over time.
It can take some willpower not to dip into the account when opportunities arise for travel, great bargains, or "farewell tour" concert tickets.
"There will be setbacks when you have to pull out money for emergencies," Sherry says. "So be patient with yourself as you fill the account back up."
Learn more about emergency funds ‒ and find other money-saving tips ‒ at STCU's financial education blog.
Local journalism is essential.
Give directly to The Spokesman-Review's Northwest Passages community forums series -- which helps to offset the costs of several reporter and editor positions at the newspaper -- by using the easy options below. Gifts processed in this system are not tax deductible, but are predominately used to help meet the local financial requirements needed to receive national matching-grant funds.
Subscribe to the Coronavirus newsletter
Get the day's latest Coronavirus news delivered to your inbox by subscribing to our newsletter.
---