Sports
A Grip on Sports: With the stars playing cheerleader, Seahawks open preseason with a win
Fri., Aug. 9, 2019 A GRIP ON SPORTS • If you had told your neighbor as you ran into each other at the mailbox Thursday afternoon you thought Paxton Lynch would be key for the Seahawks last night, she probably wondered A) who this Lynch guy was; and B) why you were talking to her. This morning, however, she may just see you in a different light.
•••••••
• Yep, when she realized Paxton Lynch, ostensibly the Seahawks' third-string quarterback, starred in their 22-14 preseason win over the Broncos, she finally figured out you really don't have much of a life. After all, only someone having spent hours and hours examining matchups and depth charts for an exhibition game could have figured out the Hawks' reserves are that much better than Denver's reserves.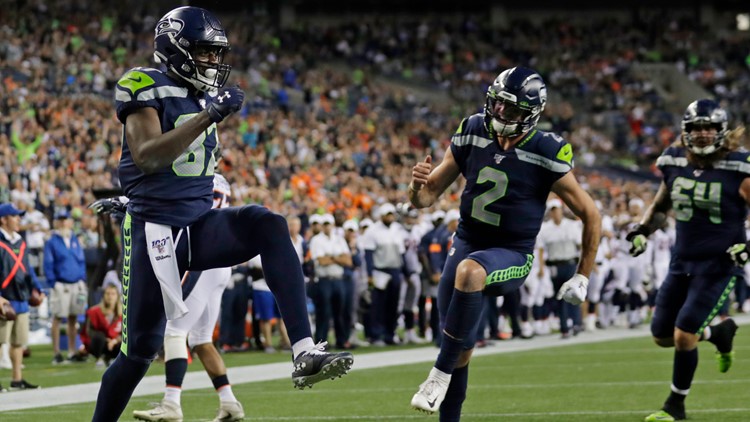 Or cared.
At the Grippi household, we tuned in long enough to see Russell Wilson run out of the tunnel. And then it was back to the Food channel for some more barbecue competition.
You know, watching something in which winning matters.
Not to say the NFL's first week of preseason doesn't matter. It does. Just not to the people the average-to-casual fan cares about. Over the next four weeks a lot of decisions have to be made. Folks who you might have a connection with – we saw you last night Luke Falk, or as the NFL Network referred to you on Twitter, Luke Faulk – are trying to keep their dream alive. That's something. And the regional team is trying to figure out who can help them keep their playoff dream alive.
So there are some important stakes, if not star power. At least not after the first series or two. Next week will be better. It has to be, right?
• Falk had a good game for the Jets (as did linebacker Frankie Luvu). That's the good news for Cougar fans. And his successor in Pullman, Gardner Minshew, started for Jacksonville. That's also good news.
But there was also bad news. The one video making the rounds from Minshew's game? That would be the one in which he drops a snap, picks it up and gets leveled by the Ravens' Kenny Young. The hit knocked Minshew's helmet off.
Minshew's statistics (7-of-14 for 46 yards) probably didn't knock anyone's socks off.
• If you are itching to know who will replace Minshew in Pullman, you might want to get down to Martin Stadium tonight for the Cougars' scrimmage.
Yes, it is only the equivalent, schedule-wise, of the first preseason game, but with the quarterback position up for grabs, the free scrimmage is more important than an exhibition game charging regular season prices.
Anthony Gordon, Trey Tinsley and Gage Gubrud will try to make their case for the starting quarterback spot against a Cougar defense that will feature a pretty raw secondary. In other words, the guys on defense will be trying to make their case for playing time too. That's the sort of competition that should bring out the best in every player.
It better. There are only so many chances between now and the end of August to show what you can do under the bright lights.
•••
WSU: Tonight's scrimmage was preceded by yesterday's last Lewiston practice. Theo Lawson was there, of course, and he put together his time-consuming practice summary. We're not joking here. It takes awhile to put something like that together. … Theo also took a look at five players who helped themselves the most in Lewiston. They have another chance starting at around 8 tonight. … Theo also has video of interviews with defensive line coach Jeff Phelps, returner Travell Harris and linebacker Willie Taylor III. … I also realized I didn't link my Gage Gubrud Q&A that ran in The Athletic. At least no one can say I play favorites. … Elsewhere in the Pac-12, Washington is trying to figure out which freshmen need to play this season. … A healthy Noah Togiai would help Oregon State's offense. … Sometimes seniors step up and exceed expectations. It's happening at Oregon. … Freshman may not like to redshirt but it helped one Colorado lineman. … Utah has high hopes, not just for success but for avoiding last year's targeting problems. … USC is about ready for its first scrimmage. … UCLA was hoping former Coeur d'Alene High star Colson Yankoff would be eligible for this season. But Washington put the brakes to that idea. Our friend Christian Caple had something to say about the situation in The Athletic. … There is a sad story out of Arizona State's camp. … The Sun Devils' stadium is finally finished.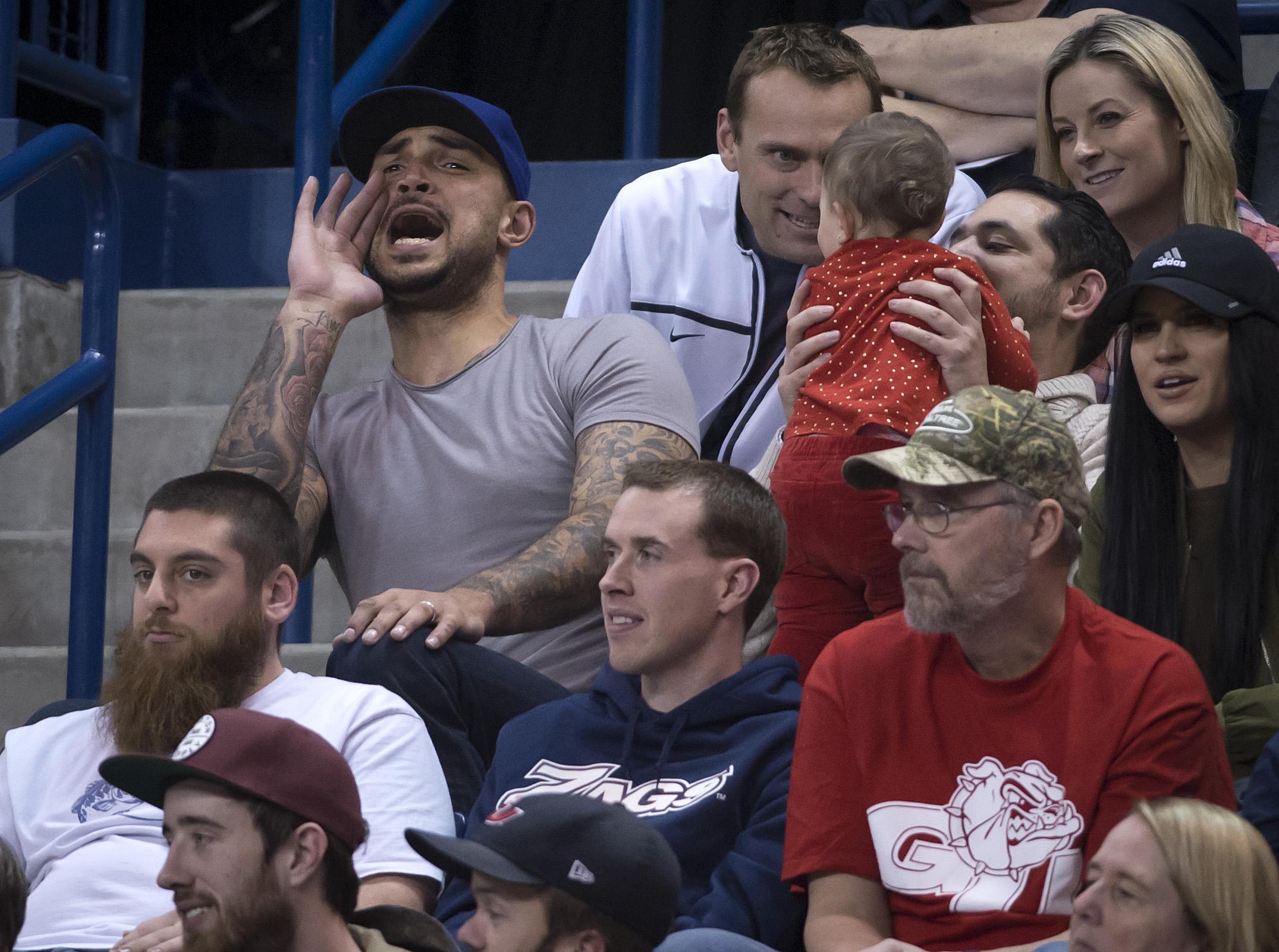 Gonzaga: Robert Sacre was always a fan favorite with the Zags. Spokane appreciated him. And he appreciated Spokane. After almost a decade of playing professionally, he's called it quits and is retiring. He will be living full-time in Colbert. Jim Meehan has more in this story. … Jim also has a story on the Zags' latest additions to their nonconference schedule. … Kelly Olynyk's knee is just sore, not injured.
EWU: Ryan Collingwood talked with Larry Weir yesterday for the latest Press Box pod. Being they both watch the Eagles almost every day, they had a lot to talk about. … Around the Big Sky, there has been a changing of the running backs at Idaho State. … Northern Arizona hopes to be better offensively. … Montana features a well-rounded player on defense. … Troy Andersen was the Montana State offense last year. This year he will lead the defense.
Idaho: The Vandals practiced Thursday and photographer Tyler Tjomsland was there. He has this photo gallery of the Kibbie Dome action. … Somehow I missed Peter Harriman's story yesterday concerning Idaho hiring Terry Gawlik as its new athletic director.
Indians: The All-Star break is over. Spokane returned to Avista Stadium last night and promptly fell behind. No matter. The Indians rallied and won 7-6 in the bottom of the ninth. Dave Nichols has the story. … Elsewhere in the Northwest League, Eugene has won five consecutive games. … Everett fell at Vancouver.
Preps and youth sports: Former Ferris High star Reid Hatley won the Washington State Amateur golf title Thursday. … The Coeur d'Alene Little League team suffered its first Northwest Regional loss yesterday. The Idaho representative returns to the field today in a loser-out game.
Seahawks: So what did we learn from the game? … We learned to temper our DK Metcalf expectations. … We learned the starters can cheer too.
Mariners: The Rays are in Seattle starting a series tonight. Nope, the M's can't make a trade with them this week. … As we mentioned yesterday, Mitch Haniger is almost ready to return.
Sounders: There were no blockbuster pickups as the transfer window closed – the best question is, why not? – but the Sounders did make a couple of additions to the roster.
•••
• Just so you know, I figured out what to get Kim for our anniversary. It is, quite possibly, the most romantic item I've ever purchased. I would share it with you now, but she has a friend who reads this column every day and I don't want to ruin the surprise. Thanks for all the suggestions. Until later …
Subscribe to the sports newsletter
Get the day's top sports headlines and breaking news delivered to your inbox by subscribing here.
---