News > Spokane
Shawn Vestal: For the Marlows, ALS has ushered in the hardest time, and the most rewarding
Fri., Aug. 9, 2019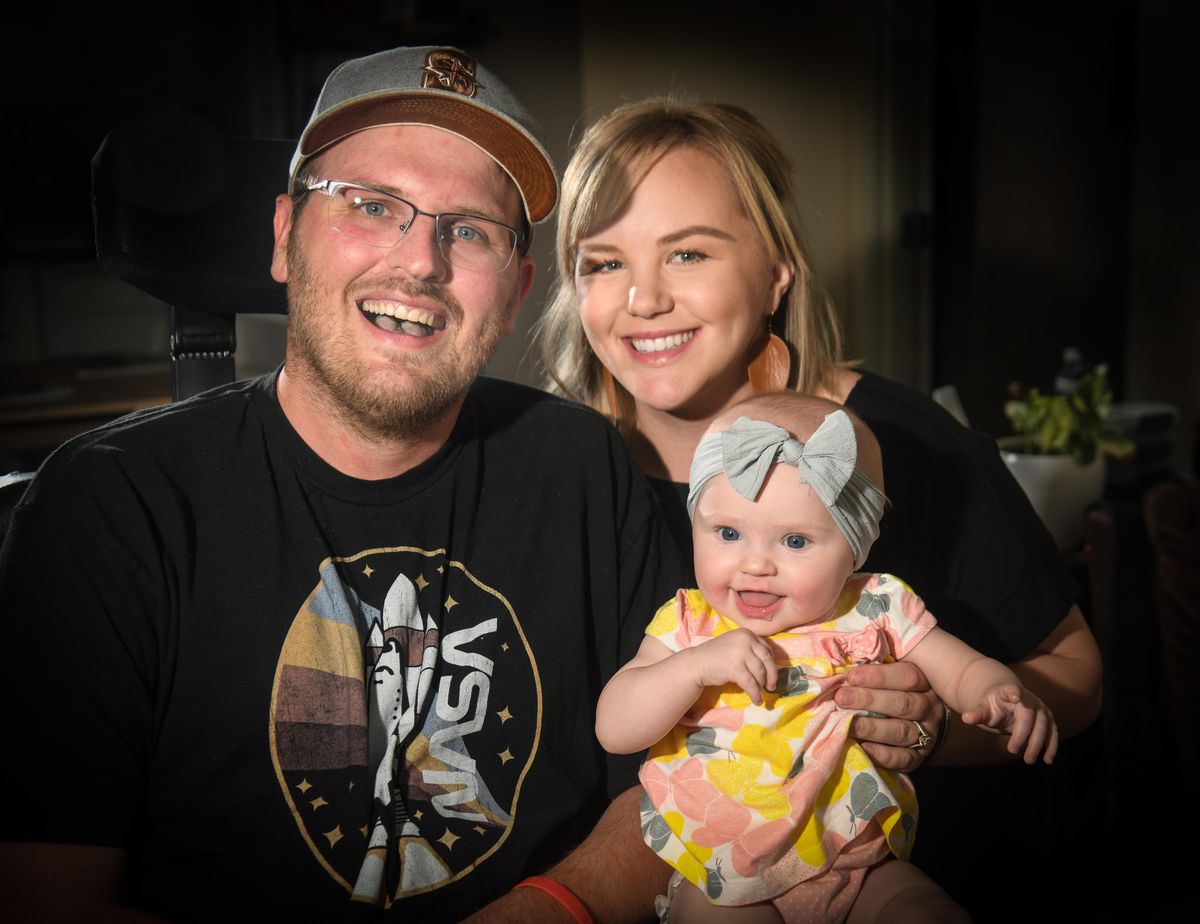 Dan and Ashley Marlow decided to have their daughter, Remi, age 6 months, despite Dan's battle with ALS. (Dan Pelle / The Spokesman-Review)
When she hears her father's voice, Remi Marlow's bright blue eyes find him across the room and lock on, tracking him with a broad smile.
And when Dan Marlow spots the beam of his 6-month-old daughter's smile, he does what any father would – he goes to her, looks into her eyes, talks to her, plays with her.
For Marlow, this entails scooting back and forth – with an almost peek-a-boo rhythm – in the motorized chair in which he spends his days now, 16 months after he was diagnosed with amyotrophic lateral sclerosis, or ALS. Against the difficulty and darkness that have come into the lives of Dan and his wife, Ashley, the arrival of Remi has cast an intense beam of joy through their lives.
"I'm more proud and grateful than I am sad or anything," Dan said this week, looking at Remi in their Spokane Valley apartment.
ALS is an incurable degenerative nerve condition that is often fatal in a matter of years, though life expectancy ranges widely. It has upended the Marlows' lives in uncountable ways, many of them devastating. It is difficult for Dan to speak now. As he has lost control of his muscles, he has gone from leaning on a walking stick to using a walker to being in the chair all the time now. He has difficulty eating and taking pills; next week, he will have a feeding tube put it.
But Dan's illness has also produced a wave of love and support from their families and friends, who have come forward to help in seemingly a million ways, from the endless offers of food to taking him hunting to helping build a home that will make it easier for him to live with ALS.
When he thinks back to his "ignorant self" of four years ago, Dan said, he realizes how little appreciation he had for all the gifts in his life. And though the period between the onset of his first health problems and his formal diagnosis with ALS was tough for the Marlows, and though his health has worsened more rapidly than some of his family expected, they also feel grateful for an enormous outpouring of help from their "village."
"My life got better after I was diagnosed," Dan said. "Everything from the diagnosis on has been about hope and appreciation."
And Remi, of course.
'Total denial'
What happened first was Dan began having trouble speaking. This was in September 2017.
"I first noticed I would fumble a word every couple of minutes. I'd just fumble a word," he said. "I would stop and make myself pronounce that word correctly, just because it bugged me."
Then he noticed weakness in his hands and legs. Tingling and twitching sensations. Almost immediately, Dan suspected he had ALS. The father of one of his friends had the disease, and Dan had gone online, scouring for information about his symptoms. In short order, he was convinced.
His doctors didn't think so, and neither did Ashley.
"When he told me he thought he had ALS, I thought, 'OK, you diagnosed yourself with the worst thing you could possibly have?' No," she said. "I didn't want to believe it. He just knew something was wrong and he had it in his mind that it could be that. … I was in total denial."
Dan's symptoms appeared at a time of incredible stressful change and grief for him and Ashley. They were buying and moving into their first home. He was working as a project manager for Knight Construction then. Ashley worked, and still works, in marketing at STCU. They had begun dating when both were juniors at East Valley High School, from which they graduated in 2005, and married in 2013. They are both 32.
In 2017, they had decided to start a family. But when Ashley was eight weeks pregnant, she suffered a burst Fallopian tube, lost the pregnancy and had to undergo surgery that doctors said would significantly reduce her chances of conceiving again.
"I always knew I wanted to have kids with Dan," Ashley wrote in an email about the experience. "He was the most charismatic, dynamic, and loving person I knew. Dan deserved to be a dad, and it made me really sad thinking I might not be able to make him one without expensive medical interventions, surrogacy, or adoption."
This was the context in which Dan began telling Ashley that something was seriously wrong with him. Ashley was convinced that Dan was suffering from anxiety and depression, and some of the doctors he saw initially arrived at the same conclusion.
One doctor "prescribed him a high dosage of vitamin D and sent us on our way," Ashley wrote. "No wonder he's depressed, I thought. He needs vitamin D!"
Dan remained convinced he had ALS. He and Ashley fought about it and grew distant from each other, she said, even as they continued to seek medical advice for his worsening symptoms. Finally, after months of doctor visits, a neurologist asked them, "Has anyone discussed Lou Gehrig's disease with you?"
He was formally diagnosed on April 24, 2018.
"You might think Dan's depression would have become even worse after the diagnosis, but the opposite was true," Ashley wrote. "Though the diagnosis was terrible, he felt validated, and now he knew what was wrong with him. He was ready to fight back."
Dan is emphatic about this – the way the diagnosis has brought a deeper appreciation for life. He insists on taking a hopeful, optimistic view and tries to savor every experience. Their apartment in the Spokane Valley sits right on the Centennial Trail, with a sliding glass door facing west.
"The sunset happens right out there," he said happily. "We watch that several nights a week."
Reason for hope
Almost immediately after the diagnosis, the Marlows confronted the question of whether to continue with their plan to have children. They worried about the question of inheritance, asking themselves, "Is this irresponsible? Is this a bad idea?" Ashley said.
Their doctors told them that the incidence of ALS that is inherited is believed to be quite small, and the form of the disease that Dan had – sporadic ALS as opposed to familial ALS – was not the one that tends to run in families.
Ashley was pregnant within a month of his diagnosis.
Dan's mother, Mary Marlow, said she worried it would be too much for them. But when Remi was born in February, and she saw the effect of that on her son and Ashley – that parental joy – her doubts vanished, she said.
His father, Jeff Marlow, said having Remi changed his son's perspective about life.
"I know it really affected Dan's outlook on everything," he said. "The disease is so terrible, but having her is so good."
Dan retains a positivity and appreciation that is striking, given his difficulties. His symptoms worsened faster than some in his family expected, and it's only natural that despair and darkness sometimes take over.
"We adjust, Dan adjusts – and then something else is taken away," Mary Marlow said. "When you finally think you can handle it, something else happens."
Yet, like Dan, Mary said that the hardships have brought a renewed sense of the importance of family and relationships, an appreciation for the love in their lives and a determination to stand strong against adversity.
"In a way it's been a gift, because we're all realizing things that only this devastation has brought," she said.
Jeff Marlow said it's been hard to watch his son suffer, but that he's impressed with the way he's has responded.
"I've been so proud of how optimistic and brave he's been through all of this," Jeff Marlow said.
One reason for optimism is Dan's participation in a research trial for a promising new stem-cell treatment. He travels regularly to San Francisco to participate; the Marlows don't know if he's actually getting the treatment or if he's in the control group on a placebo. But the drug itself is showing great promise, Dan said – noting that one person in the trials stood up recently for the first time in two years.
Even if he's in the control group, he said, the research into a cure is advancing rapidly, and they remain hopeful for a breakthrough.
"We believe a cure for ALS is in Dan's lifetime," Ashley said.
'Light in the darkness'
One influence in the Marlow's lives has been Steve Gleason's story. Gleason, a Spokane native who went on to play in the NFL before being diagnosed with ALS, has become a prominent figure worldwide in raising awareness of the disease and helping those who have it. A documentary, "Gleason," was released in 2016 detailing his experiences with the disease, including the Gleasons' decision to have children and to be aggressively, unrelentingly hopeful in the face of the disease.
Gleason has lived nine years since his diagnosis; he is slated to receive the Congressional Medal of Honor for his advocacy work.
The Marlows watched the documentary, naturally, and saw many of their own experiences reflected there. Dan has since had the chance to meet Gleason a couple of times, and the Gleason Initiative Foundation has provided technology for the new home being built that will make it easier for Dan to live there.
Though they have reason to be hopeful that Dan will beat the odds and outlive expectations, they are also looking ahead to the day when Remi will not have her dad around.
Ashley takes a lot of pictures and videos of them together. Inspired by the Gleason documentary, Dan has recorded messages to his daughter that she'll be able to view later. They have started a journal that describes his life – another document they are preparing so Remi will be able to experience her father's presence, as much as possible for as long as possible.
"We've been so blessed by family, friends, strangers and our community that have rallied around us and lifted us up when it would be so easy to wallow in darkness," Ashley said.
"We couldn't have known how much we were loved before this diagnosis. We didn't know how good people inherently were.
"And Remi – Remi has been the light in so much darkness. I look at her face and it's impossible to be sad for too long."
Local journalism is essential.
Give directly to The Spokesman-Review's Northwest Passages community forums series -- which helps to offset the costs of several reporter and editor positions at the newspaper -- by using the easy options below. Gifts processed in this system are not tax deductible, but are predominately used to help meet the local financial requirements needed to receive national matching-grant funds.
Subscribe now to get breaking news alerts in your email inbox
Get breaking news delivered to your inbox as it happens.
---