News > Spokane
Spokane judge sentences convicted baby killer Mobley to 28 years in prison
Aug. 9, 2019 Updated Fri., Aug. 9, 2019 at 8:53 p.m.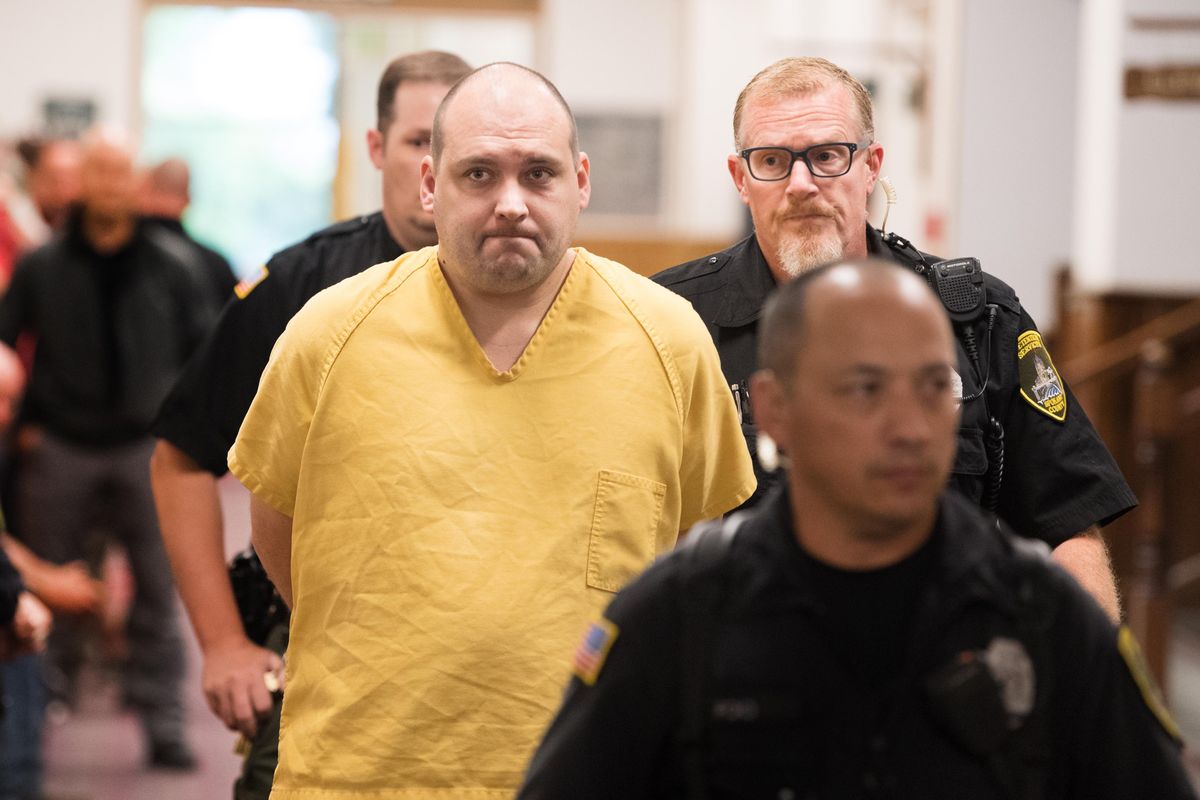 Joshua J. Mobley, 31, is led into court on Friday, Aug. 9, 2019, at the Spokane County Courthouse. Mobley was found guilty on June 26 of second-degree murder for killing 10-month-old Caiden Henry. Mobley was babysitting Henry at the time he suffered multiple injuries that killed him on Feb. 27, 2017. (Tyler Tjomsland / The Spokesman-Review)
Convicted baby killer Joshua J. Mobley was ordered Friday to serve 28 years in prison after a Spokane County jury convicted him in June of killing a 10-month-old boy that he was babysitting in 2017.
Superior Court Judge Julie McKay sentenced Mobley, 31, to prison after a jury found him guilty on June 26 of second-degree murder for the beating death of Caiden Henry.
"That victim had no ability to defend himself," McKay said, referring to 10-month-old Caiden. "Mr. Mobley had the responsibility to care for and protect this child. The result of the injuries are, quite frankly, indescribable."
Speaking to a packed courtroom that included U.S. Rep. Cathy McMorris Rodgers, R-Wash., who sat with the family of Caiden, McKay sentenced Mobley to the high range of the sentencing guidelines, or 220 months.
She added 116 months, for a total of 336 months, after the jury found that Caiden was a vulnerable victim, that Mobley had violated a position of trust and because of the destructive impact the crime had on others.
"No matter what sentence this court imposes, it does not justify the taking of a life," McKay said. "Nor is there any sentence that will bring Caiden Henry back."
The Rev. Walter Kendricks read statements from the baby's mother, Crystal Henry, who had been working with Mobley's wife, Jennifer. The Mobleys previously had agreed to babysit Caiden to help Henry's work schedule.
"Caiden was not just a dead baby the media refers to," Kendricks said, reading from Henry's statement. "He was so much more. I didn't know what a broken heart was until Caiden died. I wanted to be with my baby but I knew I had to fight for justice."
Instead of planning for his first birthday, Crystal Henry had to plan for his funeral. "No parent should have to choose between a casket and cremation," Kendricks said of her statement. "If I could trade my life to bring him back, I would. Until we meet again. Much love, Mommy."
Kendricks also read a statement from Caiden's older sister.
"I miss my baby brother, Caiden, every day," Kendricks read of the girl's statement. She was 5 when Caiden died. "I cry sometimes at school when we talk about my family. It makes me sad to see my mom so sad all the time because she missed my baby brother so much. I want the bad man to be in jail so he can't hurt me."
McMorris Rodgers sat in the front row, which included Kendricks and Crystal Henry and her sister.
"I was here to offer support during a very difficult time," McMorris Rodgers said. "It's just heartbreaking all around."
The family of Mobley submitted 21 letters of support to Judge McKay. Defense attorney Carl Oreskovich also had several family representatives speak on the behalf of the convicted killer, who had no prior criminal history.
Julie Tomaro, who is the sister of Joshua Mobley's wife, Jennifer, talked about how hard Mobley worked and how he donated his time to teach children at Sunday school at the family church.
"I know Joshua to be a loving and cherishing husband," Tomaro said.
She said her own two children refer to Mobley as "Uncle Joshy." She also told of a time when Mobley jumped into a hotel swimming pool in his clothes to aid a child who was struggling to stay afloat.
David Moore, who is Joshua Mobley's father-in-law, said the convicted killer previously had vowed to love and cherish and take care of his daughter.
"I have never seen any mean or aggressive tendencies with Joshua whatsoever," Moore said. "I plead right now … that you give Joshua a sliver of hope."
Russell Mobley, the defendant's father, said his son's character does not fit with the crime.
"His (four) kids miss their dad, who wrestles with them and made them laugh," Mobley said. "All we have right now is hope, hope that Jennifer can hold her husband again, hope that he will see his kids again. I plead to you for lenience for my son."
Mobley, who indicated he plans to appeal his second-degree murder conviction, chose not to give a statement Friday.
But the descriptions offered by his family stand in stark contrast to the details of the case.
According to court records and testimony at trial, Deputy Spokane County prosecutors Stefanie Collins and Shane Smith told jurors that Mobley had been caring for Caiden for 10 hours before he was found dead by his mother on Feb. 27, 2017.
Spokane County Medical Examiner Dr. Sally Aiken testified that Caiden suffered 12 to 20 blows, mostly to the head, that caused swelling on the brain that killed him.
Those injuries followed previous injuries that Crystal Henry found on her son after he had been watched by Mobley. At the time, Mobley denied intentionally hurting her son.
During closing arguments, Oreskovich suggested that Crystal Henry may have attacked her son after emergency room personnel gave her a medical concoction, which included Benadryl, to help with a severe headache just before Joshua Mobley returned Caiden to her care. Henry found him dead when she awoke.
"We don't have to prove to you that Crystal Henry did it. She was in a fog. She was medicated," Oreskovich said in June. "Maybe Crystal Henry snapped. I ask you to find Joshua Mobley not guilty."
But the jury convicted Mobley and found three aggravating factors that meant that Judge McKay could have sentenced him up to life in prison.
"What is the appropriate punishment for someone who killed a 10-month-old under his care?" Collins asked the judge. "There is no number that will undo the hurt to her family. Two families are irrevocably broken because of one person, Joshua Mobley."
Local journalism is essential.
Give directly to The Spokesman-Review's Northwest Passages community forums series -- which helps to offset the costs of several reporter and editor positions at the newspaper -- by using the easy options below. Gifts processed in this system are not tax deductible, but are predominately used to help meet the local financial requirements needed to receive national matching-grant funds.
Subscribe now to get breaking news alerts in your email inbox
Get breaking news delivered to your inbox as it happens.
---