100 years ago in Spokane: Spokane pushes to become Hollywood North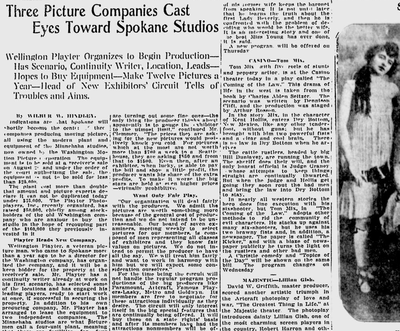 Spokane had still not given up on the dream of becoming Hollywood North, The Spokesman-Review reported.
Many local investors were in the process of losing their shirts on the Washington Motion Picture Corp., which was already in receivership after making only one movie.
However, the drama critic for The Spokesman-Review was optimistic that the company's extensive studio facilities at Minnehaha would soon be churning out many more movies.
He noted that Wellington Playter, a "veteran picture man" who had come to Spokane with the Washington Motion Picture Corp., was now raising money to bid for at least a portion of the studio's facilities. He had already hired a writer and some unnamed "leading players" to make his first movie as soon as his bid was accepted.
"Pictures can be made in Spokane," declared Playter. "The other company failed because of reasons entirely independent of the picture-making possibilities — extravagance, ignorance of the business and internal strife. The Minnehaha studios have no superior in the country and I have seen them all. There is everything here in the way of scenery — lake, forest, river, snow and mountain — that California lacks and must pay a fortune to secure. There is no reason why the studios should not be operating the year round and we hope to be able to make 12 features a year."
Playter had just returned from filming an adventure movie in the Yukon for another studio, and he said "every bit of that picture could have been made in Spokane's back yard."
Several other bidders were also interested in the Minnehaha property. There were sufficient facilities at Minnehaha for "four companies to work at the same time without interfering with one another," said the paper.
---