A&E
Photos: Watershed moments from sold-out country music festival at the Gorge
Aug. 10, 2019 Updated Sat., Aug. 10, 2019 at 8:01 p.m. The annual Watershed Festival is a country music fan's paradise at the Gorge Amphitheatre in George, Washington (don't you just love the connection to our first president of the United States and saying those two words?).
In its eighth iteration from Aug. 2-4 in the scenic spot alongside the Columbia River – the first festival was on Aug. 3, 2012 – Watershed featured some of country's biggest and most popular headliners in its three days of music – Miranda Lambert, Zac Brown Band, Brothers Osborne, Jason Aldean, Kane Brown, Maren Morris and many more – that also includes on-site camping.
The fun and sassy Carly Pearce, who is engaged to fellow headliner Michael Ray and once worked at Dollywood in Pigeon Forge, Tennessee, chatted with The Spokesman-Review ahead of 2019 Watershed, as well as onstage Aug. 3 after her set.
Country music DJ Dee Jay Silver has performed at all eight Watershed festivals and chatted with The Spokesman-Review at Watershed on Aug. 3. I first interviewed Silver while working in Las Vegas, where he played for 12-13 years. "I'm based in Nashville now, but Las Vegas is still home – I still have a Las Vegas number," he said.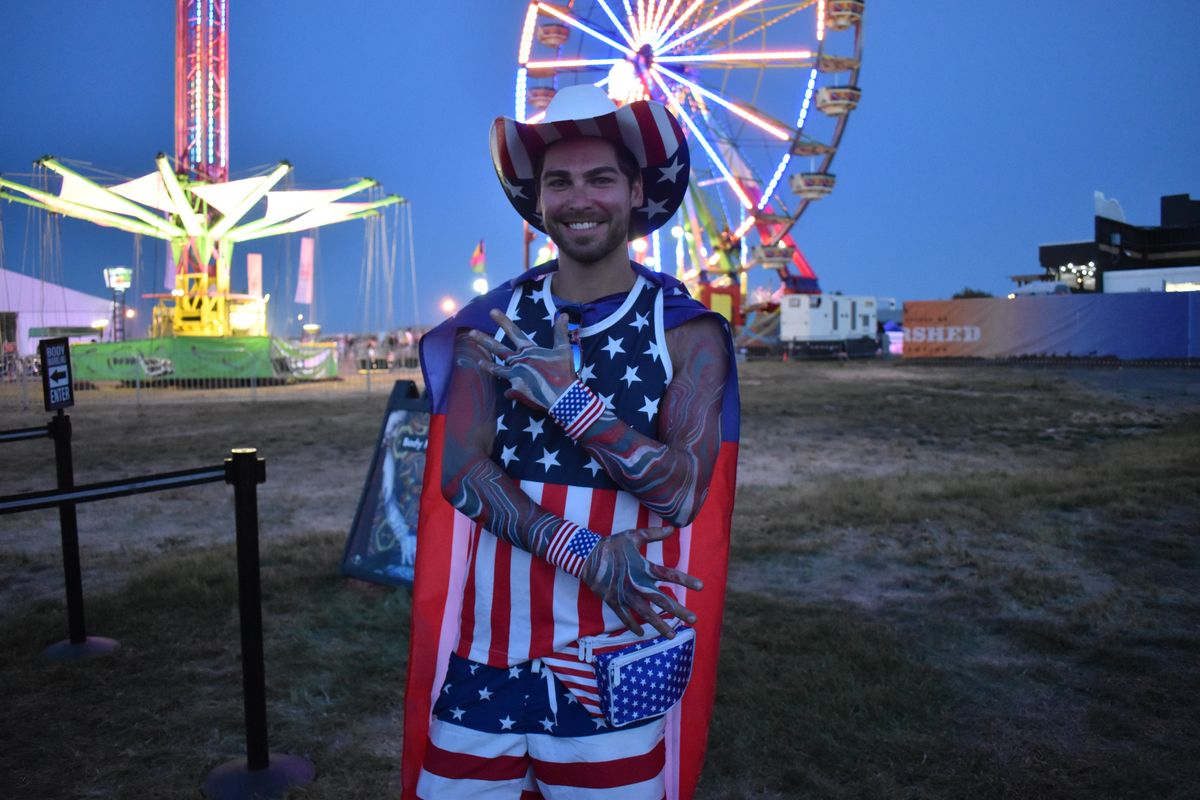 Brad Lawrence of Michigan-based Black Light Visuals on Day 2 of the Watershed Festival on Saturday, Aug. 3, 2019, at the Gorge Amphitheatre in George, Wash. (The Spokesman-Review)
Silver, who is the rare DJ who successfully mixes country music into his sets, said of Watershed: "It gets bigger every year. Watershed has become its own entity. I live the best of both worlds. I get to play Watershed by day and Hakkasan (a mega-nightclub at MGM Grand in Las Vegas) at night. It's a really cool thing to do – to perform for so many people.
"Watershed is a destination. It's not easy to get to, and now it's become a way of life for these country music fans. They call each other Shedders, for God's sake! It's cool to see people from all 50 states – it's amazing."
Next up for Silver are dates with Aldean the rest of the summer, as well as traveling to San Diego, Las Vegas and Austin. He said of the three days of Watershed: "The first night, they're getting ready to ramp up. Saturday night, the ramp's up. By Sunday, they've pretty much got their asses kicked." And of the final night, "My boy Aldean is going to shut this place down."
Here are additional Watershed moments and observations from Aug. 3 from yours truly – a longtime country music fan who experienced Watershed and the Gorge for the first time – and Spokesman-Review colleague Mary Beth Donelan, also a longtime country fan who last attended Watershed in 2017:
It was the third year for Brothers Osborne, who remembered playing for a few hundred people their first year. Performing before Zac Brown Band on Saturday night, Brothers Osborne pledged, "We're going to burn this f—-er down!"
Up-and-comers Waterloo Festival hosted a meet-and-greet before their Next From Nashville tent set and were especially sweet to a young blind fan, who they also welcomed backstage after performing.
This was the second year for Black Light Visuals, a body marbling company based in Michigan. BLV's Brad Lawrence, whose arms were marbled and who donned American flag apparel, said the new company has been going around to festivals and hopes to return to Watershed next year. The reaction from one participant: "This is f—-ing awesome!"
The apparel of ripped male fans at Watershed: No shirt, shorts (mostly basketball) or boxer briefs and … cowboy boots.
Two other notable outfits: A pregnant woman in a blue-velvet floor-length gown in the hot outside pit – the high flirted with 90 degrees – at the foot of the stage and another woman with black-X pasties covering her nipples. That's one way to stay cool from the heat – the latter, not the former.
New this year (if not last year): A Tito's Vodka deck that was open to all attendees ages 21 and older; a video arcade tent that was air conditioned and featured a full-service bar; and a lot more seating.
One report had attendance at 27,000 each of the three days; there was a surprising number and variety of food vendors; and the crowd was a diverse age range that included families with babies.
Here's to three days of camping (unlikely, but a nearby hotel would be great) and Watershed (likely and/or hopefully) next year.
Local journalism is essential.
Give directly to The Spokesman-Review's Northwest Passages community forums series -- which helps to offset the costs of several reporter and editor positions at the newspaper -- by using the easy options below. Gifts processed in this system are not tax deductible, but are predominately used to help meet the local financial requirements needed to receive national matching-grant funds.
Subscribe to the Spokane7 email newsletter
Get the day's top entertainment headlines delivered to your inbox every morning.
---