Sports > Outdoors
S-R outdoor writing contest runner up: Abloom
Sun., Aug. 11, 2019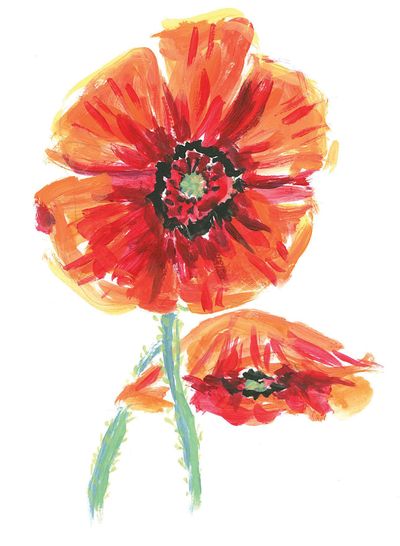 Because I didn't take a Klonopin, the California poppies are much brighter, like embers that could ignite the roadside. Still, it seems the ones I'm staring at are not exceptional. The cars and trucks on the two-lane highway continue to pass by them, rolling slowly through the town's one block, drivers and passengers with eyes forward or downward, their windows up despite the warmth, a changing climate controlled from a plastic dash panel.
I'm sitting at a coffee shop's window and look through its glass, just beyond the highway, thinking of walking across to get a closer look at the poppies, which grow above a retaining wall, up along the hillside, effulgent orange blooms among tall swaying grasses.
Last winter I had to quit being a teacher, anxiety attacks making it no longer bearable to stand before a class. I was living in a big city thousands of miles from home, hundreds of miles from any expanse of wilderness, wondering if even crows still existed. My girlfriend Megan, a florist, would sometimes bring home bright flowers. She did this, in large part, to cheer me. But the thing about these flowers is that they too are disconnected, clipped in Colombia or Kenya, flown to a different hemisphere to be in the periphery of a bride or CEO, then tossed by a staff member into the trash. Or, if slightly more fortunate, brought home to a dissolving boyfriend and set inside a water-filled jam jar to fight for their lives. It's impossible to understand why we make it so hard for everything.
Now moved back home, one thing I still know how to do is speculate. And as I attempt to rely less on pills to navigate each day, it seems that a natural landscape – even a small roadside swath – is buoying. I step outside the coffee shop. A logging truck passes by, and then, in the other direction, a green minivan. I walk across the highway and reach above the retaining wall, then gently pull a stem toward me and look closely. It's a cloudy day and the poppies' petals are upright, cuddled together, concealing their stigma. Close up, the orange hues seem less intense, more afloat than ablaze. The delicacy of the petals belies the stem's stoutness. There's a bloom that stands a bit shorter, one of its petals drooping away from the bunched rest. I pick the stem and carry it to my truck, then drive it home, just up the hill, to give to Megan, who has severed herself from her home to help me be resuscitated by mine.
Local journalism is essential.
Give directly to The Spokesman-Review's Northwest Passages community forums series -- which helps to offset the costs of several reporter and editor positions at the newspaper -- by using the easy options below. Gifts processed in this system are not tax deductible, but are predominately used to help meet the local financial requirements needed to receive national matching-grant funds.
Subscribe to the sports newsletter
Get the day's top sports headlines and breaking news delivered to your inbox by subscribing here.
---