News > Spokane
Spokane student, parent groups hold vigil for victims of gun violence outside City Hall on Sunday
Aug. 11, 2019 Updated Sun., Aug. 11, 2019 at 10:14 p.m. Incoming Ferris High School sophomores Emma Millar and Mattiya Moore described what it's like to be in a lockdown for a crowd at the Vigil For Victims of Gun Violence outside Spokane City Hall on Sunday afternoon.
"The alarm goes off," Moore said.
"Everyone is in panic," Millar said in response.
"It's been five minutes and we don't hear anything, but our teacher looks pale," Moore said.
"More and more people go on their phones to check the news stations to see if it's a shooting," Millar said. "There is nothing to be found."
"But the Wi-Fi is so slow that no one knows if the page just can't be refreshed," Moore responded.
"Any small noise causes tension," Millar said. "The alarm goes off. This time it's the intercom telling everyone that it was just a practice drill."
"This is the reality of a minor in 2019," Moore said later in the speech.
"Our 'normal' currently is being on hyper-alert wherever we go," Millar said.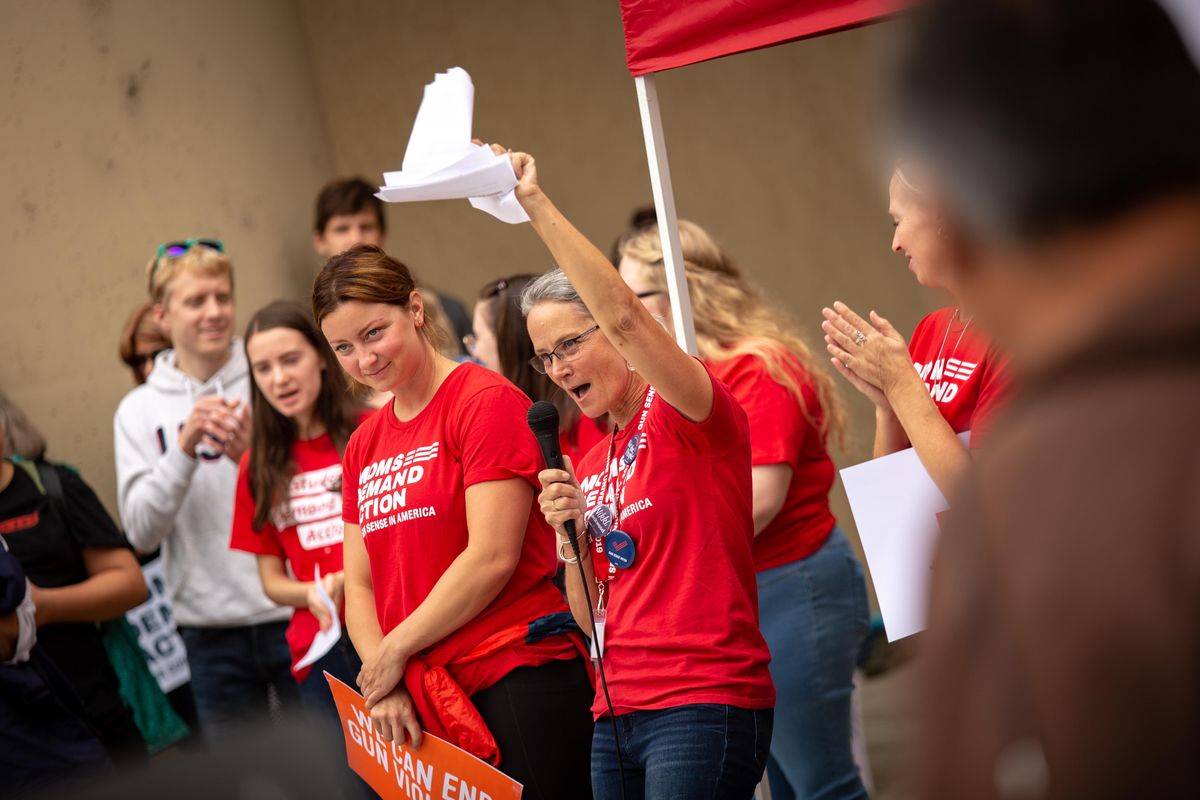 Tara Lee, of Moms Demand Action, speaks during a Vigil For Gun Violence organized by her group, as well as Students Demand Action and Spokane City Councilwoman Kate Burke outside of City Hall on Sunday, Aug. 11, 2019. "We can no longer deny that gun violence is a public health crisis," Lee said in her speech. (Libby Kamrowski / The Spokesman-Review)
Both Millar and Moore are members of the Spokane chapter of Students Demand Action, an organization that advocates for firearm legislation that includes increased background checks before gun sales. The group, along with a Spokane City councilwoman and other concerned citizens, gathered about 120 people at the Sunday afternoon event to remember those lost in the violence and push for legislative change.
Jadyn Malone, an incoming junior at Lewis and Clark High School, is one of the group's three co-leaders. She was in Washington, D.C., for a national conference of student leaders last weekend when the news broke about the shootings in El Paso, Texas, and Dayton, Ohio.
"I was horrified to think how once again gun violence has torn apart the lives of Americans," she said. "Within a few hours (of the El Paso shooting), hundreds of student and mom volunteers from across the country turned our grief into action and headed to the Capitol to stand in solidarity with the victims of El Paso and to demand action from our representatives."
Her mother, Tara Lee, the membership lead for the Spokane chapter of Moms Demand Action for Gun Sense in America, was there to lobby lawmakers at the Capitol, too.
"We did what moms do best. We took our anger and our sorrow and turned it into action," she said Sunday.
Both local chapters started around the time of the school shooting in Parkland, Florida. Lee and Malone said they had been meaning to become involved in advocacy against gun violence, but the shooting in Parkland was the final push.
"I am a pediatric nurse at Sacred Heart hospital. I have seen bullet holes in children," Lee said. "I joined Moms Demand Action because gun violence is my lane. It's your lane, too."
Spokane City Councilwoman Kate Burke said she was tired of inaction by politicians and wanted to use her power as an elected official to help spur action through planning the vigil.
"I'm an organizer and I like to uplift other organizations and people," she said.
Moms and Students Demand Action are currently focusing on advocacy for the background check bill headed to the U.S. Senate and "red flag" laws. Those laws would give law enforcement and family members the ability to petition a judge for a temporary court order to bar a person from having firearms if it is believed they are a danger to themselves or others.
"We need everyone to get involved with this effort if we are to convince our representatives to act and create real change," Malone said. "If we all use our voice and our vote we can make a difference."
Eighth-grader Milo Archer said he planned to join Students Demand Action after attending the vigil.
"I don't think it's OK what's been happening," he said. "It feels like the government doesn't care at all."
The groups had a long, pro-gun-legislation banner for attendees to stamp with a hand print before it was sent to Rep. Cathy McMorris Rodgers. The 5th District Republican congresswoman voted against the background check legislation the groups are advocating for, and another bill that would increase the waiting period for a gun sale. She said she would support "red flag" laws during a town hall at Gonzaga University last week.
Organizers also had a letter-writing station to send words of support to families of victims and survivors of the shootings in El Paso and Dayton.
At the beginning of the vigil, the Rev. Todd Eklof of the Unitarian Universalist Church of Spokane led the crowd in a moment of silence for the victims.
"When I get up in church each Sunday after a mass shooting, which is all too often, I have no words to speak because I don't know what to say to make it any better," Eklof said. "And I know just being silent is not enough, it's a terrible predicament. So we are going to have a moment of silence, not as a way to dismiss our responsibility to act, to take direct action to do more, but we are going to let our silence speak loudly today as I ask you weave in and out of word and silence with me."
"In our silence, hear our sorrow. … In our silence, hear our fear. … In our silence, hear our outrage. … In our silence, hear our commitment. … In our silence, hear our demands," he said, pausing after each sentence.
Scyla Dowd, a junior at Lewis and Clark High School and member of the Inupiat tribe, told the crowd that her peers are becoming apathetic toward gun violence because there has only been inaction since the Sandy Hook Elementary School shooting, which killed 20 children between the ages of 6 and 7. She was 10 or 11 at the time, she said.
"So we've always been surrounded by death by guns," Dowd said.
She said there are layers to gun violence and people have to acknowledge that violence toward people of color has gone without widespread attention until recently. She also emphasized the El Paso shooter confessed to targeting Mexicans.
"Unless we all together decide, every single one of us, that this is a problem, that racism is real, that sexism is real, that there is no reverse whatever, nothing will change," Dowd said. "People will keep on dying in cold blood."
Patrick Devine carried an upside-down American flag on a pole at the vigil to symbolize the distress the country is in.
"If America isn't in distress because of all these mass shootings, then I don't know," he said. "I'm not going to sit down and be quiet."
Angie Dierdorff said she is tired of the argument that background checks and a ban on assault-style weapons won't completely stop violence. She said the country has to try to do something and action is long past due.
"The people who are here today feel grief and helplessness," she said. "And showing up like this helps create a sense of community."
Students and Moms Demand Action were also looking to get more people involved in advocacy at the vigil. Organizers advertised that adults can text "ready" and students can text "students" to 644-33 to get more information about the groups.
"It's another one of these critical times," Lee said. "We don't want to take advantage of these horrific mass shootings, but this is when people are listening and willing to mobilize."
Local journalism is essential.
Give directly to The Spokesman-Review's Northwest Passages community forums series -- which helps to offset the costs of several reporter and editor positions at the newspaper -- by using the easy options below. Gifts processed in this system are not tax deductible, but are predominately used to help meet the local financial requirements needed to receive national matching-grant funds.
Subscribe now to get breaking news alerts in your email inbox
Get breaking news delivered to your inbox as it happens.
---