News > Spokane
Housing Secretary Ben Carson praises Spokane's housing, job training center in visit Tuesday
Aug. 13, 2019 Updated Tue., Aug. 13, 2019 at 9:24 p.m. In a room filled with dozens of donated coats, shoes and dress attire for job interviews in and around Spokane, U.S. Department of Housing and Urban Development Secretary Ben Carson expressed surprise Tuesday morning.
"There's no cost for this?" Carson said while touring the Spokane Resource Center as part of a larger tour of the Northwest.
"Not if you're going to work," staff members responded.
"Well, I'm going to work," Carson said, chuckling.
The clothing closet is one of the services provided at the center, which opened on the second floor of the WorkSource building on the east end of downtown in April. Spokane hosts one of 18 locations operating under Housing and Urban Development's EnVision initiative, a brainchild of Carson's that faced criticism from without and within about tangled bureaucratic oversight and a lack of progress after it was first announced in December 2017.
The Spokane center has served 300 people since opening its doors in April, according to HUD.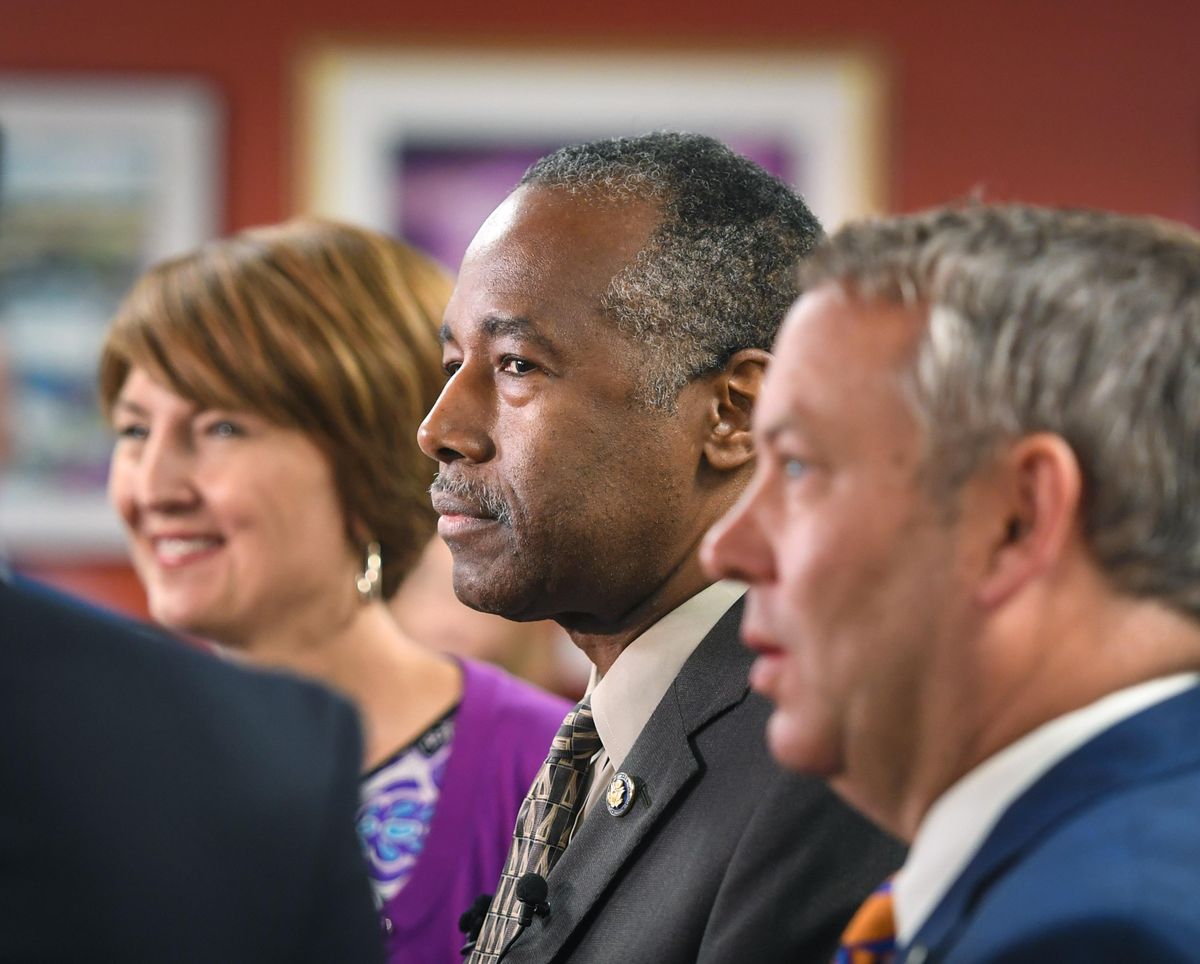 U.S. Secretary of Housing and Urban Development Ben Carson, along with Rep. Cathy McMorris Rodgers and Mayor David Condon, tour the Spokane Resource Center, a HUD EnVision Center, Tuesday, Aug. 13, 2019. (Dan Pelle / The Spokesman-Review)
The federal agency does not provide funding for the center, instead offering guidance and a model for multiple agencies to work under one roof toward getting clients housing, education and job training. The clothing closet is made possible by donations of the family of Joseph Hollcraft, a young man from California who was interested in the ministry and died in a car collision in 2016.
Carson, who visited a modular housing manufacturer and senior housing center in Idaho on Monday, said he was impressed by how well different agencies were working together following a tour of the center with U.S. Rep. Cathy McMorris Rodgers and Spokane Mayor David Condon on Tuesday.
"The fact that you have so many different entities," Carson said. "Often, people just want to be their own little king. They're not willing to work tangentially with others. That is not the case here."
That was the goal behind the resource center, which originally was planned to fill space at the Spokane Intermodal Center, until members of the Spokane City Council raised concerns that some wouldn't seek services there as a result of U.S. Customs and Border Protection immigration enforcement efforts. The decided-upon location is about a mile to the east, off Second Avenue and Arthur Street.
Carson's tour included a stop in a classroom, where attendees were being briefed on transitional housing options.
"When you guys become empowered, it actually empowers all of us," Carson told students sitting around tables in the classroom. "It empowers our whole society. Thank you for recognizing that, and being willing to take the first step."
The secretary, making his first public visit to Spokane since a 2014 speech delivered at a Christian nonprofit's fundraiser when he was mulling a run for the presidency, paused to sign two of his published books for Vicki Easley, a recipient of HUD housing assistance who came to see Carson with her son, Eric.
"I have children myself, so his mother being such an inspiration to him, that's been one of the inspirations in my own life," Easley said.
In remarks to reporters after the tour, Carson – one of the six cabinet members originally appointed by President Donald Trump who remain in their positions – said his agency was devoted not just to getting those experiencing homelessness into housing but also to following through on ensuring those receiving housing were taking steps to attain financial independence.
"We believe in Housing First," said Carson, referring to the type of low-barrier housing programs that have prompted a major discussion in Spokane politics about providing services to those living on the streets with no requirement for sobriety or employment. "But we also believe in Housing Second, and Housing Third."
The secretary said those subsequent steps included determining what a person's barrier to housing was and helping them solve it.
Under Carson, the department has proposed rent increases for those living with federal housing assistance and allowing local housing authorities to impose work requirements on those receiving their assistance. Carson cited long wait times for people looking to receive assistance and a need for existing dollars to go further as influencing the legislation, but low-income housing advocates argued the rules would place even greater financial burdens on those needing help.
"We've changed our requirements now," Carson said. "We look at results."
Local journalism is essential.
Give directly to The Spokesman-Review's Northwest Passages community forums series -- which helps to offset the costs of several reporter and editor positions at the newspaper -- by using the easy options below. Gifts processed in this system are not tax deductible, but are predominately used to help meet the local financial requirements needed to receive national matching-grant funds.
Subscribe now to get breaking news alerts in your email inbox
Get breaking news delivered to your inbox as it happens.
---