News > Spokane
New park with Spokane River access near Mission Avenue floated by Avista; proposal would close part of Upriver Drive
Tue., Aug. 13, 2019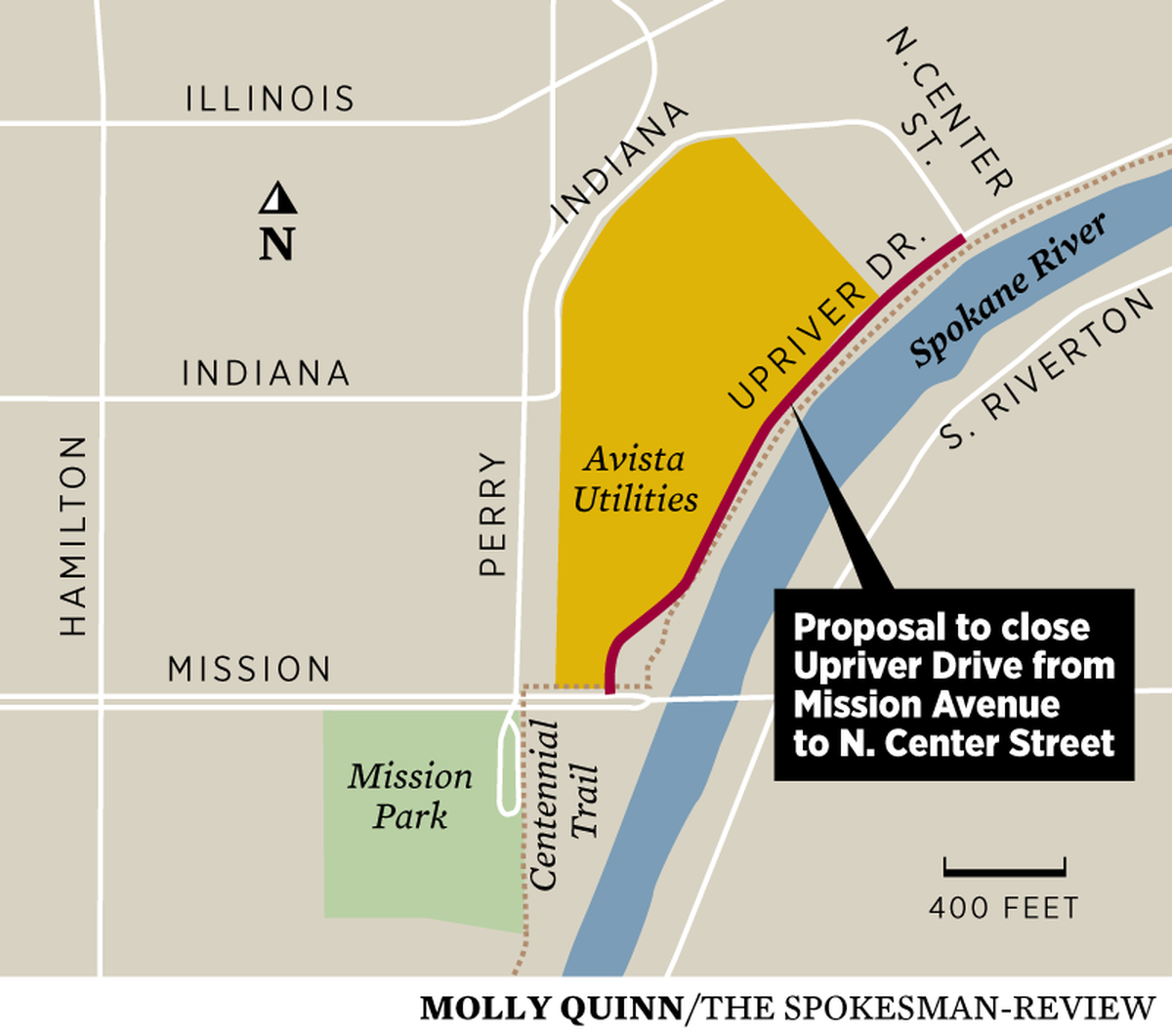 A portion of Upriver Drive north of Mission Avenue in Spokane would be permanently closed and replaced by a half-mile long park with access to the Spokane River, under a proposal by Avista Corp.
If completed, the public park would open up parts of the river that have been blocked off for years, and the Centennial Trail would run through the middle of it. A non-motorized boat launch would be available for stand-up paddle boards, canoes and kayaks.
"Obviously we use the public's water to generate electricity for our customers," said Bruce Howard, senior director of environmental affairs for Avista. "The park that we'd like to put in here is part and parcel in reconnecting people back to the river, and providing a safe way to do that."
The idea, in its very early stages, stems from the 2009 federal relicensing of the Upper Falls Dam at the east end of Riverfront Park in downtown Spokane. The 50-year relicensing, approved by the Federal Energy Regulatory Commission, required the energy company to increase recreation and use on the river, among other obligations such as attending to fishery health and water quality.
This section of the Spokane River is part of the Upper Falls hydroelectric project. "It's the reservoir, the pool of the Upper Falls Dam that's been there since 1925," Howard said.
The proposal for Upriver Park is far from reality, and Howard noted there would be "a lot of process, a lot of public comment" before anything happens, which will require approval by the Spokane City Council and mayor. A community meeting to discuss the proposal is scheduled for Aug. 21.
"It's an informational meeting," Howard said. "This is step one. There's many to come."
If approved by the city, the stretch of Upriver Drive and its intersection with Mission would be drastically changed. Currently, it's a tangle of connections, where cars, bikes, walkers and trains meet. When done, Centennial Trail users would have access through the park.
A separate discussion between the city and Avista is dealing with the trail "gap" at Mission Avenue, where trail users must cross two streets with a total of six lanes of traffic and active railroad tracks. Ideas for bridging, or tunneling under, Mission have been floated for years, but nothing is yet decided.
"Our park design accommodates a new trail design at Mission," Howard said. "We like the tunnel idea, and we think it could be done safely. … We're very supportive of a connection there."
As for the Upriver Park proposal, Howard likened it to New York City's High Line Park – a long, linear park created on a former railroad spur. Much like how as High Line gives New York dwellers access to a part of town they formerly had no access to, Avista's proposal would open up a part of the Spokane River that has been blocked for decades.
"It's an area of concern for the trail. Users are between fast moving traffic and jersey barriers," Howard said. "So you have this stretch of river that no one sees, no one can access it easily and it's unsafe."
Transforming the roadway into a "greenbelt park" would solve those problems, Howard said. But it l would take the permanent closure of a city street that saw about 4,500 vehicles a day on average in 2018, according to city data.
In June, the utility company submitted a traffic analysis of its plan to the city. It was prepared by engineering consultant Morrison-Maierle. The report concluded that Avista's plan "will not unacceptably impact traffic conditions" and "no improvements are required or recommended."
Upriver-bound traffic from Mission would be re-routed around Avista's main campus, on Perry Street, Indiana Avenue, North Crescent Avenue and North Center Street, which meets Upriver a half-mile north of Mission.
Howard said the city, the Logan Neighborhood council, and Friends of the Centennial Trail have shown support for the proposal.
Local journalism is essential.
Give directly to The Spokesman-Review's Northwest Passages community forums series -- which helps to offset the costs of several reporter and editor positions at the newspaper -- by using the easy options below. Gifts processed in this system are not tax deductible, but are predominately used to help meet the local financial requirements needed to receive national matching-grant funds.
Subscribe now to get breaking news alerts in your email inbox
Get breaking news delivered to your inbox as it happens.
---