K9 cop helps apprehend man accused of resisting arrest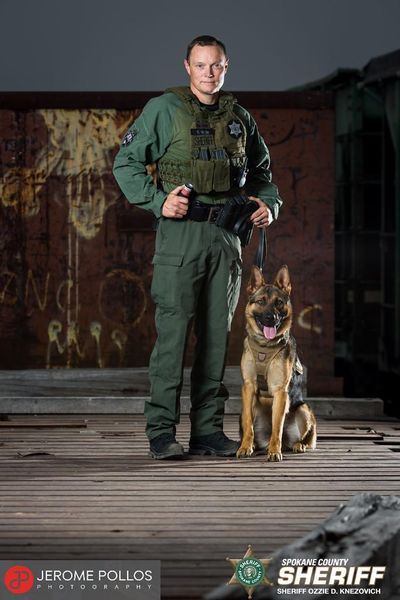 A man who allegedly tried to escape a traffic stop Thursday night and led Spokane County Sheriff's deputies on a car chase was apprehended after a sheriff's K-9 found the hiding suspect.
Sheriff's Deputy Clay Hilton saw a maroon Pontiac exit a parking lot near Boone Avenue and Pines Road around 9 p.m.
The car sped up and the deputy turned around to make a traffic stop, according to a sheriff's department statement.
The driver, Shane Rupert, allegedly failed to pull over and made "blatant" attempts to elude the deputy, the statement said.
Hilton chased the car and lost sight of the Pontiac near Glenn Road and Alki Avenue. On Olive Avenue a bystander pointed the deputy toward a nearby field, where the deputy found the Pontiac empty and running.
Hilton requested back up and warned the fugitive a K-9 would be used to track him.
Deputy Hilton's partner, K-9 Bane, was able to track Rupert, who was reportedly hiding with a red bandana over his face. Rupert began fighting the K-9, the statement said.
He told sheriff's deputies he ran because he "just did something stupid."
Rupert was booked into Spokane County Jail on previous warrants and new charges, including attempting to elude a police vehicle and resisting arrest.
---