100 years ago in Spokane: Stray dogs sought to chase rabbits; strike closes mines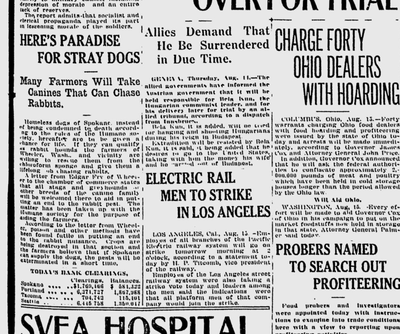 The farmers of Wheeler, Wash., near Moses Lake, were willing to take stray dogs off the hands of the Spokane Humane Society and give the dogs permanent jobs as rabbit chasers, the Spokane Daily Chronicle reported.
The farmers had been fighting the "rabbit nuisance" for years with poison and other methods. Nothing worked.
Now, the farmers were offering to take homeless dogs from the city's shelters, "rescue them from the chloroform sponge" and turn them loose against the rabbits.
They were especially interested in greyhounds and other speedy breeds, but they said they would take any dog that was willing to chase a rabbit.
"The farmers believe that if Spokane can supply the dogs, the pests will be eliminated in a short time," said the Chronicle.
From the strike beat: Nearly every mine in the Coeur d'Alene district was closed down when 1,500 miners walked off the job in the Burke-Mullan and Nine Mile areas. The strikers were demanding an eight-hour day and an increase in wages of 50 cents per day.
The only large mine unaffected was the Bunker Hill and Sullivan Mine, although the strikers hoped to "bring them into the fold" soon. The Chronicle said it was already the second biggest strike in the mining district's history, second only to the 1892 strike.
The Chronicle reported "no disorders" accompanied the walkout.
---