A&E > Music
'Chasing the muse': Krist Novoselic and Giants in the Trees are at the Bartlett on Wednesday
Thu., Aug. 15, 2019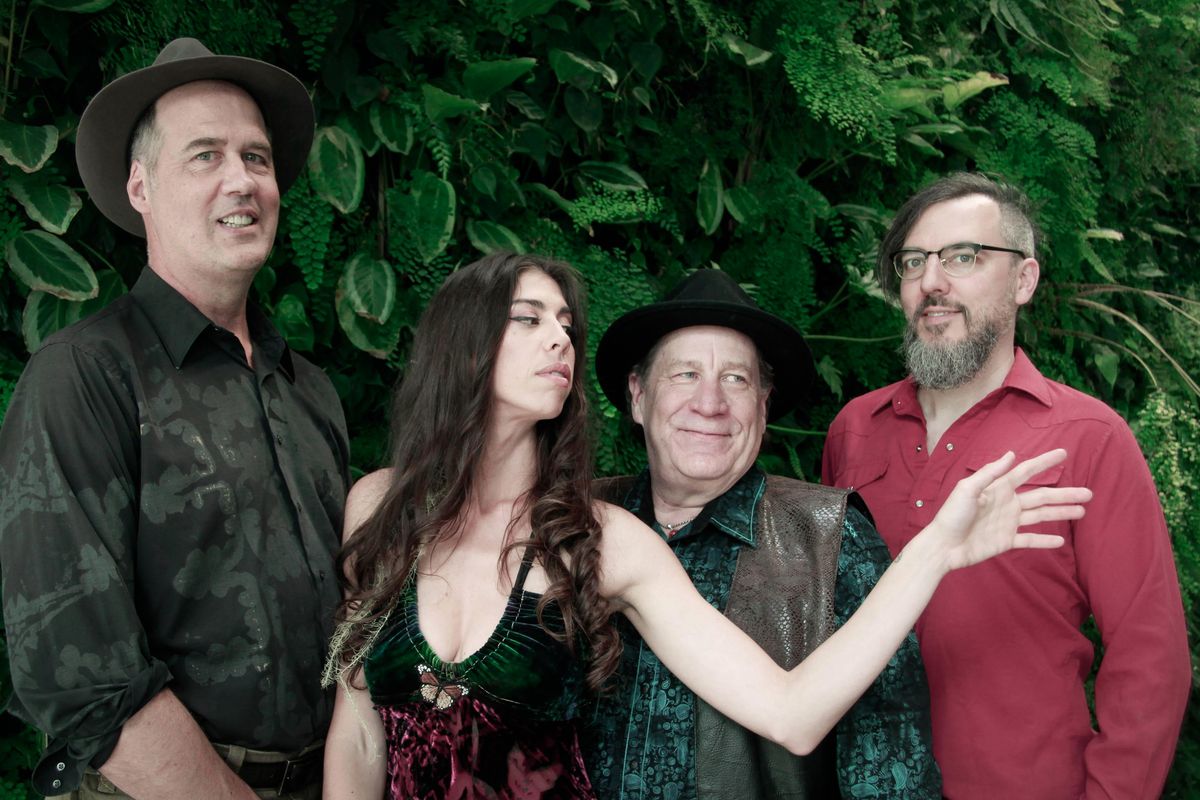 Giants in the Trees are Krist Novoselic, Jillian Raye, Ray Prestegard and Erik Friend. They'll be at the Bartlett on Wednesday in support of their second album, "Volume 2."
Giants in the Trees don't play a lot of live shows. Their current tour of five concerts will last a little more than a week, with the final two dates coming Wednesday in Spokane and two nights later in Boise.
In the words of bassist and accordion player Krist Novoselic, "We don't play out a lot. Come see us while you can."
It's a far cry from the 1990s and his days in Nirvana, when the reigning kings of grunge toured the world playing for huge crowds and selling millions of records.
Giants in the Trees is certainly more low-key. They play small clubs – places like the Big Dipper, where they stopped in 2017, and the Bartlett, where they'll play Wednesday in support of their second album, "Volume 2."
The pace feels right to Novoselic. "The reclusive band that we are," he said, joking that he and his bandmates are happy staying at home in southwest Washington's Wahkiakum County.
They make music, he said, to serve the music, and the process is pretty organic and collaborative.
It's not "Krist Novoselic's new band." It's the band he plays with, the musicians he's teamed up with, all on equal footing in the creative process. Simply put, they like playing together.
"We're chasing the muse," he said. "When ideas are getting batted around, we make this cacophony, and then things emerge. This is the Giants way."
So with a song like "Sons and Daughters," vocalist Jillian Raye brought it in, then the band got to work. "Then we Giantized it," Novoselic said. "So it's a little schmaltzy. It's got the big chorus. We put the accordion on it, and there you go."
The music has a heavy dose of whimsy, he said, and aims to be very much of a place. "That's what we try to do, our image is that we're this band from the woods."
It also brings a 1970s pop sensibility to play, Novoselic said. "Short songs with verse-chorus-verse. We try to hook people, so we work on melody a lot."
As a vocalist, Raye brings an ethereal atmosphere to the music, and her singing easily fits along the same spectrum as Billie Eilish or Siouxsie Sioux.
"There are two things about Jillian. She's a really good singer. She's dynamic, and she's naturally gifted," Novoselic said. "Also when you're writing music, she's a good vocal phraser."
He pointed to the song "Bright Side" from the latest album. Guitarist Ray Prestegard came in with a riff. Novoselic then jumped in with a bouncy bass line.
"She's standing there with a microphone in her hand, and soon she's just belting out these phrases … 'You're the only one who's ever seen the bright side.' That's a real gift. … She knows what the song needs."
The Giants' music might surprise the '90s kids who grew up listening to "Nevermind" on repeat. There aren't a lot of screaming guitars on a Giants record. But what both bands have in common is admiration for great music of all genres and the ability to write a killer pop hook.
In the case of Nirvana, Novoselic said, that embrace of pop was a result of a genuine love of the music and a rejection of punk orthodoxy.
"There are a lot of (punk) bands that would beat you over the head with the same idea, or there were kids who threw away their Led Zeppelin, Beatles, Rolling Stones or Van Halen records, and we kept all ours.
"We were like, 'No, we like this music too.' We love punk rock music. It energized us. … But rock and roll from the '60s and '70s was amazing, so why would you reject that?"
Ardent Nirvana fans will recall that Novoselic did more than play bass in the iconic rock trio. He played accordion, too, most famously on "Jesus Doesn't Want Me for a Sunbeam" from the "MTV Unplugged in New York" session.
He brings the squeezbox sound to the Giants, too, with accordion tracks sprinkled in both records. He's been playing accordion his entire life, he said. Having grown up in a Croatian community, he took lessons as a kid and has played the instrument on and off ever since. In the '90s, he'd bring it out at parties, but then forgot it again.
"About nine years ago, I picked it up again and got really into it," he said. "Accordion right now, it's in a renaissance. There are a lot of bands that use it, like Decemberists. It's coming back."
The accordion will be at the Bartlett on Wednesday, and the band will dive into music from their two records. In what order that transpires is anyone's guess. There's no organized setlist, Novoselic said.
"We're going to go with the vibe of what the crowd's into," he said. "Yell out a request. It's going to be laid back. … It'll be fun and loose."
Local journalism is essential.
Give directly to The Spokesman-Review's Northwest Passages community forums series -- which helps to offset the costs of several reporter and editor positions at the newspaper -- by using the easy options below. Gifts processed in this system are not tax deductible, but are predominately used to help meet the local financial requirements needed to receive national matching-grant funds.
Subscribe to the Spokane7 email newsletter
Get the day's top entertainment headlines delivered to your inbox every morning.
---