Famed pilot Nick Mamer's personal collection on display in Spokane Valley Jayne Singleton has learned several little-known facts from famed aviator Nick Mamer's personal collection of documents.
While he was in the air during his historic five-day flight across the country in 1929, he and his co-pilot requested tomato juice and chicken dinners. Mamer and his co-pilot were in the air for five days and their small plane, the Spokane Sun God, couldn't carry extra fuel or food.
The team's meals and fuel were delivered midair, and Mamer ordered his deliveries by dropping notes in weighted bags over predetermined spots along the flight path.
Thanks to a donation from Mamer's grandchildren and months of work by Singleton, that collection, and some of those facts, are now available for the public to view at the Spokane Valley Heritage Museum, 12114 E. Sprague Ave.
"Everything he ever did was photographed, which is great and surprising for that early," Singleton said. "It's an amazing collection."
Museum visitors will be able to watch a video of Mamer refueling, and read some of the notes he threw from the plane during the flight. The museum has eight of those notes, some of which describe the struggles Mamer and his co-pilot went through while staying in the air for five days. Mamer and his co-pilot had to hand pump fuel from their central storage tank to the wings, which took up much of their time in the air.
There is also an engine that is the same model as the one on the Sun God on display, a joystick from that time and a flight suit from Mamer's flight school. Singleton said it could possibly be one of the suits he wore during his career. Museum visitors will also be able to read many of the stories from Mamer's life, his career and his love story and marriage to his wife, Faye, who was from Coeur d'Alene.
Singleton said Mamer's plane, unlike many of the aircraft from historic American flights, is missing. The company that owned the plane went bankrupt in the early 1930s, and it was last seen at a Cincinnati airshow in 1932.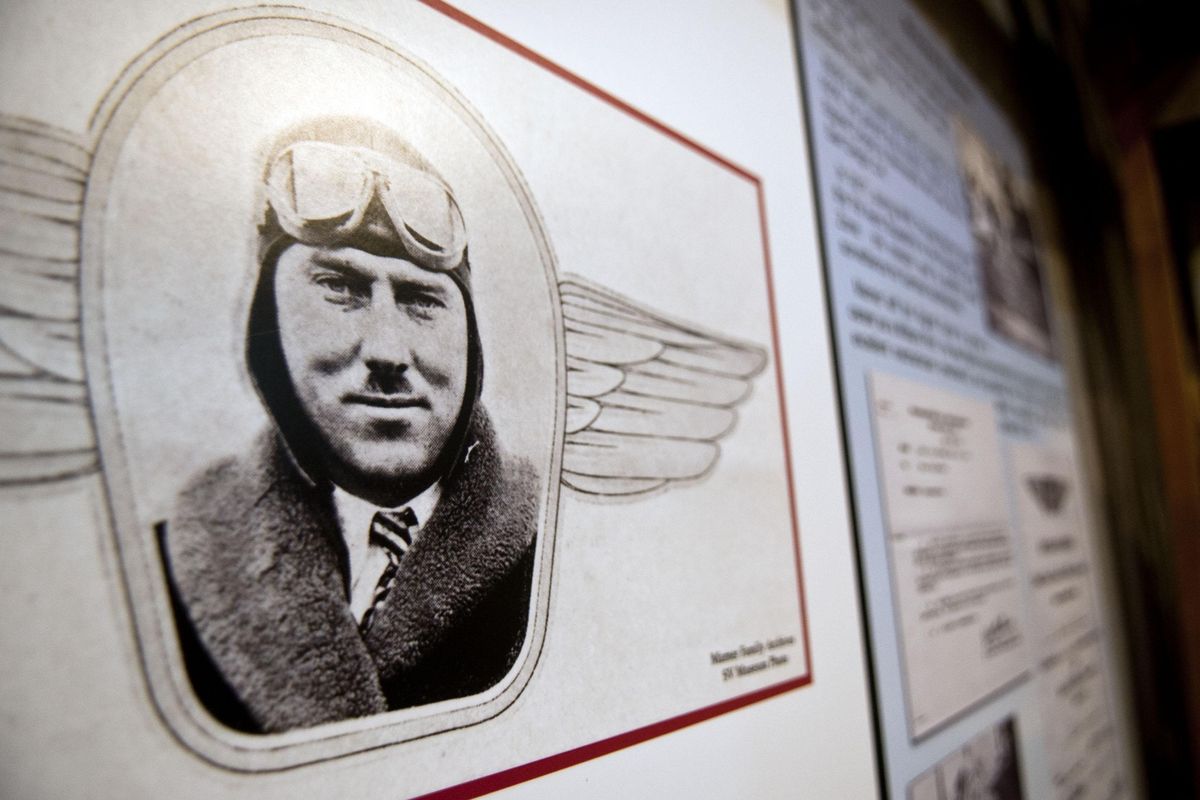 "It's a great mystery," she said. "There will be a lot of people who will be very excited if it ever surfaces."
The Flight of the Spokane Sun God exhibit opened earlier this month and many of Mamer's personal notes and photos as well as a newspaper clipping collection from his career in aviation will be on display until October.
The museum is also planning a book signing on Thursday from 5 to 7 p.m for the book "Low on Gas – High on Sky," by J.B. Rivard, about the 1929 journey. The book signing will be on the anniversary of when Mamer and his co-pilot and mechanic Art Walker took off 90 years ago, Aug. 15, 1929.
Singleton said by the time Mamer took off from Felts Field for his historic flight, he was already a well-known aviator who had served in World War I. His history, she said, is inseparable from Spokane Valley's, but is also recognized around the world.
"He is the aviation rock star," she said. "I think he was born to fly."
---