Sports
A Grip on Sports: You better get moving before summer slips away one more time
Thu., Aug. 15, 2019 A GRIP ON SPORTS • Where did the week go? As far as I can remember, it was Sunday about three hours ago. And here it is, Thursday already. For that matter, what about August? It is nearly half over. And don't get me started about summer. Time is supersonic, I guess, when life is this great.
•••••••
• Honestly, other than the Mariners' failings, which we will avoid like the measles, we are in the middle of a great time, aren't we?
OK, the stock market fell, the country is divided like it's 1850 all over again and there is some kook around every corner. But forget all that. Focus on sports. Inland Northwest sports.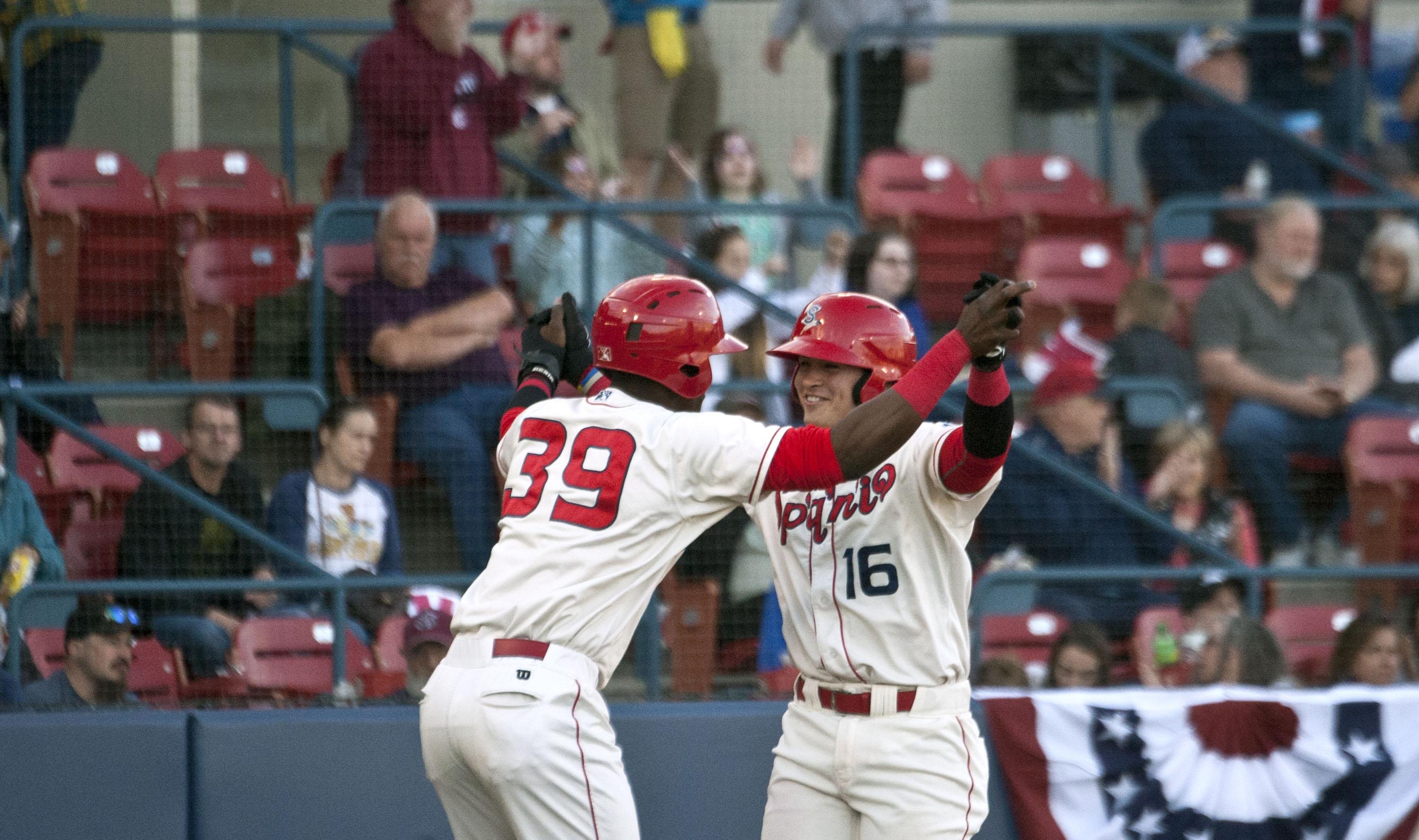 Heck, the local baseball fans have the Northwest League's best team in our backyard, if the Walmart on East Sprague is your home away from home. Avista Stadium has been rocking since mid-June, the Indians won the NWL's North Division race in the league's first half, are leading the second half and they feature the best hitter from here to Eugene in Blaine Crim.
That helps erase the stain the M's have put on the game this summer, right?
And then there is the hope of the fall.
Eastern Washington is coming off a season in which it made it to the FCS title game, Washington State is coming off a season in which it won 11 games for the first time, Whitworth is coming off a season in which it played into the second round of the NCAA Division III playoffs, and Idaho is coming off a season, well, one it would rather forget.
But hope abounds from Moscow to Mead, that's for sure.
As it does in Seattle, where the Seahawks feature the best-paid quarterback in the NFL (and part owner of the city's MLS franchise), the best middle linebacker in the game and whole bunch of question marks. Hey, uncertainty can be fun too.
By the time football season is winding down, basketball will be underway.
The state still doesn't have an NBA team, which is why I avoid Starbucks coffee as if it were a castor-oil delivery system, but the region's team, the Portland Trail Blazers, are pretty good.
And the colleges? Gonzaga is always good. So is Whitworth, and the Pirates have something in common with Washington State: a new coaching regime. Eastern always has hope. Idaho? Well, the Vandals are coming off an offseason they would rather forget.
There is enough to look forward to it almost makes you forget that the 80-degree days aren't going to last forever and, if you don't get off the computer soon, all those projects you needed to get done outside will have to wait until next spring. Which isn't a bad thing either.
•••
WSU: So who will jog out to take the first snap for the Cougars at quarterback this season? Theo Lawson covers the QB competition in his practice report. … Theo also looks back at the Alamo Bowl, a game Willie Taylor III will probably remember forever. … We have a whole bunch of post-practice videos to pass along, including Tuesday's with Mike Leach, which I missed yesterday. There is Leach again, assistant coach Darcel McBath, Lamonte McDougle, who never wears a shirt (and why should he?) and Renard Bell. … The New York Times examined the Air Raid and the NFL yesterday. Leach was mentioned prominently. (And thanks to Robert McMillan for passing along the link.) … Want a peak inside Leach's quarterback room? Here it is, courtesy of the Athletic's Jayson Jenks. … Elsewhere in the Pac-12, there is no clear-cut favorite. We are talking selective logging here. … Three ACL surgeries hasn't stopped one Washington player. … It was a busy day for Oregon and for the Ducks' defense. … Oregon State is halfway through preseason camp. …Constant improvement is a goal at Colorado (and everywhere else, probably). … Utah has faith in its secondary. … There is potential at USC, but if it isn't realized, Clay Helton will probably pay the price. … UCLA is dealing with some injuries. … Even if Arizona State doesn't participate in the Hard Knocks' college edition, there will be film available. … Jon Wilner delves into Arizona and Arizona State's seasons. … On the basketball front, The Oregonian's John Canzano delves into evidence introduced yesterday that implicates Nike in the college basketball recruitment scandal. … Colorado is watching all the change from afar.
Gonzaga: The women's basketball team may be in Italy right now, but the players are aware of the WCC schedule I'm sure. It was announced yesterday. Jim Allen has all the details. … Kelly Olynyk won't be playing for Canada at the World Cup. Jim Meehan delves into his knee injury, which isn't serious. … Around the WCC, BYU's Yoeli Childs is the first casualty of the NCAA draft rules.
EWU: There is a tradition of great receivers in Eastern's history dating back to the 1970s. Who will be the next standout? Ryan Collingwood tries to figure that out in this story.
Whitworth: Division III sports are different. A little more sensible, actually. The Pirates start preseason practice today at the Pine Bowl and Dan Thompson has a preview.
Indians: Crim hit a couple more home runs last night and scored the winning run in the bottom of the 10th. Dave Nichols was there and has this game story. … Dave also took time out yesterday to chat with Larry Weir for the latest Press Box pod. … Elsewhere in the Northwest League, Felix Hernandez led the way for Everett in a 5-1 win. … Eugene picked up a victory against Salem-Keizer.
Youth sports: Baseball has a way of making older folks act like young kids. Even the umpires, as this Steve Christilaw story shows.
Seahawks: Nope, the fullback position is not dead-dead. Mostly dead, yes, but not dead-dead. … DK Metcalf is already making a difference.
Mariners: The Tigers are baseball's second-worst team. But they finally won a game against the M's despite a couple of Seattle home runs. … The Mariners catching tandem, which includes Tom Murphy, might be their best position. … TV host Angie Mentink knows what it's like trying to hit a hard slider. … There is an Out of Right Field recap from Gene Warnick this morning.
Sounders: Seattle isn't playing well right now. But to lose 3-0 to a Real Salt Lake team that just saw its coach fired, that's not good at all. … Portland picked up a home win.
•••
• I'm not wasting anymore of the summer. Now that's I'm done putting this together, it's outside for me. Naps are always good in the hammock. Until later …
Subscribe to the sports newsletter
Get the day's top sports headlines and breaking news delivered to your inbox by subscribing here.
---